The MAD Goddess
is creating Simple Witchery™ for Everyday Life—magick minus religion.
Select a membership level
TIP JAR—Dabbler
Custom Payment: $3-monthly is only the minimum amount, but the sky is the limit if you're feeling generous.
Maybe you read my blog on the regular, enjoy my Simple Witchery posts at the Agora on Patheos, follow my social media accounts, or you simply enjoy the continued free content here. Maybe something I've said gave you that "Ah ha!" moment. Maybe I've made you laugh when you needed it the most. You can drop some $$$ in my tip jar to say thank you.
You will have my (and Gypsy Cat's) undying gratitude, and as every witch knows , the energy you project into the Universe is the energy that returns in kind.

*This will be set up as a monthly payment-because Patreon is all about generating ongoing support for content creators like myself. However, if you choose to make it a one time contribution, simply opt out after the first payment has processed.
Witchling
At this level you will receive my and Gypsy Cat's gratitude as promised and ~
Member's Only Newsletter posted no later than the 2nd Wednesday of each month, chock-full of information on the witchy basics along with my musings.
Magick Maker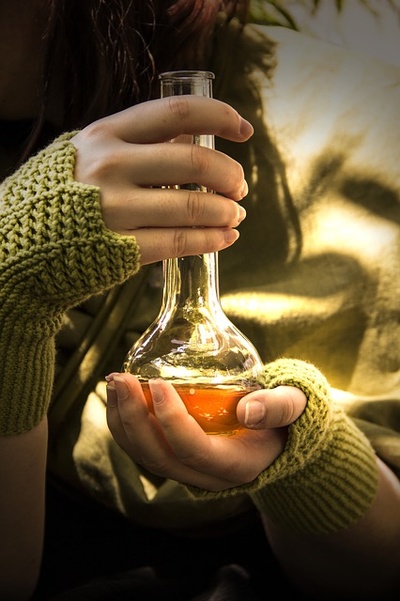 At this level you will receive
 Everything included in previous tiers, plus~  
Simple Magicks for living a witchy life. From using kitchen cupboard ingredients to cook up charms and spells, to invoking the elements in and around your house to manifest protection, health, prosperity, luck and more. We're getting down to the basics to build a lasting practice. 
About
Welcome to Simple Witchery!
I am a writer, artist and witch. You may be thinking one of these things is not like the others, but in truth, all three have a common thread. Each one involves creating something that didn't exist before. . . a story, a picture, or an outcome. And none of them require religion. It's that simple.
My goal is to provide an inroad to the path of Simple Witchery™ (craft minus religion). Much of what I do is free—you can find me at the 
Agora on Patheos
, on my blog at 
MADGoddess
, and at 
Simple Witchery 
on Facebook. Soon, I'll be stirring up simple magick for kitchen witchin' at 
The Way of Witch.
I even offer 
loads of free content here on Patreon (click the
welcome
link below).
All of this is a labor of love, but a witch and her cat have to eat, That's where you come in. Your support helps me to continue offering quality, free content on the interweb. As a thank you receive access to exclusive content not offered anywhere else—previews of future books, complete spells using items and ingredients you likely have on hand, insight into the Tarot along with a monthly reading, or digital download of original artwork suitable for framing.
You can become a patron for as little as $3 a month. Choose a level* and join the circle. But, before you do,
please read this 
welcome
—
it will tell you all you need to know about the rules of conduct and witchery.
So it is, and so it is, and so it shall always be.

*Each tier includes all the benefits from the preceding tier(s). Please read descriptions carefully. 
By becoming a patron, you'll instantly unlock access to 28 exclusive posts
By becoming a patron, you'll instantly unlock access to 28 exclusive posts
Recent posts by The MAD Goddess