MJ Wallace
is creating Comics & Illustration
Select a membership level
Ghost Friends
By becoming my patron, you earn the official title of Ghost Friend. What does this get you? Why, my undying gratitude of course! Ba dum tiss! (But seriously. I really appreciate the fact you have chosen to become my patron. Thank you so much!)

Ghost puns aside, you will have access to my patreon-only feed of sketches and news! You will also be listed on a thank-you page of my website, where you can float eternally, basking in our undying friendship.

Skate Mates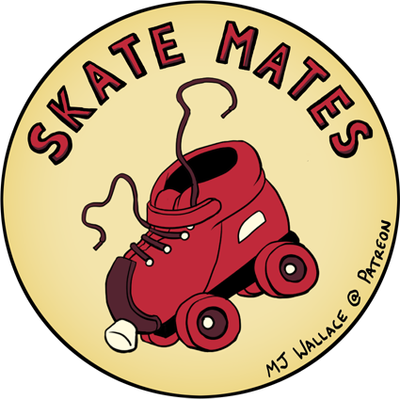 We're like mates who go skating together on the regular! We catch up, share our thoughts, and I would totally lend you my multi tool to tighten that wobbly toe-stop.

You get all previous reward tiers, plus early access to updates for my webcomic Rollerskates & Breakfast Dates!  Alongside each update, I'll include a few lines about my process for the strip and my thoughts on it. You'll also get a 10% discount code for my etsy - what else are mates for, right?
Super Secret Magic Club
Psst! Don't tell anyone, but you've just been accepted as a member of the Super Secret Magic Club! How, you ask? I vouched for you - that's how much I trust you, friend!

You get all previous reward tiers, plus access to top secret concept art & development for up-coming projects (and early access when the projects release). You can also submit questions for a weekly Patreon Q&A. That's right - I will share all my secrets with you (magical and/ or otherwise), one question at a time!
About
Hello there!
I'm a comics artist & illustrator living in Glasgow. I like making comics about my life, cool animals, ghosts and much more. I produce a weekly webcomic called "Rollerksates & Breakfast Dates" as well as my own small press books, and my work has appeared in publications such as BBC's The Social, The Skinny, Hens Tae Watch Oot Fur and TGC (Scotland's all-female comics anthology).
...But there's so many more comics I want to make, and you can help me!  At the moment I work in a flower shop to make ends meet, and I get by well enough to live my life and produce comics on the side. But I have so many projects I want to work on, and not enough time in the day to get them made when I'm also having to work a day job.
Supporting me monthly will let me have more time to draw comics, and the resources to really do them justice - like affording web hosting, equipment for producing tutorials & videos, getting stuff printed on actual IRL paper, and travelling to conventions and events to meet all you cool people.
Every single dollar is appreciated - it may seem like a small amount but I promise you, it makes a difference. Plus, if you support me on Patreon this will also give you access to a bunch of cool behind the scenes stuff and arty extras. Sweet!
Web & Tech Stuff
$50 will cover monthly running costs for my website, file back-ups and internet - this helps keep the lights on so I can give you content each month


1 of 3
By becoming a patron, you'll instantly unlock access to 48 exclusive posts
By becoming a patron, you'll instantly unlock access to 48 exclusive posts
Recent posts by MJ Wallace