Michael T. Bhatty
is creating THE KYLE SAGA
Select a membership level
Ringing blades!
You get the equivalent of a fist bump: The ringing of blades!
About Michael T. Bhatty
Welcome to the Kyle Patreon Page!
Hi folks,
I am Michael T. Bhatty, the author of fast-paced, dark and adult fantasy novels in the European style. This Patreon campaign presents you the
Kyle Saga
, which I shall tell you - if you like - during the years to come.
You might already know some fantasy or action from me. I was a lead game designer of one of Germanys internationally most successful AAA-fantasy games -
Sacred
(2004) -, I produced a number of games, a feature film screenplay for Nordmedia (2010), some short movies and videos in the 1990s and I wrote between 2007 and 2012 five novels for a publisher as a 'hired gun' between 20017 and 2012 - the official novels for
FarCry
1 and 2, and a
Runes of Magic
trilogy.
In 2014 I published the first book of the Kyle saga in two volumes (
Kyle - Im Kreis des Feuers
), part II followed in 2019 (
Kyle - Im Kreis des Wassers
), again in two volumes.
[Image: Novels of Michael T. Bhatty]

If you have seen, played or read something from me, then you know that there is always the lust for power in my stories, as well as personal hells and the dealing with feelings and passion ... usually, before I push my characters to the next level of peril.
But it is not only about writing - I design conceptually! I research a lot, from the martial arts to the perfume-making process, from horse riding to architecture and geology for my novels. Thus I am working on the Kyle-Saga like on a big production - but almost without a team and with almost no budget - and this is where you as a Patreon come into play.
I like to take you to my dark and archaic realm of the
Kyle Saga
, let you gaze into the abyss of personal conflicts and desires. The world of Kyle is a world at the turn of times, a world wherein magic has vanished (mostly) and wherein political schemes are mingled with the lust of the flesh. It is an adult world - very adult, mark my words - and thus I am writing
18+ fantasy
(or
R-Rated
in some countries).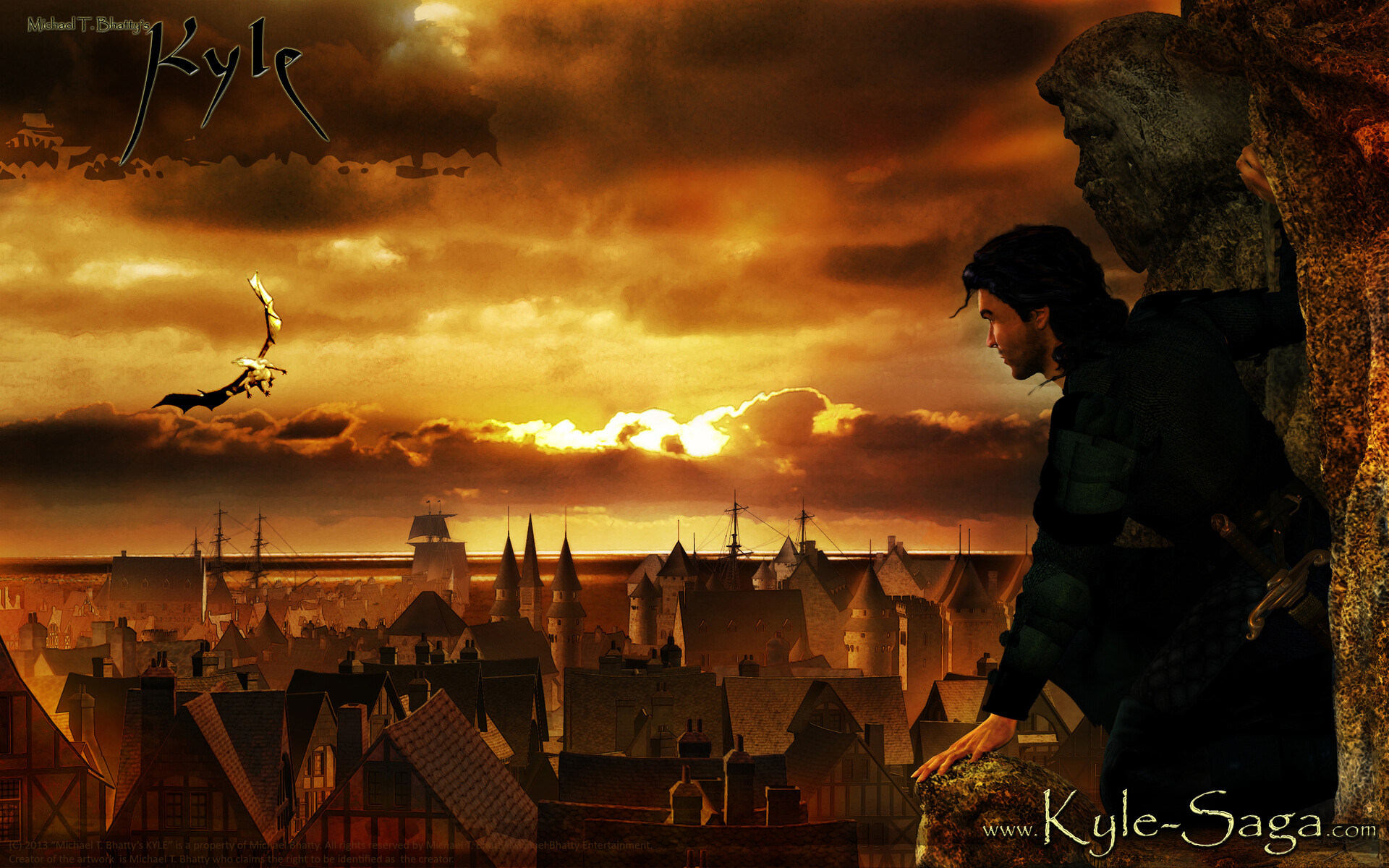 [Image: Kyle over the rooftops of Calhuh. A scene from Kyle - Im Kreis des Feuers, 2013 by Michael T. Bhatty]

Who am I, and what are my goals regarding Patreon?
I have written five novels for a publisher - which was good - but for the
Kyle Saga
I decided to publish those novels via self-publishing. The reason is simple - I hold and will keep the rights for the novels, for movies, TV shows and videogames.
I had to experience myself what happens to your 'baby' when you do not hold the rights as a creative force - I learned that the hard way with the game
Sacred -
and so I decided that I shall keep full control over the Kyle Saga: It's my brand - registered as a trademark - and I want to tell the story the way I would like to do.
In short:

I want to keep the vision together!
Of course, I shall not be the one to make a movie or a game out of it, but I would love to see those things in my time, but to raise that kind of money I need a good answer to the question: "How many books have you sold?"
With your help I would love to focus on the
next steps
!
Writing the next parts of the saga, which requires research, correctors! And time!
Editing the translation of the books into English faster, which requires an editorial and correction process!
Creating immersive art content, which requires good artists who also have to pay their rent!
Pushing the public attention to the Kyle saga, which requires marketing and advertisement!
Equipment, hard- and software, productions costs ...
Those things cost money and time, and here I need your support. Thus, I am on Patreon to raise funds for the next English
translations
- as I am from Germany I have written the tale in my native language - and will do so with the next parts - but with your support we shall bring alls books in an
English version
to the start as soon as possible. And maybe other languages after that.
[Image: Cover of the first translated part – Kyle & The Circle of Fire, December 6, 2020, by Michael T. Bhatty]
I would also like to see
artbooks
of the world and the characters - and thus I would like to give something to the artists so they should also not work for free. I worked on the first book of Kyle with Daniel Lieske, the creator of the Wormworldsaga and he provided the cover for the first book, as well as with the game artists Anca Adelina Finta and Sandra Püttner - and their artworks and - many more to come - I would like to see in a fine art book.
And - if I find some cool
cosplayers
- we could see some characters come to life as well. And more! We'll talk about these things in my upcoming posts; you can unlock by becoming my Patreon.
With your help, we can grow this channel into a form of
true entertainment
. But what can you do? If you like the Kyle Saga, then
spread the word
- even if you don't become a Patreon of mine, I appreciate your efforts.
Support
can have many faces and forms. Right now, in the beginning, it is crucial that you tell other people about Kyle. If you often visit a fantasy-literature-forum, please tell them about Kyle. Or share this page or the official website on Facebook, Instagram or Twitter.
As writing takes a lot of time, I seek
supporters on a monthly basis
as the next novel will take a few years to complete. But I like to give non-spoiling insights along the way for my supporters in several posts like making-of materials, talks about my design thinking process, scene iterations and maybe even an ask-me-anything hangout.
For your support, I will prepare several tiers with their corresponding rewards.
What can you expect from the Kyle Saga?
The Kyle Saga has not been written with a designated deadline like my other novels. As a hired gun, you sign a contract to deliver in a few months (!) a script. These scripts are produced fastpaced - you write, you finish them, correct them once and hand them to your publisher and lector. And then they are out of your hand (mostly).

With Kyle, I wanted to create 'Art', something of a higher quality, which stimulates the mind. Something that is ... ready.
And Kyle is just that - a good whisky or wine (yes, I talk about that in my novels as well), that got its time to ripen. I took the time of five years between book one and two ... very martin-esque.
For almost 30 years (or more?) the story of Kyle and his friends and foes, and his love affairs have been a part of my life. I started writing the tale in 1990 and reworked it ever since. Yet, I held the story back, sometimes due to working or health issues, because the other projects had a higher priority, then again, because I considered the tale as 'not yet ready for reading'. But now the first two books (four volumes) are, and the research on book III is already going on.

Now we have to find out if the Kyle Saga is something for you!

Let me ask you some questions: Do you love the smell of horses and rough leather? The scent of beautiful women or the ringing of steel? The thunder of hooves as you gallop through the vast landscapes of a medieval world?

And what about dragons? (and I mean 'real dragons', not oversized lizards or dogs dressed up as dragons). I am talking about dragons as highly intelligent beings, celestial forces and connected to the world they occupy.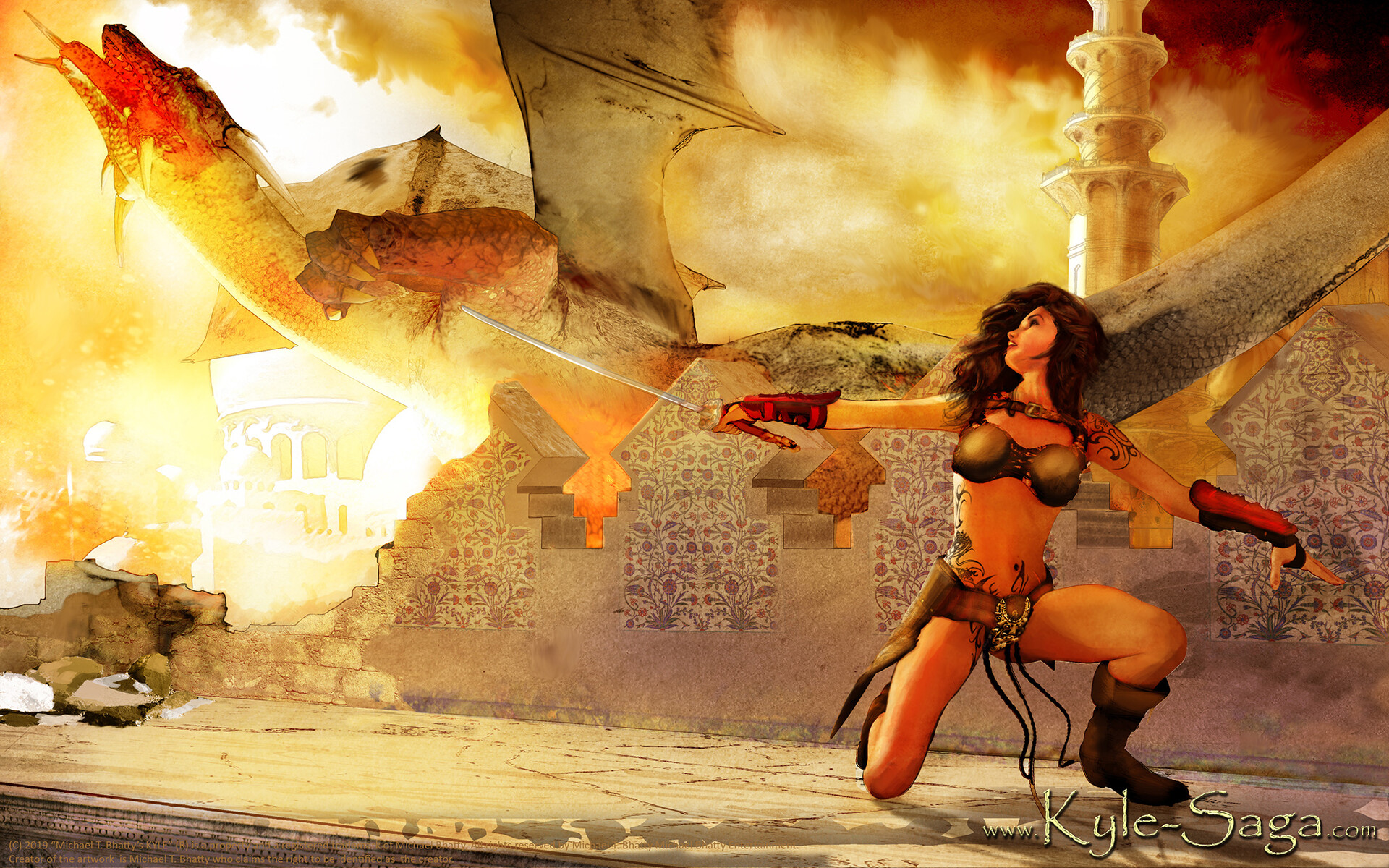 [Image: Fleur meets Mayarim. A scene from Kyle - Im Kreis des Wassers, 2019 by Michael T. Bhatty]
The world is Kyle is a dark,
sensual world
, filled with desires and emotions, greed and hate, love and friendship, hope and despair. Swords and wrath, magic and passion, these elements are the ingredients of a classical sword and sorcery fantasy, something that has always been my passion.
And - as this is a traditional
sword and sorcery fantasy
setting - I am old school, that means there shall be violence (the sword) and sex (the sorcery). Lots of them. Yes, this is a tale for adult readers, which means that there will be no fade-out when blood flows or humans or elves or other species fall to their natural desires of passion and lust. I do prefer the style of the 1970s and 1980s, where you can find excessive descriptions, no 'pan to the chimney' and no waking up in your bra and shorties after having sex. I show, and I do not hide!
What are your creative origins?
Of course, you want to know where I come from, what formed my point of view as an artist and author, so let me tell you: My expressions of themes that are relevant to me come through my creative work.
Yes, I have to create to feel alive!

As a kid I was a dreamer, oh, I hated school, not the learning, but the bullies in it, something which eventually leads me to the martial arts … tough times.

I grew up in the 70s and 80s, and that was a time where I was marinated in motives you find in my work: lots of sex and violence by today's more prude standards. Those days in the western world were far more open that by today's standards.
But I grew up reading Heavy Metal comics, with the artworks of Frazetta and Vallejo, with comic books like Barbarella (and the movie) and Druuna and movies like Rambo - First Blood -, Terminator, Aliens and Star Wars and Indiana Jones. I also read a lot, from Dumas' Three Musqueteers to Robin Hood, Eric Van Lustbader's Ninja and of course Howard's Conan, J.R.R. Tolkien's Lord of the Rings and Raymond E. Feist's Midkemia saga.
I created to dream and to escape; I shot fantasy and science fiction movies on super 8 and video - until I found my calling and made a profession out of it, breaking into the games industry. Today, as I am now over 50, I am teaching at a private university. I am a professor for game design with a focus on game directing and interactive storytelling. It's fun working with bright young minds. You might ask 'if you are a professor, why do you need my money?' Well, you do not earn as much as in the industry, but as I am growing older now, I like to give something to the next generation of narrative designers.
You see, the Kyle Saga is more than just a book and if you like what you found here, please support this project in any way possible.

Thank you very much.

Best regards,
Yours,
Michael T. Bhatty
Germany, 2020
How it works
Get started in 2 minutes