Maethius Custom Works
is creating customized, kit-bashed, and scratch built toys and model kits.
Select a membership level
Contributer
Thank you for supporting me! Every dollar will be well invested in improving my product.
Includes
Access to patron-only content
Connect with other patrons
Supporter
As thanks for believing in me, I will send you an exclusive wallpaper featuring one of my customs, in addition to access to the Patron-only content. Thank you!
Includes
Access to patron-only content
Connect with other patrons
MCW wallpaper
Supplier
At $10 a month I will be able to set aside funds to acquire materials like paint and MSG (Modeler Support Goods) kits that will help raise the level of everything I do. As thanks, not only will you be able to follow projects as I work on them, but you can take a peek at the conceptual and developmental stages as new projects are introduced.
Includes
Access to patron-only content
Connect with other patrons
Maethius wallpaper
Project previews - get a glimpse of what's coming up next!
About Maethius Custom Works



As so many artists have said before me; hello, and welcome to my Patreon!

For those who don't know, my real name is Greg Hancock; my screen name, Maethius, has been used for the sake of consistency on pretty much every online forum I am involved in throughout the model building community. 

Way back in 2006 when I began repainting the Zoid toy kits I collected because I did not like the production colors. After a while I added a small change or two to make a kit a little more unique. Then came the game changer; Phenotype's Zoids forum held a customizing contest in 2007. I tore apart a Zoids Ultrasaurus kit and reshaped it into my Paladin ankylosaurus which took "Best of Show." I began published web pages outlining my build process mixed with a bit of fiction on each custom kit I have done on my (very old!) website: Age of War. My hope posting these pages is that they will benefit or inspire other hobbyists.

In 2014 I built my first commission custom, the Wolvereaver. This was the first time I constructed a custom based off of someone else's design; it was much harder than throwing my own together spontaneously. However, it brought me into the professional world. I have been building commission pieces ever since; the most involved and dramatic pieces I have made. I am quite proud of each of them... but I feel I can grow so much more!

So, why Patreon?

By the time I launched this page I had created 32 custom Zoids, have entered 13 contests and placed in 12 of them, including winning the Grand Prize in two Zoids Grand Prix (multi-community) contests against some artists I admire greatly and really am truly humbled to be counted among them. I have a LOT to learn from the artists out there, and I know this journey has just begun.

Building custom toy and model kits can be very expensive and time consuming, especially when you have a family. While I love creating commission pieces for my clients, I am limited in what features I can include in each. That's where you come in! Building custom model kits has many common expenses: acquiring stock model kits and parts (usually requiring high shipping rates), keeping a broad variety of paints, maintaining or upgrading equipment (a more powerfully venting spray booth, superior airbrush/compressor, adhesives, Dremel bits), and keeping my health in shape (a better respirator, more frequent filter replacements, shop improvements, etc.). Even a modest Patreon income stream allows me the flexibility to work on ideas that have been brewing a long time and gives me the freedom to take risks with parts and techniques.

I want to thank you for reading through this little biography. The balance of art, hobby, and obligations is difficult to maintain. By opening a Patreon account, I plan to make some dramatic improvements to my work and to be able to better share my methods with other builders. It would be a win-win-win-win situation; better work from me, better products for my clients, better pay-back for my family, and better encouragement for the model building/customizing community.

To my Patrons, I will honestly put this on the table; I'm a builder, not a videographer: My #1 goal is to improve the art! While I will publish exclusive content and and have special interaction with my Patrons, the brunt of my efforts must go onto my workbench. While I have published these pages upon the unveiling of a newly completed project, Patrons will be given access to this content on the fly as the project is in-work (after approval from my clients, in the cases of commission builds), right alongside my clients (who always get first view, of course).

I thank you so very much for your support, and I will keep in touch!

Sincerely,

Greg "Maethius" Hancock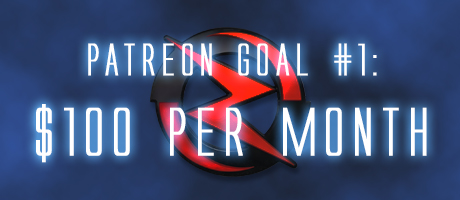 Okay, goal-getters, here's the thing; I have always loved seeing the creativity in the Zoids community that cropped up in custom building contests. In the English speaking communities I circulate in, they have become almost non-existent since the passing of Zoids Poison (RIP). I garner much of my enthusiasm for building from the positive messages I get about inspiring others to work on their own projects, and so I have chosen a first goal that I hope will spark more of that community creativity.

When I hit $100 per month I will back a custom contest on Phenotype's Zoids forum and $100 as cash prizes to the top 3 voted entries: $50 for 1st place,$30 for 2nd place, and $20 for 3rd place.

I will post more on the contest at that time, so if you want to ramp up for it, keep watching that contribution counter!
1 of 3
By becoming a patron, you'll instantly unlock access to 1 exclusive post
By becoming a patron, you'll instantly unlock access to 1 exclusive post
Recent posts by Maethius Custom Works
How it works
Get started in 2 minutes