MagicFishHook
is creating Fanarts, Illustrations and comics
About MagicFishHook
My name is Fish, everyone knows me for my MagicFishHook drawing blog. I have decided to open this Patreon so I can get some help and so, someday, I can dedicate myself to what I really like, which is drawing. English is my second language, sorry for any mistakes!
Find me:
I follow multiple fandoms, Patreons suggest and choose which one I draw. I do fanarts, edits, comics and I'm trying to get into video-tutorials. Still working on that! I usually post every week, using the weekends for rest. Depending on the Patrons the art can be NSFW or SFW and from different fandoms. 
Also, I'm working on a Les Miserables graphic novel called Dark Waters. You can find it on the 1$ tier. I update once per week. Depend on the support I'll do chapter 2 and 3, that are post-Seine and NSFW.
Depending on what level or tier of subscription you prefer, you would be able to access different works or sections, including:
Early Access. 
The Suggestion Box: Where you can give me ideas or suggestions for drawings, fandoms or anything you have in mind. The Suggestion Box CLOSES the 15th of each month. You would have to subscribe before that date or wait to next month if you want that reward. 
Unreleased works: Depending on the tier you can find SFW or NSFW content that was never posted outside Patreon. 
Polls: Help me choose the next drawings, fandoms, ideas...
Download Full HD drawings: Here you can find my SFW artworks in full resolution without the disclaimers.
NSFW content and NSFW downloads from any fandom. 
All the NSFW work is kept in the 5$ -10$ tiers, including the Downloads. The 1$ tier is for SFW content. 
If you can't access any of the sections, don't worry, you can enjoy most of my works if you follow me on 
Instagram
, 
Twitter
or 
Tumblr
. 
Please, before you subscribe to my patreon, read about how it works, since I will not be held responsible for any misunderstanding of how Patreon works. Patreon charges as soon as you subscribe and at the beginning of each month. For more information visit 
this page
.
The good news is that you can stop subscribing at any time you want and you will stop paying, but you will not be able to access my content anymore until you pay again.
I hope you enjoy my work!
Tirohia koe! 🍒
Select a membership level
SFW
Sneak Peeks.
SFW Early Access.
SFW Unreleased Works.
My most sincere thanks and unconditional love.


Español:
Avances de las próximas publicaciones.
Acceso al contenido no explícito.
Acceso al contenido no explícito sin publicar. 
Mi más sinceras gracias y amor incondicional.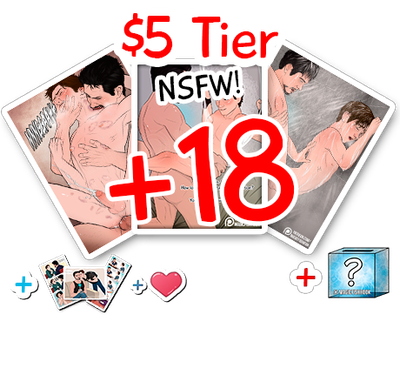 NSFW
NSFW Early Access.
NSFW Unreleased Works.
Suggestion box. Do you have any prompt/request/idea? Let me know! 
Plus all previous rewards.


 Español: 
Acceso a contenido explicito.
Acceso a contenido explícito no publicado.
Caja de sugerencias: ¿Tienes alguna idea/pedido/opinión? Déjamela ahí.
Todos los premios del nivel anterior. 
Videos + HD Downloads
 Video Tutorials.
Speed Painting.
HD Downloads of the drawings. 
Polls for next drawings. 
 Plus all previous rewards. 

Español:
Video Tutoriales.
Speed Painting (videos del proceso en cámara rápida).
Encuestas para los siguientes dibujos.
Todos los premios del nivel anterior.
New Goal! If I reach the 100 Patreons I'm doing a raffle of a book with some of my drawings and prints.  


1 of 1
Recent posts by MagicFishHook