The Majalis Duo
is creating Lewd Games, Art and Erotica
Select a membership level
Pony Tier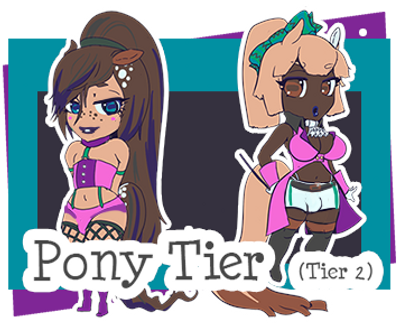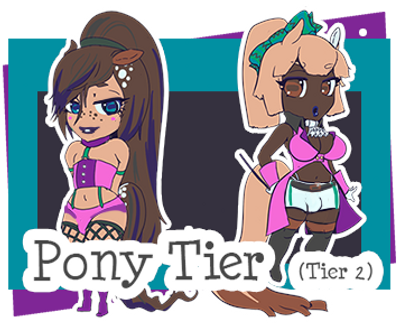 $3
per Picture or Chapter, or Game Update
ALL OF THE ABOVE AND:

<1 Vote!>
Exclusive access to a private Dropbox folder containing the monthly builds of the Tales of Androgyny! Patron versions are a few versions ahead of the public builds, and have story mode unlocked as it's being built out, as well as a few other features like cheat mode, and once it's complete, a patron-version only class.
Also in that Dropbox folder is all of our sketches, past and present, the finished updates, story snippets / chapters.
You'll receive 1 vote for the Tales of Androgyny encounter / animation / character voting. The most supported Tales of Androgyny encounter / animation / character is implemented!
Includes Discord benefits
Bunny Tier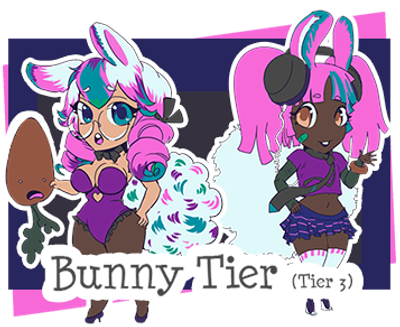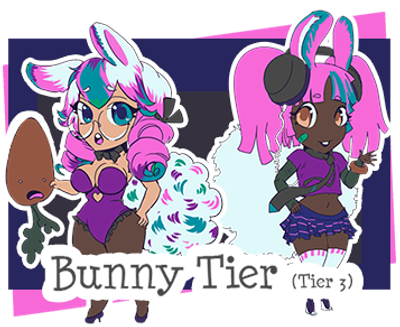 $5
per Picture or Chapter, or Game Update
ALL OF THE ABOVE AND:
<2 Votes!>
Access to the Tales of Androgyny weekly builds in a private Dropbox folder
Access to that same Dropbox folder where we exclusively keep our Hi-Res images and raw PSD files
Ability to vote on feature inclusion for Tales of Androgyny, as well as major game decisions!
Your vote counts for DOUBLE (2X) for the Tales of Androgyny votes, both feature and encounter surveys!
Includes Discord benefits
Dragon Tier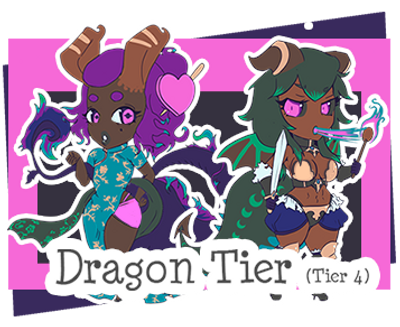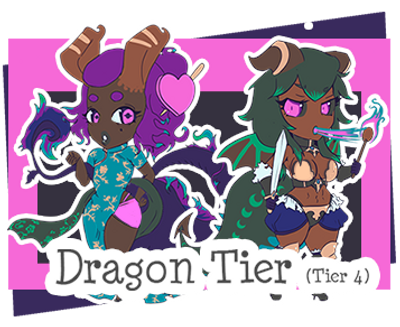 $10
per Picture or Chapter, or Game Update
ALL OF THE ABOVE AND:
<4 Votes!>
Exclusive access to picture alternates via Dropbox - some patron selected (see Angel Tier), some that tickle our fancy
Anyone who pledges at this tier can ask to have their name/handle added to the thank you credits in Tales of Androgyny
Your vote counts for QUADRUPLE (4X) for the Tales of Androgyny votes!
Includes Discord benefits
About The Majalis Duo
About Us
We're Majalis - comprising "Maj", the writer/developer, and "Alis", the artist/animator. We do the weird stuff.  This Patreon is dedicated to our regular output, which, as of now, is 70% our lewd femboy game,
Tales of Androgyny
 - and 30% other lewd images and stories featuring men, women (with or without dangly bits), and various androgynous and feminine characters that run the gamut of femboys, futa, and other, well, androgynous characters.  There's a lot of focus on curves, colors, and colons.  
Below we have the features of our Patreon laid out - we've also got our reward tiers listed out on the right-hand panel for your perusing pleasure.  We have
four
updates every month, more or less guaranteed - full color pictures, story chapters, or game updates.  You can restrict
how many updates you support
, so it is flexible.
Tales of Androgyny


Tales of Androgyny
 is our homegrown roguelite femboy and futa-focused game.  You can read an up-to-date description of it (and try the public build) 
here
.  We're hoping to make a game that's not only erotic, but also has rich, fun gameplay that rewards players for creative thinking, and makes sex part of the game design, rather than auxiliary to it, or vice versa.  It'll be highly replayable, with multiple gameplay modes, character customization, challenges and procedural generation of adventurers, and, down the road, mods and custom content.  There will be a story mode with a central narrative, but the full game mode will be focused on challenging, well-designed gameplay.
The featured kinks are, in order of prevalence (kind of): femme boys, women with dongs, domination/submission, monster girls (also often with dongs), humiliation and femdom, particularly pegging of various varieties, plenty of anal, oral, descent into hedonism and depravity, knotting, corruption, giantesses, amazons, thick and curvy women, monsters, facials and bukkake, oviposition, sliiiiiimes and googirls, and many more. Some of the more extreme kinks have toggles to protect delicate eyes and sensibilities, but you wouldn't use those, would you?
Patrons are able to vote on the assets that will make it into the game sooner, if at all - this includes encounters/events, characters, animations, and possibly even whole storylines and game modes. These are monthly surveys that are sent out to patrons of the required tiers, and votes are tallied based on tier and updates supported.
The Dropbox Gallery
If you are a new patron and you want access to the Dropbox: check our post feed and look for the tag "Dropbox" - the most recent posts with the appropriate links should be up top.  If you receive an email containing the links and they don't work, make sure to search for those posts, as they may have been edited after the email was sent.  If you can't find the links, please message us directly via Patreon's "Send Message" functionality, rather than making a new post on the public feed! Thank you!
While most of our work is publicly accessible, works in progress and works that never make it to a finished, public-facing venue are all compiled here on our Dropbox.  As of December of 2016, it will include effectively all of our collected works since we started.  Depending on your reward tier, you may also have access to our raw PSD/SAI files and any HiRes pngs or jpegs of our released work (Bunny Tier+) or alternates that were done for works that are completed (Dragon Tier+), as well as downloads of our recorded livestreams (Dragon Tier+), among other things.  Starting in November of 2016, you'll also have access, again depending on tier, to our patron-only builds of
Tales of Androgyny
, including a monthly build (Pony Tier+), and weekly builds (Bunny Tier+).
*Access to the dropbox folders and their respective passwords for the month are sent out the day after Patreon processes pledges, and is sent to all processed patrons. To prevent abuse, we don't send out the links when you first subscribe, only when the first payment is processed! If you're declined during that processing, send us a message via Patreon once it goes through so that we can send you the links!*
Some alternate-request examples for Angel tier and up:
And come join us on our stream: 
https://picarto.tv/Majalis!
Disclaimer
The themes present in our work, whether it's our art, our stories, or
Tales of Androgyny,
are purely for erotic purposes. They don't represent our views on actual people, or how sex should occur in real life. We try to be sparing in our use of slurs and language that is meant to demean or dehumanize people - but fetishes being what they are, they do crop up from time to time, and they are meant purely for the enjoyment of the reader. Just as we wouldn't condone real violence, despite the game featuring swords and spears, we do not condone the sexually predatory nature of some characters that feature in our work, nor do we think that their natures endorse real-world equivalents.
Our intention isn't to paint any group of people in a negative light - men, women, or anyone of any other gender identity.  If you feel harmed or maligned by our work, please don't hesitate and feel free to reach out to us at
[email protected]
so that we can try to avoid making others feel that way in the future.  Thank you, and don't let anyone tell you your feelings don't matter.
Whether you choose to pledge or not
Either way, thanks for even considering us! ♥♥♥ 
Contracting Double Trouble

We'll keep at least two contractors from the following list of possible contractor positions, active at all times. This'll free up even more time and give us a stable team to collaborate with.
Possible contractors: programmers, artists (traditional or animation), voice actors, composers, video editors, QA

13 of 13
Become a patron to
Unlock 1,366 exclusive posts
Connect via private message
Recent posts by The Majalis Duo
How it works
Get started in 2 minutes