Mari Costa
is creating Comics
Select a membership level
Coffee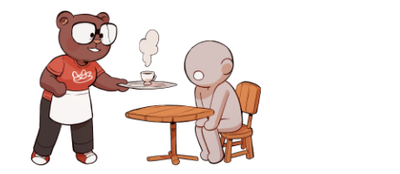 Patrons who pledge 1 dollar will receive a heartfelt thank you from yours truly, along with previews of Peritale pages when I have them available!
Cappuccino
Patrons who pledge to this tier get access to a secret patreon twitter where I'll post any WIPs and drawings, along with access to streams! Plus everything on the $1 tier!
Frapuccino
Patrons who pledge 5 dollars will get access to all Life of Melody updates as well as any other exclusive patreon comics, like Inherit the Sun, along with any bonus content! Also, everything in the previous tiers. 
About
Hey! I'm Mari, a Portugal-based webcomic artist, illustrator and first and foremost a story teller. Boy howdy do I have some stories to tell, and with your help I'll be able to continue telling them for all of the frightening and unforeseeable future! 
Recently, I got into art school, in another country! Wow! Living abroad and paying rent is expensive, so really every little bit would help a bunch! 
"But Mari, what do you do?"
I hear you ask. Great question!
SuperMahou
Supermahou ran from 2012 to 2014 and it was my very first experience with webcomics. It's lighthearted comedy about 5 japanese middle school girls with superpowers, 100 pages long, and it holds a very dear and special place in my heart. 
Read SuperMahou here
!
The Well by the House on the Hill

TWbtHotH ran from November 2014 to May 2015. It features a young, doe-eyed girl named Marie in what is possibly her worst babysitting job ever! The comic is completed now, and a printed/PDF version with exclusive content is in available for purchase 
RIGHT NOW
!! 
Read The Well by the House on the Hill here
!
Shorts

I've also done a few short comics, all in the Fantasy genre ballpark, while I worked on the two comics above, and I intend to do many more! Maybe even compile them all up into a neat little pdf? Who knows! 
Read my short comics here
!
Peritale
Peritale is my ongoing fantasy webcomic about an inept Fairy Godmother and her quest to get a simple townsgirl and a prince together. It's been in development for many, many years and I'm very excited to share it with you guys! It's also my very first venture into long-form comics! It's a very big project, so I'm gonna need a lot of help! 
Read Peritale here
!
Life of Melody
Life of Melody is a
patreon exclusive
fantasy/slice of life webcomic about a fairy godfather and a beast raising a child and ????getting along????? It's an easygoing romantic comedy that has been described by some (everyone) as "gay". For
$5 a month
you can get instant access to
the entire completed comic
!! 
Inherit the Sun
Inherit the Sun is my new Patreon exclusive webcomic. It's a fantasy sci-fi about inheritance drama in space! It's rated 16+ though, so be aware of that. For
$5
, you can read monthly updates!
In short, I do a bunch of stuff! I did a bunch of stuff! I will do a bunch of stuff! And if any of what's listed above interests you at all, please consider supporting me!
This goal will let me comfortably pay rent! Not as glamorous as more bonus content, I know, but life comes at you very, very fast. Getting to this point would exceed even my wildest expectations. And more money in my savings means less time spending picking up commissions and more time producing That Gay Content.
2 of 3
By becoming a patron, you'll instantly unlock access to 86 exclusive posts
By becoming a patron, you'll instantly unlock access to 86 exclusive posts
Recent posts by Mari Costa