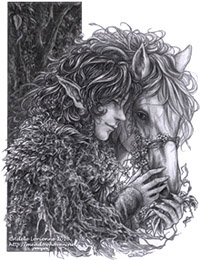 Hello all!

My name is Adele Lorienne. I'm an artist with a passion for fantasy and nature, and I love to combine the two in my artwork!  :) My personal website is
Meadowhaven.net
.  
You might also know me as
Saimain
from DeviantART, or recognize my fanart from
Tumblr
. 


Why Patreon?
Ever since I was a wee sprout I've nurtured the dream of bringing my stories and characters to life. When I wasn't climbing trees, I doodled on everything within reach (particularly cardboard boxes that I'd turn into epic ships to voyage to other worlds) and wrote endless stories in my notebooks and journals.  Your sponsorship helps this dream continue by allowing me to devote more time to creating and sharing what I love! 
What current project can new patrons expect to see content from?
At the moment,
Final Fantasy XV
and
Doctor Who
fanart and a 
Fantasy Coloring Book
 for adults!  Elves, romance, nature--everything you might expect from me! :D Every month I'm posting new WIPs and projects for patrons to see (and often color) and be involved in the making of before anything is released to the public. 
What are your art/story projects you refer to?
Mainly my two original fantasy storylines: "
The Wars of Avenan
" and "
Not All Kings Wear Gold
." For character information, world details and history behind the artwork please visit my website
Meadowhaven.net
. 
***
Thank you so much for reading and for your support! ❤︎