Mike Maimone & Mutts
is creating Music & Videos
Select a membership level
COOL
Patron-only T-Shirt (mailed after 6th month)
My latest album on CD
All albums past and future (digital)
Exclusive Patreon Content
AWESOME
All in-print albums past & future on CD (mailed after 6th month)
Patron-only T-Shirt
Stickers & Buttons
Exclusive Patreon Content
AMAZING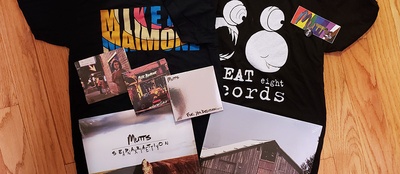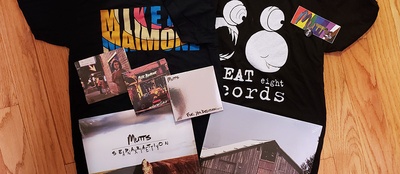 Guestlist spot +1 on all shows (within our ability) 
Exclusive Patron T-shirt + any shirt currently in print (mailed after 6th month)
All in-print albums past and future on CD or vinyl
Stickers & Buttons
Exclusive Patreon Content
About Mike Maimone & Mutts
Hi, I'm a singer/songwriter, keyboardist, and leader of a Chicago band called
Mutts
. I've put out over 20 records since 2008, so I guess I technically run a tiny record label, too. Thank you to everyone who has bought those albums!
Along with creating music, I love to perform it. Since I quit my last full-time job in 2005, I have spent much of my life on the road, playing around 100 shows/year with Mutts, as a solo artist, and sitting in with other bands. Thank you to everyone who has come out to the shows - and extra special thanks to those who've given us a place to sleep!
About 3 years ago I started making music videos as well - including
I'll Be Around
,
Neighbor
, and
Tin Foil Hat
for Mutts, and my latest solo release,
Hey Now
. Thanks to all of the creative people who've helped me bring these to life!
WHAT WILL YOU GET FROM PATREON?
If you like the music I make and the videos I produce, I've got all kinds of good stuff to send you... there are physical items (CDs, Vinyl, Tee Shirts, etc) at each pledge level. Plus Patreon-only content, which includes live audio/video, sneak peeks at new songs, cover songs, and more.
In-print albums currently include:


CD:
Solo - Open Mic Nights, Empty Bottle Mornings (2008)
Mutts - Pray for Rain (2011)
Mutts - Fuel Yer Delusion (2014)
Mutts - Stuck Together (2019)
Vinyl:
Mutts - Pray for Rain (2011)
Mutts - Separation Anxiety (2012)
Mutts - Stuck Together (2019)
See
muttsmusic.com/store
to pick your shirt for $25/mo and up levels and email me the style and size you'd like at [email protected]
*Physical goods like T-shirts and lyric sheets mailed 6 months after signing up.

WHAT WILL I GET FROM PATREON?
Your monthly pledge will help me record new songs and music videos. The costs covered include:
Pro Tools, Adobe Creative Cloud, and other software subscriptions
Studio time to record anything I can't record myself
Mastering / vinyl preparation costs
Renting (and/or purchasing when necessary) audio and visual equipment such as microphones, camera lenses, gimbals, plugins, etc.
Paying to properly license cover recordings
Anything above that goes towards gas for hitting the road, and making merch and CDs/vinyl to sell at gigs
WHY PATREON, NOT KICKSTARTER OR GOFUNDME?
Kickstarter is a good way to fund a single album cycle - and we may still use Kickstarter for large projects in the short-term.

But we write songs, pay to record them, pay to create the physical copies, pay to promote the release and the tour, pay to go on tour... and then start over. It's an expensive cycle! And unfortunately, with people buying less music and concert tickets than ever before, this cycle isn't sustainable.

Now, you might still be thinking, "but you do make some money? Where does it go?"

As a former accountant, I'm glad you asked... I'm keeping track of my hours and expenses so I can disclose how much time and money goes into each bit of content.

For example, the Hey Now music video took about 6 full days of shooting at various locations, 4 days of editing, and about $300 in gear rentals and gas. I also hired a publicist to help get it out there (it debuted on Pride.com) and took out some social media ads. All told, I suppose I've gotten a little more exposure from the video, I loved every minute of the creative process, and I'm proud of the thing I got to make with the help of my friends - but I've made zero dollars from all that work and investment.

So, my debt continues to grow, despite working all day, every day on making music and playing gigs. Pledging on Patreon is the best way for the people who enjoy what I do to help me keep doing it.
THANK YOU FOR READING, FOR LISTENING, AND FOR PLEDGING!

Love,


Mike // MUTTS
We'll take a vote and record an EP of piano/vocal covers for Patrons only.
1 of 2
Become a patron to
Unlock 78 exclusive posts
Connect via private message
Recent posts by Mike Maimone & Mutts
How it works
Get started in 2 minutes