Mishamai
is creating Extra Thicc Cosplay and Boudoir
Select a membership level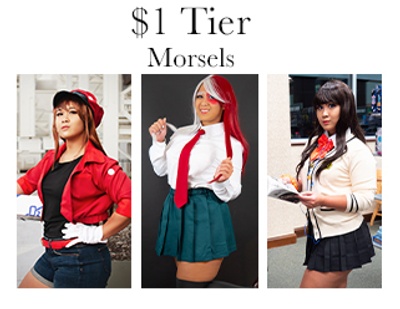 Morsels
Every bit helps me and I'll be eternally grateful for your continued support.
💖 Occasional* photo sets of at least5-10+ images of SFW or some lewds
💖 See it here first! Priority updates such as cosplans before any social media.
💖 Voting on my poll posts.
💖 Access to blog and tutorial posts.
💖 15% off discount to Mishamai.com
*May be monthly or every other month
Snacc Attac
💖 Lower tier rewards plus,
💖 At least 20 images of the main monthly cosplay set- mostly SFW, maybe a couple of lewds depending on the shoot.
💖 Some of the sexier bonus set(s)! These range in image amount since they are a bonus gift from me **when I can** and are posted mid-month. Links will expire at the end of the month.
💖 Birthday Fan Sign! If you're my patron the month before or the month of your birthday, please let me know your birthday via Patreon messages with the name you'd like written and if you'd like me in or out of cosplay. If you choose in-cosplay, the cosplay will depend on the set I shoot next!
A Whole Meal
💖 Lower tier rewards plus,
💖 ~More lewds~ At least 25-35 images total.
💖 Half of the sexier bonus set(s)! These range in image amount since they are a bonus gift from me **when I can** and are posted mid-month. Links will expire at the end of the month.
💖 2- Autographed Instax minis mailed to you with a personalized note filled with love!
About Mishamai
Hi hi it's Mishamai: your fav fitness and anime enthusiast! Patreon is the perfect place to share exclusive content with my supporters who are truly interested in my work. Your contributions go directly to my creating cosplay, boudoir modeling, and attending anime conventions to hopefully meet y'all. Patreon is free to follow!
Other ways to support me: 
❤️ 
Mishamai.com
My store for merch like stickers and signed prints. Patrons, remember to use your discount code!
❤️ 
OnlyFans.com/Mishamai
Lewd clips and pics~
❤️ 
Ko-fi.com/Mishamai
One-time contribution like a tip jar 
❤️ My 
Amazon wishlist
of what I need for future shoots or just cute anime gifts I'd love 
❤️ Wanna send me mail or something not on my wishlist? 💌 Mishamai, P.O. Box 143021, Austin, TX, 78714 
Follow me!
💗 
Instagram @Mishamai
💗 
Twitter @IGMishamai
💗 
Facebook Mishamai Cosplay
What is Patreon?
Patreon is a month-to-month subscription service where you sign up for a particular tier and receive different rewards for that specific tier! The higher the tier, the better the reward! I offer everything from digital sets, videos, cosplay videos, behind the scenes crafting sneak peaks, merch discount at Mishamai.com, and signed polaroids! 
(If you would like more info, please check out the "Rewards and Tiers" to your right of this page! Or if you are viewing on mobile, go to "Overview" and then click "Tiers")
Why a Patreon?
I want to create more content and show you how much you help me grow with your support. Becoming a Patron lets me create better content more often and you get monthly rewards of my work.
I do lewd, not nude.
I do not do topless or nude. My images may get implied but never full explicit nudity. 
*IMPORTANT MUST READ*
How does it work?
- Please note you will be charged at the time of pledging and every first of the month for the duration of your pledge.
- All rewards are monthly unless otherwise stated. You will get all the benefits for only the month that is paid. 
- There will be no refunds as many rewards are made available as soon as you complete your pledge so please make sure to read.
- Anyone found posting or distributing Patreon exclusive pictures and sets will be blocked with no refund. Same will be done to anyone I deem disrespectful.
- All main set rewards will be released/mailed by the 7th of the month. 
- The main monthly cosplay sets are sent via a Dropbox link through Patreon messages.
- Bonus sets released mid-month can be found in posts. The Dropbox link will expire at the end of the designated month.
- If pledging mid-month, please allow a week for me to mail out physical rewards. Your digital rewards will be sent via dropbox link to your Patreon messages as soon as I can (typically within an hour unless I'm asleep haha)
I'll be able to occasionally travel to or rent locations and studios! Which means shower, bath, pool, kitchen, beach shoots, studios with cooler setups and props than I have at home... More possibilities! 

1 of 2