Moli
is creating Ecosocial projects to improve our living environment
Select a membership level
Monthly written status report
A report of the projects being worked on, successes and learning experiences. 
Reflections on how things can work better
Video report
A monthly talk about what has been happening, the progress of the projects and what has been learned along the way.

Also the " Monthly written status report"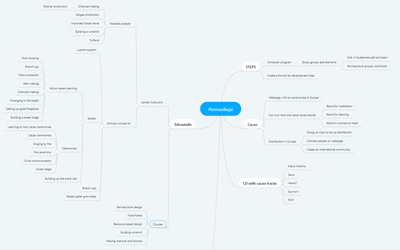 Vote in what I do
You have earned a vote in my worklife!
Every month a few options are offered and those with a vote select their 1-3 favorites. I will work on the top two selected and put the patrons funding towards those projects.

Each project will be well described so that people can implement similar solutions where it fits.

Also:
"Monthly written status report"
" Video report" 
About Moli
Why support Moli?
In the last years Mörður "Moli" G.ott. has been active in creating environmental awareness in Iceland with his company Töfrastaðir. It has been the main entity in setting up multiple permaculture and social improvement courses. This work led to the creation of the Icelandic Permaculture Association. From there on many students have started great projects and are working on many new ideas.
Moli is on the edge of making great things happen. With your support in this Patreon crowdfund, you can take part in making great projects come to life.
Who am I?
I have experience in many fields, best described as a jack of many trades. I have been disabled since 2003 but have been able to keep my neurological condition under control through healthy diet and spiritual exercise.
I studied horticulture at the Agricultural University of Iceland, with a focus on hydroponics. In my studies, I realised how far behind Iceland is in plant cultivation, and how the natural source of connection between man and nature has faded. I delved into permaculture, left school to travel between countries to learn how to observe natural patterns; gathering information and, last but not least, gaining knowledge from others.
Sandar Suðursins
I manage Töfrastaðir, an organization with a corresponding company that develops ecosocial solutions on five hectares of land by Þorlákshöfn, Iceland. It is called "Sandar Suðursins" ("Sands of the South") because it is mostly sand and lava fields. We take resources from the nearby towns that society disregards and use them to make products and increase fertility on our land.
Last summer we hosted the biggest permaculture event in the Nordic countries, the "Nordic Permaculture Festival". This year we will create our own festival called "Athöfn", to show what can be done with little monetary resources but a lot of knowledge guided by honed wisdom.
My Projects
My main project is the computer program STEPS. The testing site is Sandar Suðursins. STEPS is a resource-based design method that I am constantly developing, based on the program.
The second project is an initiative that brings Guatemalan ceremonial cacao to Europe. The profits from the cacao export business will benefit ecosocial projects in Guatemala that use the STEPS program. The underlying goal of these project is to provide free healthy food to children.
Third project is my masters studies at GAIA University, to be able to guide others I must always seek new information and gather wisdom to understand what I have learned.
STEPS
STEPS is a computer program that helps people figure out how they can move towards regenerative living with the resources they have, while increasing the resources available to them.
What is the program's function?
STEPS is a program to help people map their path to sustainable living. It is a database of resources where the inputs and outputs of each one is recorded and matched to figure out what the user can develop.
How does it work?
A user signs into the program and selects what resources they already have. The program analyzes the outputs of the resources the user has and matches them with the inputs needed to make the elements in the database. The elements are anything from earthworms to complicated farming methods and construction. Each element comes with an explanation of its functions, an input- and output-list for making it and where to access further knowledge on the element.
Example:
A new user signs in. They select what they have, which, in this case, are chickens, compost, basic tools and scrap wood. They have multiple outputs like eggs, feathers, fertilizer, gasses and more. The program then lists the different elements possible to develop with those resources which, in this case, would start with multiple types of insect farming, liquid fertilizers, bio digester for biogas, feeding system for chicken, chicken coops, omelette and many more.
This allows the user to expand their knowledge on how to use their existing resources.
When someone adds a resource to their available resource list they can see what new elements are available.
Sandar Suðursins
Sandar Suðursins ("Sands of the South") is the name of the land which will be used for the festival Athöfn this summer
http://www.permavillage.net/events-1/2018/7/18/athfn
). It is a 12-day festival where people take part in stimulating nature. By increasing the fertility in the barren sands, reconnecting with nature through art, ceremonies and much more. We also hope to make charcoal, biogas and more but that depends on available funding.
Cacao flow
I am developing cacao products based on ceremonial use of cacao. The local tradition is to make circular cacao cakes that are used for three to four cups of cacao. We will make smaller ones for one cup and call them "discs". We will create discs with spices and herbs that stimulate the mind, body and soul. That will help people meditate, dance and elevate themselves. Main development of this starts in October, unless new people join the work.
Gaia University
I am currently a masters student at the internet-based Gaia University from Boulder, Colorado, with a focus on Regenerative Enterprise Design and Development. These studies help me become capable of creating better project designs and focus my energy towards stimulating ecosocial development.
Which goal am I pursuing with the crowdfunding?
I see myself as an ecosocial activist, a person taking action for environmental and social justice. I collect solutions, test them and offer them to society.
With crowdfunding, I will offer people to support me so that they feel good even though they are not taking action for ecological and social initiatives all of the time.
The supporter gets to vote for which project the money is used, giving a sense of being part of something. They will get reports every month. They will also get the opportunity to learn from the projects I am setting up as well as from personal and professional mistakes.
I am offering a share in me with limited power and no responsibility other than paying a monthly fee.
My Vision
According to my life design, I will be in a rocking chair on a big porch at the age of 67, where a lot of kids are playing. To these kids, I am the weird old guy that tells them stories and they are never sure whether they are true or not. The people that live and work in the school and orphanage don't bother them when they are in the safe zone that the porch provides. To these kids I am a fun old man that offers security, a good person in their life that is always there to listen and laugh with them.
The backstory to this is that this community is living in one of four sites focused on social, eco and technological development, with its foundations in a school and orphanage. There, kids learn how to harness the powers of nature, technology, communication and the powers of a caring lifestyle.
These kids have little support in their original society and would be likely to "cause trouble" based on their low income potentials and social isolation. The communities we build up change that by offering them skills that fit their environments and train them to lead their societies towards intellectual solutions that benefit all of nature.
At age 67, the people running the orphanage and school will be former students themselves helping to support others in creating full lives with great opportunities. My role there is not to manage but advise from time to time and support former students in their innovative projects that replace obsolete ideas and technology with solutions that benefit nature.
Connecting my vision with reality
The work I am doing now is designed to build the foundation of this vision, learning the skills that will be taught in the school, developing a resource-based design system which the kids can use to create abundance and gain trade skills from implementing the designs. It all comes together with many plans for the future in reaching milestones that are needed to create a healthy community, which in turn is needed to offer children a healthy life where their soul, body and mind are assisted to fulfil their great potential and for them to become people that can improve society.
What are my biggest challenges?
Lack of understanding leads to social isolation
Working with innovative solutions or solutions uncommon in society often leads to social isolation as most groups of power like to connect on the common knowledge and ideas that they have. This causes a lack of understanding and support for clever solutions as most decisions in Western society are based on the lowest knowledge in a group. Being the one trying to promote ideas and solutions that replace the existing paradigm also makes people feel threatened as they realize that their knowledge and position might be obsolete.
Financial limitations
Developing solutions is a very costly process with little financial support until the projects are at the point where they don't need support anymore - which is where most banks and investors are interested.
I have put over 1000 dollars into projects every month for over five years when my income is that of a disabled person. That does not allow for rapid development and since I was alone in the beginning trying to set up big projects, they did not progress fast.
Traps of tradition
Most people don't realise that western societies are governed by traditions rather than intellectual processes. Water toilets are the greatest environmental disaster we are facing but it is the traditional norm and common knowledge that deems it good. People most often vote politicians because of their familiarity with them rather than their potential to do well in their jobs. Governments use obsolete systems of reaching decisions even if technology and social science offers a myriad of better systems.
This is, however, understandable if we look at all the decisions a person needs to make in a single day. It leads to people trying to simplify situations to be able to grasp them and act on them. Sadly, this most often causes convention ruling rather than intellect. We are left with country leaders that defy science community consensus in environmental policies leading to mass extinction of plants, animals and massive disruption of ecology on a global scale.
Yes, we all need to take responsibility for environmental and social problems because we are all part of the problems and solutions. There are people like me devoting their life to it and if people don't have that drive and skill set then they can surely find such a person and support them.
The crowd fund is giving me enough to support more actions, I will hire a graphical designer to work on the look of all my projects, starting with a logo design and image of Permavillage.
All patrons will be sent links to a presentation or images of the designs and the concepts behind them.

2 of 7