Moonsquid Ink
is creating Tempest Red (and other stories)
Select a membership level
The Reader
You, the lovely patron, will receive access to comic pages as they are finished, before physical copy readers! (This begins at the start of Chapter 2) 

Includes Discord benefits
The Thrill Seeker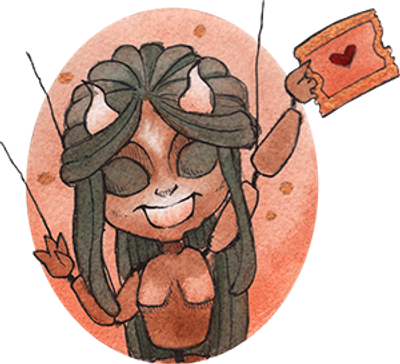 You are purchasing a more than a tier, you are purchasing a VOICE! In this Collaboration tier, you and your fellow patrons will tell me what to paint. Each month, you will comment or vote on the designated post with anything from subjects, colors, aesthetics, characters, (etc). The top liked comments will be combined into a painting, however wonderful and horrifying it may be! 
EXAMPLE:
Joe Dugnutt: Some kind of mermaid.
Liznit Pomp: Make it green! 
Hin Fuppo: Definitely needs cake.

*I retain the right to refuse any particular subject if I find it offensive or inappropriate. You will not have the right to make / sell copies of the painting, or use it to sell anything else. If you would like to use it for something other than personal display (or would like to purchase the rights to the image), contact me privately. 
Includes Discord benefits
The Beta-Tester
You receive the right to contribute to the Collaboration (see $2 for details), finished page access, as well as updates and processes on pages-in-progress!

Includes Discord benefits
About
"Darkness descends over the great Tasnhein Empire as its ambitious leaders bring the world to ruin. The disgraced former heiress could be their salvation... but is the world even worth saving?"

Hello, potential patrons! My name is Shannon, also known as Moonsquid Ink. I am the writer and artist for the graphic novel  "Tempest Red", a 9 chapter and magical tale done completely in watercolor. 

This story is my life's passion. Due to the nature of being a working artist, a project like this is a massive undertaking, especially when you consider the amount of work against the lack of immediate return on investment. Because of this, I have to split my time with other work to keep the lights on. I hope to eventually make enough to work on my stories full-time, and your support is a massive and fantastic step in that direction. 

I hope you will consider aiding in the production of Tempest Red, and my growth as an individual artist. I greatly appreciate you taking the time to stop by. Keep being awesome!
When we reach $300, I'll hold a giveaway! The winner will get a custom piece of artwork, a squidling plush, and a sketch of the character of their choice from Tempest Red!
1 of 3
Become a patron to
Unlock 609 exclusive posts
Connect via private message
Recent posts by Moonsquid Ink