Motorsport101
is creating Motorsport podcasts and media content
Select a membership level
Bronze Tier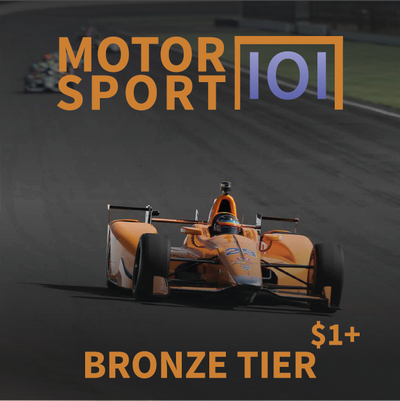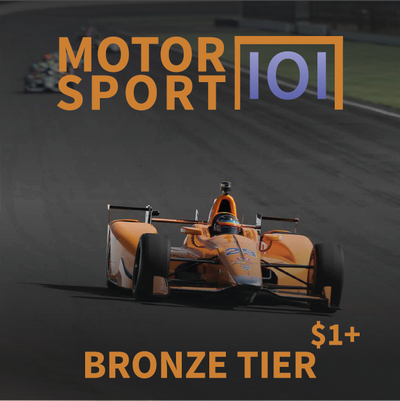 + Our thanks! We'll read your name/account on the next episode as a shoutout, and a spot in the credits of Motorsport101's website as a Patreon backer!

+ You get access to our Patreon Feed, which will include show notes for the Podcast, extra blogs on the Motorsports world exclusive to backers, as well as outtakes and a few hidden extras from behind the scenes! This also means you're automatically eligible for any competitions and giveaways we have!

+ You now get access to our Discord server! You can chat with the hosts, and regular guests of Motorsport101, as well as having occasional special hangouts and chats during special events!


Silver Tier (Early Access)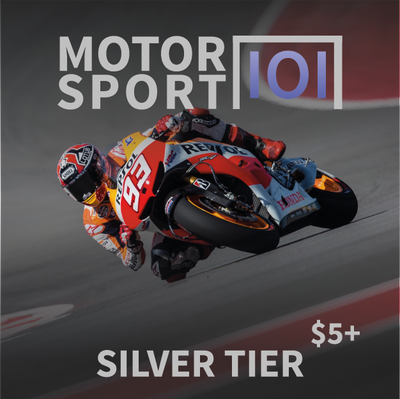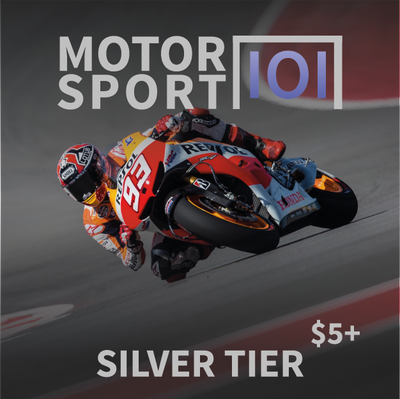 Everything included in the Bronze Tier, plus:

+ Early access to the AUDIO version of the Podcast! You get a link to listen to the latest episode of the Podcast at least 24 hours before its publicly released!

+ Your name in Silver, in Motorsport101's Patreon section on the website!



Gold Tier (Video/Listener Access!)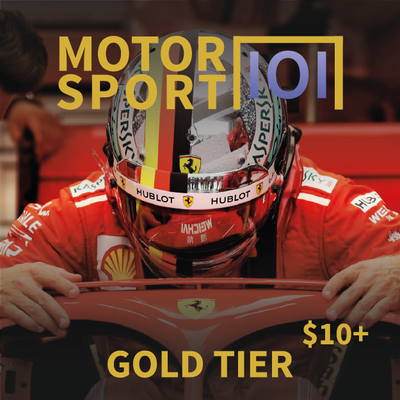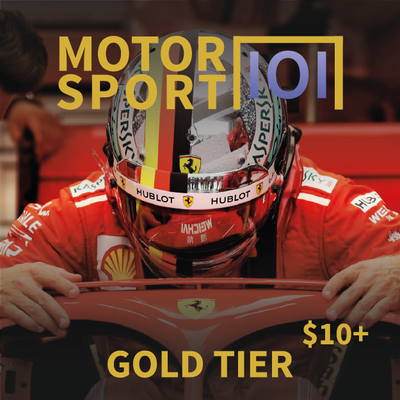 Everything from Bronze and Silver Tiers AND...

+ Access to the Supporters Club, the Patrons-only section of our Discord server! In it, you get your own private chat, as well as LIVE ACCESS TO SHOWS AS THEY ARE RECORDED! Interact with the hosts as we record new content! There is seriously no better way to be indirectly involved with our shows than this!

+ Early Access to the Audio AND Video versions of the show at least 24 hours before they're released to the public! 

+ Your name in Gold on our website footer!

About Motorsport101
Hey folks, I'm Andre Harrison. Currently, I'm a 28 year old, aspiring journalist and bookmaker (to pay those bills). You may also have know me as "Harrison101", from my days on YouTube as a gaming "Let's Player" specialising in the F1 and MotoGP gaming series, as well as journalistic style show "Dre TV", and Downforce Radio from hit biking show "Bike Live", from August 2014-November 2016.  
In January of 2016, I decided to move on from the gaming aspect of what I do, and decided to commit to the "Motorsport101 Podcast", 100%. This was due to the congested nature of the F1 space on YouTube, and I felt like it wasn't the best fit for what my real strengths are.
And I'm incredibly fortunate to be doing this with a team of really passionate and intelligent friends and fellow fans. We believe that Motorsport is a "Fresh take on the world of Motorsport", something we feel has become a bit of an old man's game Us, a bunch of 20-something's from two continents are trying to make it just a little bit more fun!
And now, as of February 2017, we've added "Bike Live" to our network of content, with Louis Suddaby also making the switch! Covering MotoGP, Domestic and World Superbikes, and even some Speedway too, this expansion will enable us to cover even more Motorsport under one roof!
Meet The Team
Ryan King
- Another aspiring journalist from New York, in his final year of doing a Political Science major at University. He's an avid F1 historian, and has produced Podcasts before, such as "F1nish Line" with former YouTube personality AthleekVG, and "The Scrutineer", on his own website, 
Formuletta
.
RJ O'Connell
- Voice Actor extraordinaire, with an extraordinary passion for GT Racing in the Land of the Rising Sun. He runs 
Super GT World
in his spare time, and is the newest regular addition to our show! 
Cam Buckley
- A Discord member turned full-time co-host with a vast array of knowledge in sim racing, sports cars, F1, MotoGP and more!
(Also, special thanks to other contributors we've had along the way, such as
Adam Johnson
,
Rebecca James
,
Louis Suddaby
, 
Zoe Hamilton
, 
Zara Daniela
,
Chris DeHarde
and
Conner "Knor" Pearson
for things like video editing and graphic design, many many thanks.) 
The Plan
The Motorsport101 Network currently consists of two shows, Motorsport101 and BikeLive. M101 focuses on cars (Mostly F1, IndyCar, Formula E and occasionally Endurance), while BikeLIve focuses on the biking world (MotoGP and its support series, World and British Superbikes). Both aim to be around 90-150 minutes long, and in peak racing season (March to November), we'll be having as many as three shows a week, with M101 often splitting into smaller 60-90 minute shows when we deem it creatively appropriate. 
Our shows obviously focus on the series above, but we often tangent into other stuff too. We don't stick to sports here, we maintain a lot of pride in being ourselves, interjecting other sports like football, darts and snooker, as well as politics and other avenues of pop culture. If you're listening to us, you're here for us, not just what racing series Fernando Alonso is into this week.
Now, something I need to stress. This page is only for supporting us. We're not withholding any content, regardless. Eventually, everyone listening or watching gets everything we do. This page could grow dust and have no patrons, and we'd still be doing this. But if you REALLY love us and want to support the show, then this is the best possible way you can support us, you get an even better podcast, and we give back with some extra perks and incentives!
Of course, having this show isn't free, there's hosting fees and website fees to cover, but if we can get them covered, it can put our minds at rest, and then anything else, we can potentially split it down the road. 
So, if you want to go the extra mile to support #Motorsport101 and what we do, this would be wonderful, and of course, thanks so much for taking the time to read, and support what we do!
Andre Harrison, Cam Buckley, RJ O'Connell and Ryan King, the #Motorsport101 Network
$125
-
reached!
per month
If we somehow get to $125 a month, we'll do a monthly T-Shirt give away on the Podcast, with all Patreon backers having double the chance of winning! 
3 of 3
By becoming a patron, you'll instantly unlock access to 402 exclusive posts
By becoming a patron, you'll instantly unlock access to 402 exclusive posts
Recent posts by Motorsport101
How it works
Get started in 2 minutes