Mr. Biggs
is creating a podcast
Select a membership level
Mr. Biggs Dollar Value Menu
Folding money ain't nothin' to scoff at.

Mr. Biggs appreciates the support!  But he also bitterly complains that he only sees 64 cents of every $1 donation after processing fees. He takes each $0.64 "Dollar Donation", and pours the handful of quarters, nickels, dimes, and pennies into an empty pickle jar.  When the jar is full, Mr. Biggs takes a trip to the local supermarket, and dumps the jar into the CoinStar machine (if it is operational that day.)  The funds are then used to buy various sundries and consumables for the workshop.
 
You'll also gain access to the Patreon-Only posts, where you'll get...

Early access to shows
Access to Patron-only posts.
Exclusive extra audio and never-heard-before clips.
Your very own secret Patreon RSS feed, so you can get all the shows and exclusive audio directly in your podcatcher of choice.
Mr. Biggs will drink coffee
For 2 dollars a month, Mr. Biggs will spend it on coffee at a local diner, chosen by him.

He will sit quietly at the counter, holding a 3x5" card with your name on it. He will look at the card periodically, and think pleasant thoughts about you while he drinks his coffee.

He will tip 25% out of his own pocket.
Also includes rewards for all previous Tiers.

Mr. Biggs Decides
As long as you are donating 3 dollars a month, you may ask Mr. Biggs to settle any personal dispute you may have with friends, loved ones, or co-workers.

Just describe the nature of your dispute to Mr. Biggs via a Patreon Direct Message. Mr. Biggs will remove a coin from the $1 Tier pickle jar... flip the coin... and inform you of the winner within 5 business days. The coin will be returned to the jar after you confirm receipt of the decision.
Also includes rewards for all previous Tiers.
About Mr. Biggs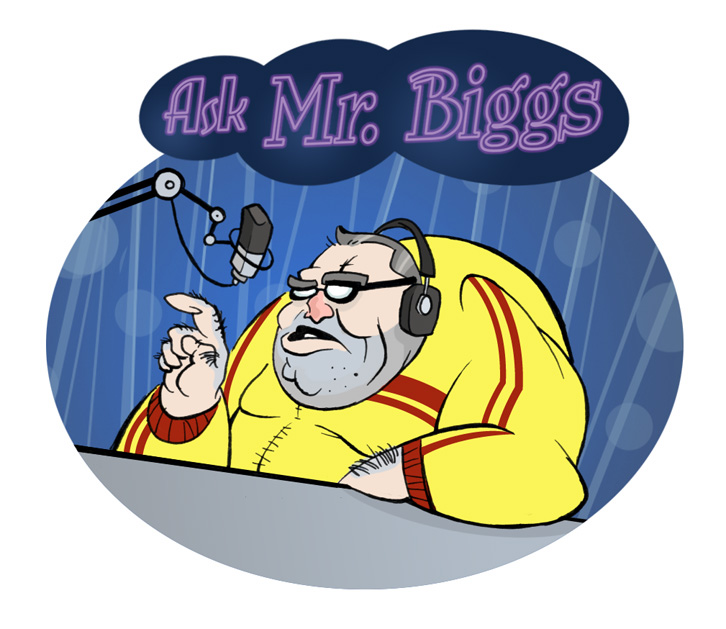 Between 2006 and 2012, we created 
Ask Mr Biggs
... a podcast that repurposed real talk radio callers into a fictional local talk radio advice show... hosted by Mr. Biggs and his mild-mannered co-host Roger.
Mr. Biggs dished out radio advice to the citizens of the Greater Tri-County area. All phone calls were taken from real talk radio callers - just edited to remove the original host, and tweaked to make them a little more...
odd.
Thanks to Patreon support, we returned to podcasting in 2017 with "
Stick it! with Mr. Biggs
" ... the next chapter in the Biggs & Roger saga. Unlike
Ask Mr. Biggs
, Biggs focused on a single topic close to his heart.
Adhesives.
Listeners were invited to send in questions about glues, epoxies, and adhesives of all kinds.  Mr. Biggs had an answer for all of them.
With varying levels of accuracy.
Rob (Co-host Roger Stenson) had to reduce his participation in 2019
(although he may return at some point)
. So I (Clay/Mr.Biggs) decided to bring the show back to its roots. Once again taking phone calls borrowed from publically available broadcast talk radio shows, then edited and placed into new -
and sometimes amusing
- context. 
Ask Mr. Biggs
the podcast RETURNS!
As a community service to the public, Mr. Biggs hosts a local radio talk show during which he happily dispenses straight-forward, no-nonsense advice on a variety of everyday problems. Listeners call or e-mail Mr. Biggs' program with questions about anything and everything: electronics, cooking, etiquette, personal hygiene, automotive repair, affairs of the heart, etc. No topic is off limits.

If it puzzles or perplexes, confuses or confounds, Mr. Biggs can figure it out.

In addition to being a repository of rare and useful knowledge, Mr. Biggs owns a personal computer and frequently browses the "World Wide Web". This allows him access to a vast array of information resources.

During his popular radio program, Mr. Biggs also shares with listeners the latest happenings and promotions at his popular restaurant/nightclub, Whizzbang's!
The time it takes to gather and edit the talk radio phone calls is substantial, not to mention the time needed to arrange and edit things into a completely new show. So I am asking for your support to help pay for production time, expenses and equipment. Any extra funds will be spent on candy and gum.
So don't delay, support today! And enjoy the wonderful wit and wisdom of Mr. Biggs.
Begin producing Ask Mr. Biggs T-Shirts to give away to top Patreon supporters.
4 of 7
Recent posts by Mr. Biggs
By becoming a patron, you'll instantly unlock access to 77 exclusive posts
By becoming a patron, you'll instantly unlock access to 77 exclusive posts