Nate Cunningham
is creating Sleepscapes.net
Select a membership level
Digital Download (reg $9.99)
Gain access to the digital download format of any one product at Sleepscapes.net (regular price $9.99).
Hard Copy CD + Digital Download
Limited (10 remaining)
Receive a hard copy CD of my first release + digital download version (CD's are limited so this is the only way available to get a physical CD).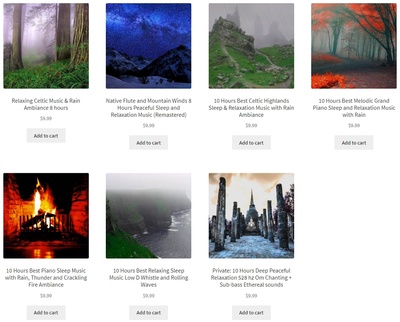 Download My First 7 Albums ($70 value)
Access to digital download of my first 7 albums:
Relaxing Celtic Music & Rain Ambiance 8 hours
Native Flute and Mountain Winds 8 Hours Peaceful Sleep and Relaxation Music (Remastered)
10 Hours Best Celtic Highlands Sleep & Relaxation Music with Rain Ambiance
10 Hours Best Melodic Grand Piano Sleep and Relaxation Music with Rain
10 Hours Best Piano Sleep Music with Rain, Thunder and Crackling Fire Ambiance
10 Hours Best Relaxing Sleep Music Low D Whistle and Rolling Waves
10 Hours Deep Peaceful Relaxation 528 hz Om Chanting + Sub-bass Ethereal sounds
About Nate Cunningham
Enjoy hours of soothing Celtic music, gentle waves and slowly-played piano, backed by the ethereal ambiance of light rain, distant thunder and crackling fireplaces, all designed to help you find peaceful sleep and relaxation. Visit 
Sleepscapes.net
for more.
This is what I'm passionate about doing. Please consider helping me do this full-time: To produce high quality melodic music to help you drift off into peaceful sleep or relaxation.  
#Celtic #Music #Zen #Meditation #Yoga #Sleep #Relaxation #Sleepmusic #Ambiance
At 50 patrons I'll begin production of physical CD's (in chronological order) and making them available for purchase at Sleepscapes.net. As patrons increase and funds become available, I'll produce the next CD on the list and so on and so on.
1 of 3
Recent posts by Nate Cunningham