Normal Human Designs
is creating Handmade Dice
By becoming a patron of Normal Human Designs you'll be an active participant in their creative process.
Select a membership level
D4
Caltrop
You are small, but, I need you in my dice bag. I need you there and NOT on the floor. You are the tiny, pointy, caltrop that makes my cantrips work and where mostof the magic begins.

THANK YOU FOR BEING AWESOME
You get 
-to peek at everyhting going on here and get my most sincere thanks. Really, it adds up.

-to provide input on polls and surveys to help decide what we make next
-sneaky peeks at secret projects I am working on
-AND, you get to laugh at all of the ways I manage to hurt myself doing this. Let's face it, you are a d4, you are designed to watch me bleed. You are the lego of the dice world.

D6
FIREBALL, BABY!
You are the trusty spell of every arcane caster and that is great! You know, unless we are in a cave full of bat guano or that's a troll... but, you know, then i get a d6 of acid and that SHOULD help, right???
I want you anyplace that isn't that cave though. 
okay, maybe not this little room with black powder either.... but here, here you are a wonderful arcane gen of a being!

THANK YOU FOR BEING AWESOME
You get 
-Everything a D4 gets, including to laugh at me bleed AND get burned. 
-The month after you join I will have a fancy 15% off coupon code for you that you can use on anything but customs. 
-A sticker. Its shiny and awesome. 
-Any more stickers I feel like dropping in the mail when I impulsively make them because my goblin hands cannot be stopped. 
And to know that you are a d6. 
Secret fact, piped, 12mm d6 are my favorite. So, whenever I am feeling cheeky, I might just send a random one to anyone in this tier.

D8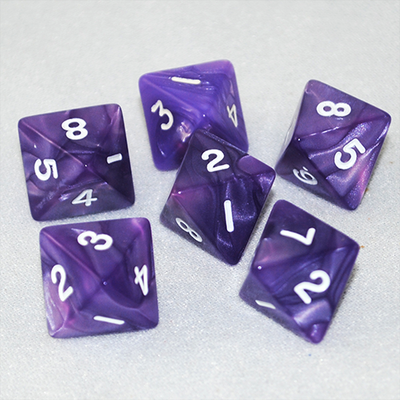 Rogue Hit Die
Which is actually the most common hit die, Bard, Cleric, Druid, Monk, Rogue, Warlock...
Which is funny because it is also the standard damage die for all long weapons in 5th. WHAT JERKS. Trying to stab all us fun loving back stabbers.... and clerics.....

THANK YOU FOR BEING AWESOME AND NOT BACK STABBING
As a note, I think it is propaganga that no one cares about the d8, because I do. 
Besides, sleep is 5d8, and that spell is BUSTED
You get 
-Everything  D4 and D6  gets, including to laugh at me every-time I bleed AND get burned. 
-The month after you join you will also get a bigger sticker too. Did I mention I have goblin hands that like to make stickers?
-If you hang out with me for 6 months, I'll send you a shirt. BUT, you have to deal with my antics that long. It will be a well earned gift. It will be a new shirt. In your size even. Not one for my weirdly shaped form.

About
HI! I am Kaz and I am a normal human, with a normal amount of skin, and a normal interest in a normal hobby where I put normal things in dice. Parts of this are true....

I come here, to settle my tiny little plot of internet land, put up a dorky little flag, and try to do more with what I have then what is possible.

I make silly handmade dice, click-clacks, and math-rocks. I will also make everything that goes with these suckers. I make stickers, I make other resin goodies from time to time, and I take the dice that have betrayed me and turn them into necklaces or bigger dice because, let's face it, I am a freaking monster.

All of the funds I earn that don't go into making more dice, fund a community game center that fosters a love of table top play in all ages and walks of life. We brainwash youth to talk to one another and have a good time being THEM. Really, its awful stuff we are doing, fostering confidence, community, and creativity (and anything else that's amazing but doesn't begin with 'C' because it will ruin this speech)

I want to grow

I want to thrive

I want to make cool things and I want to get them into the hands of goblins, gremlins, fey folk, and other alien beans.

But to do this, I need your help...

IF you help, I can get you cool things...

This all tracks, right?

By becoming a patron, you'll instantly unlock access to 2 exclusive posts
By becoming a patron, you'll instantly unlock access to 2 exclusive posts
Recent posts by Normal Human Designs