Novus Cantus
is creating A Music Revolution
Select a membership level
Did you just join the Novus Cantus team of patrons? THANK YOU! As an official patron, you will:

Receive a FREE download of any of our previously released singles.
Automatically be signed up for the Novus Cantus newsletter that gives you exclusive updates.
FREE Copy of our Radio Campaign EP (Digital)
Access to Live Concert footage
 After working for years on getting to where we are, we understand more than ever how much grassroots support means.  We cannot express how much even a dollar pledge each month means to us.  Thank you. 
Are you willing to take the extra step for $5?!  Yes??  Well you just earned yourself everything from the $1 pledge level PLUS:

An official Novus Cantus 4x6 magnet
Exclusive invitations to read about and vote on issues we need your help with.  These may include graphic design options, venues, marketing, song titles, etc.
Early access to unreleased material!
Elite Patron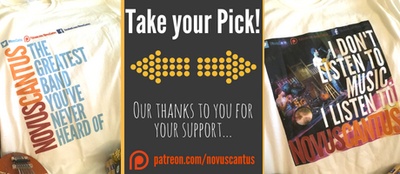 $10??
Well this is getting interesting.  We are calling this the "please take a minute to rock with us" level. 
In addition
to what you would be receiving at the other levels, you are entitled to:
A FREE Novus Cantus T-shirt!!! Just choose your design and size and we will get that over to you :D
Inner Circle Patron
I hope you like surprises, because you are now part of the
Inner Circle
of Novus Cantus.  In addition to ALL you would receive at other pledge levels, donating $20 has some serious perks:
A FREE download of all of our singles (those already released AND yet-to-be released)
Invitations to discuss and/or vote on more serious topics for us, including reviewing demos, song suggestions, overall band vision, and more.
A FREE Official Novus Cantus Mug!
11oz Official Novus Cantus Patreon Mug :D
About
Hello and welcome to the Patreon page for Novus Cantus!

Novus Cantus means "New Music" in Latin, and that is what we do: create music that is eclectic, energetic, and innovative. Having been composing, recording and playing music for about 10 years now, we had to realize that in order to bring our music to the world, we would need help. We simply do not have the resources to produce and record high quality music, videos, and live performances, so we are looking for a grass-roots, organic movement to reach our goals (See our Current Goals on the left-side of this page!).

Please take a moment to watch our video (above) that shows who we are and what being a "patron" means, and what you get in return for your support. Additionally, we have placed several links below to our music.

Both of us are extremely approachable people, AND WE WANT TO HEAR FROM YOU. So, if you have questions or want to chat about what you would like to see from us, PLEASE do not hesitate to just reach out.

Here are some examples of songs and videos we have produced:









For 2020 we are challenging our supporters to launch us into our next goal of $100 per month.

While 2019 saw the creation of our EP, "Solstice", submission to over 100 radio stations and blogs, a new online store and merchandise, a record number of supporters and fans, in 2020 we promise to TOP all of that by:

Creating TWO EP's of 3 to 4 songs each.
Using our marketing campaign from 2019 to get onto our increasing list of radio stations and blogs.
Create TWO more music videos for upcoming songs.
1 of 2
By becoming a patron, you'll instantly unlock access to 59 exclusive posts
By becoming a patron, you'll instantly unlock access to 59 exclusive posts
Recent posts by Novus Cantus