Orchard of Pomegranates
is creating a community of active listeners and creative improvisers
Select a membership level
Orchard Roots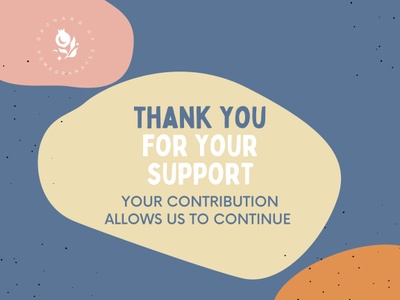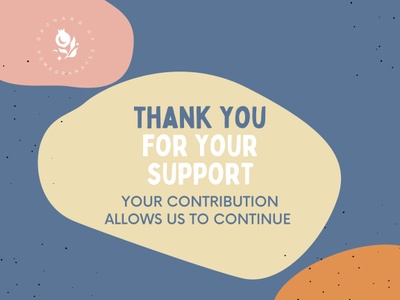 Access to Ayelet's monthly Sensory-Sonic Meditation released on the third or fourth week of the month

Thanks to you, the Orchard is becoming a more sustainable, supportive environment for facilitators and participants alike!

Exclusive Offers to the Orchard Community
Orchard Archivist
Recordings (no "live" gatherings)

Archive Access: Every month you will gain access to a changing workshop, lecture or Listening Hour from the Orchard of Pomegranates archives! 

July: Ayelet Rose Gottlieb's JazzLab & QnA from Vocal Intensive II (Aug 2020)

Sensory-Sonic Meditation: monthly recording from Ayelet, released on week 3 or 4 of the month

Exclusive Offers to the Orchard Community
Orchard Community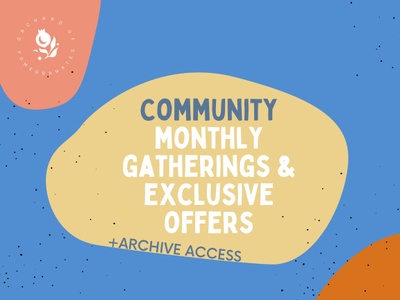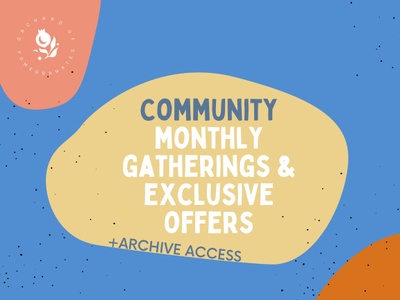 Thank you for making the Orchard a home for your creativity!
Through this tier you will gain access to:

"What's Your Story? Lab". Meeting on zoom EVERY-FIRST-MONDAY 
Qi Gong for Musicians facilitated by Sharonne Cohen
Archive access changing monthly, videos from past Vocal Intensives & Listening Hours
Special offers This July - 50% off for Ayelet's JazzLab through California Jazz Conservatory
Sensory-Sonic Meditation released monthly by Ayelet on week 3 or 4 of the month
Exclusive Offers to the Orchard Community
About Orchard of Pomegranates
Orchard of Pomegranates is a multi-cultural, international community of active listeners and creative improvisers.

A safe place for vulnerability, where non-musicians and Grammy-award-winners alike share a space to explore free-range music making and support each other's creative practices. Together, we explore the edges of our imaginations and the depths of our humanity.

*******

WHAT IS THE ORCHARD ABOUT?

THE ORCHARD IS a diverse, international community for creatives, led primarily by women. A garden of riches for people of all genders, bodies, ethnicities and socio-economic backgrounds. We are focused on (but not limited to) working with our voices on improvisation, aspects of songwriting and composition, and engaging our bodies, minds and hearts in our creative practices. Though our work is voice-centric, in our community there are composers, instrumentalists, body-workers, (text) writers and painters who transform their own work through our suggested practices, and bring their wisdom and knowledge on board.

THE ORCHARD IS a place that respects and values profound, rich, deeply-honed artistry. We bring you teachings from some of the world's greatest living musicians and artists, to offer you tools for your own growth, development and practice. With the variety of workshops offered here and at the Annual Vocal Intensives, you are unlikely to ever again suffer from "writer's block" or lack of inspiration.

THE ORCHARD IS a place that strives to be open to all who may benefit from its fruits: we intend to offer an Annual Vocal Intensive (pay-from-the-heart), this Patreon Community (paid membership at a sliding-scale) and our Facebook Group (free and private, so that you can share there without worry). We wish to create a rich, inspiring environment, where no-one has to weigh their creative needs against their rent money. 

THE ORCHARD IS a place to workshop ideas, to benefit from the eyes, ears and hearts of this community as your ideas develop. Come as you are, no make-up required.

THE ORCHARD IS a place that values mothers. Created by Ayelet Rose Gottlieb - founder, facilitator, mentor, mother, artist... the Orchard is Ayelet's creative home. As the Orchard grows, we will continue to support and hire women, mothers, POC and gender-diverse people.

THE ORCHARD IS still new. This Patreon Community is an adventure that we will unfold together. Many of you have already suggested some great ideas that may be implemented in the future, near or far. This is our starting point, changes may arise as we learn this new platform and play in its mud a bit.

*******

WHAT ARE THE ANNUAL VOCAL INTENSIVES?

"My heart was cracked open" said a participant at the latest Orchard of Pomegranates: Vocal Intensive. Other participants have called the Orchard's Intensives "life changing" and "transformative." In these intensives, we dive deep for three days of voice-centred, body-mind, heart-soul "workout." One of the participants named it "a gentle boot-camp for creatives." Ayelet facilitates a rich environment, bringing world class artists to present a diverse tapestry of approaches, exploring voice-work, improvisation, writing and movement. Past facilitators include Jen Shyu, Fay Victor, Theo Bleckman, Christine Duncan, Jay Clayton, Pyeng Threadgill, Dominique Eade, Tupac Mantilla, Katie Bull, Anat Fort, Clarice Assad, Sofia Rei and more…

Due to the success of these online Intensives, and with the desire to keep this community connected, we are now launching the Orchard's new PATREON PAGE for ongoing community engagement at different price tiers, to fit every creative heart and every pocket's ability.

*******

WHAT CAN I EXPECT TO FIND IN THIS NEW PATREON COMMUNITY?

Through this Patreon community you can gain access to archives of workshops from past Vocal Intensives and Listening Hours curated by Ayelet Rose Gottlieb since March 2020. Every month, a different Listening Hour / Workshop / Lecture will be available for the duration of one month. July: JazzLab facilitated by Ayelet from Vocal Intensive II.

Every First Monday we will gather on zoom for two hours for:
What's Your Story? Lab  (summer schedule: Mondays 6-8am & 6-8pm EST to accommodate all time zones), dedicated to setting our intentions for the month ahead, sharing our works-in-progress, and engaging in some improv-play. These gatherings are open to ALL creatives, not just musicians. 

Beyond the monthly gathering and archives, Ayelet will offer this community exclusive opportunities to create and explore. These opportunities, which she will facilitate alongside other world-class artists and community leaders, will be offered as they arise, at no set interval. In July, we will have Qi Gong for Musicians facilitated by Sharonne Cohen. You will also get a discount code to Ayelet's JazzLab this month through California Jazz Conservatory.

You are invited to join the Dream-weaving on a designated WhatsApp group, and you will also receive a Sensory-Sonic Meditation towards the end of each month, to enhance your deep-listening skills and tap into your intuitive creativity.

Lastly, You can sign up for one-on-one sessions with Ayelet (1, 2 or 4 hours monthly) to develop a project you're working on, or for guidance with your compositions, vocal technique or improvisation skills.





By becoming a patron, you'll instantly unlock access to 36 exclusive posts
By becoming a patron, you'll instantly unlock access to 36 exclusive posts
Recent posts by Orchard of Pomegranates
How it works
Get started in 2 minutes