PoopPoopFart
is creating Music Videos on YouTube
Select a membership level
Patron-Only Feed Access
Access to my Patron-only feed, where I'll post updates regarding my upcoming projects.
Audio Previews - For each video that I upload to YouTube, I'll post a (usually incomplete) audio preview of my next project for my Patrons.
VOTE in the Suggestion Box - Each time I post a video, you will be able to upvote one track that's currently in the Suggestion Box.  If you'd like to be able to ADD tracks to the list, check out the next tier!
Access to the official PPF Discord Server, where you can drop by to chat about games, music, or whatever else might be on your mind.
Includes Discord benefits
Stem Tracks
Stem Tracks - You get a zip file that contains stem tracks (individual audio tracks for guitar, melodica, recorder, etc.) for every project I upload.  You can use these stem tracks as learning aids, for creating remixes, for making your own backing track, or for whatever else you might want to do with them.
1 Credit for the Suggestion Box - Each time I post a video, you will receive 1 Credit for the Suggestion Box!  You will be able to use your credit to either suggest a new track for me to record, or to vote on a track that is already on the list.
 All previous rewards 
Includes Discord benefits
In-Video Credit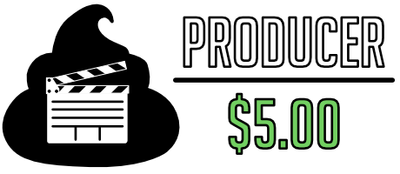 Your name will appear in the credits at the end of each video you support.  (If you'd like to use an alias for the credit [like a Twitter handle or a YouTube channel name], just send me a message on Patreon with your preferred alias.  Also, if you would like a social media icon next to your name, let me know which one you'd like to use and I'll add it [limit of 1 icon so I can keep the end screen looking tidy])
Total of 2 Credits for the Suggestion Box - (See previous tier for details)
All previous rewards
Includes Discord benefits
About
Hi, I'm PoopPoopFart (or you can just call me Gabe if you want), and I've been making music videos for YouTube for about eight years now. I mostly cover video game compositions, but I've been known to record a few pop tunes and anime tracks here and there as well. I love acoustic instruments, so most of my videos feature guitars, cajons, melodicas, recorders, hair brushes, and the like.
Over the past several years, as the quality of my videos has improved and I've amassed more and more equipment, I've found that my videos have gotten increasingly expensive to produce. Maintaining the current quality of my videos has become a bit of a financial chore, so I've decided to turn to Patreon for help. If you decide to make a contribution, you'll be helping me pay for things like strings, reeds, new instruments, lights, and assorted props. Your contributions will also allow me to upgrade/repair old or failing equipment, and will allow me to further improve the quality of my videos. I might also be able to tackle some arrangements that were previously financially unfeasable.
I am usually only physically able to upload one video per month.  Occasionally I will upload two videos in one month, but that's usually only when I do videos that are less complex than what I normally produce, in which case I will bundle the two videos into one Patreon update, meaning that you get two videos for the price of one.  So for the purpose of figuring out your pledge amount, you can pretty safely assume that I will only create one paid post per month.  However, you also have the option of placing a limit on how much you contribute per month, so feel free to do that just in case I'm able to squeeze two paid posts into one month.
$120
-
reached!
per Music Video
First I will be surprised, and then I will acquire a large metal drum so that I can finally record Mining Melancholy.

2 of 2
Become a patron to
Unlock 20 exclusive posts
Connect via private message
Recent posts by PoopPoopFart