Poisoning the Well
is creating cinematic adventures
Select a membership level
Well Dwellers
You'll be in our hearts and dreams forever. Also, you will get early access to view and comment on our new videos. All patrons will get a link to our next big production up to 12 hours in advance!
We can't promise that your first dollar won't go into a stripper's thong tho.
Includes Discord benefits
Get Some Credit!
3x5 postcard of us with your money will be mailed to you.  If you want us to write some dumb shit on it, make sure to let us know!  We mail these things out once in a great while, so don't hold your breath on prompt shipping.

Also, this is the level where you land in the credits of our major videos.  We were putting in all patrons, but now we're cutting to the $5 and up level...  'Cuz we're lazy and it's a lot of typing!
Get a PTW TEE!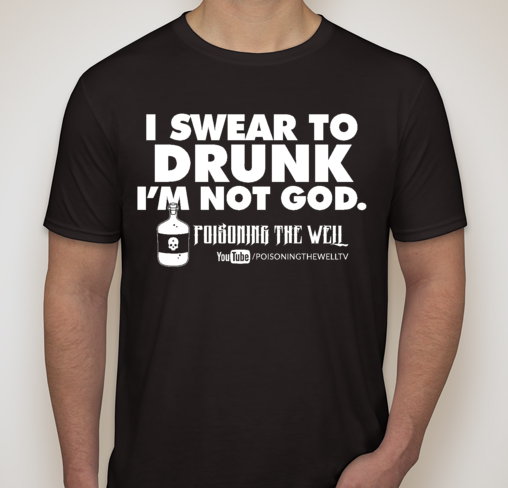 Receive a POISONING THE WELL t-shirt! Printed on a soft, athletic fit Tultex t-shirt.  We really like the fit and material of these shirts.  Please allow us up to 60 days to ship because... Well, you know.... We're lazy.
About Poisoning the Well
On a random Sunday in July 2015, we finally got off of our asses, got drunk and made a thing. Look, we had spent about a year talking about video ideas, coming up with story lines, and discussing shot lists...  But, unfortunately, we were drinking shots at the same time so nothing ever got done.  We've got a whole lot of quit in us.

So when we finally decided to record our first video, we got drunk, tossed out all of our ideas and plans, and just filmed us making fun of a video that Pat had found on the internet.  It was cringey.  Bad lighting, horrible sound, awful dialogue, and edited on iMovie.  Who cares, right?  No one was ever going to see the fucking thing anyway.

We had spent around 2 years doing a podcast that got very little feedback.  We were used to putting shit on the internet and it staying pretty much hidden and obscure.  If you dig back into the archives, you will find our old videos.  Dozens of pieces of crap that we made at random times or filmed during our podcast sessions...  2 years and 20+ videos of that netted us 15 subscribers.  Mostly our friends and Pat's mom.

Well... People did see it. And, much to our surprise, people started subscribing and commenting on our channel.

Most channels set Patreon goals that allow them to upgrade their lights, audio, video, editing software, etc.  That's probably smart.  However, we think too highly of ourselves and started throwing everything that we could into new gear way before we knew this channel might even work at a modest level.  We got new lights, new backdrops, upgraded to Adobe Premiere Pro and After Effects (because we saw it mentioned in the credits of an Avengers movie and... yes... we consider those producers to be our peers) and purchased all kinds of crap that is completely irresponsible.

Well, we have finally hit 3000 subscribers.  We had set that as a goal to reach before we started begging for patrons.  Would it have been easier on our credit cards if we had put Patreon up months ago?  Yup.  But we just didn't think people were going to appreciate being yelled at.

So....  We did it!  3000 of you enjoy the crap we make for some odd reason and now let the cyberbegging begin!  Thanks so much to you guys that subbed to us early and helped us grow by sharing our videos.  You guys all fucking rock.  Even if this Patreon thing doesn't make us a dime, we're going to keep making videos and getting drunk on Sunday afdternoons...  Because we love this shit and we need the attention.

So with that all said, welcome to the official Poisoning The Well Patreon page...  Make your money, our money!

"They were too quick witted and funny and they made me look bad." - DarkMatter2525 / April 2016 on The Goddamn Podcast episode 66.
$85.94 of $1,000
per month
For realz, tho. If we hit the $1000 mark you can get an invite to an epic pizza party in Atlanta. Whether you can make it or not, you'll be the host of the party!  For those of you that can make it, we're going to get you sooo fucking hammered.  And for our top Patron...  We'll let you stay here at 7 Deadly Studios in our sweet guest room.  (WiFi access fees may apply.)
1 of 1
Become a patron to
Unlock 28 exclusive posts
Connect via private message
Recent posts by Poisoning the Well
How it works
Get started in 2 minutes