Part Time Dragons
is creating Daily Motivation!
Select a membership level
Tall Coffee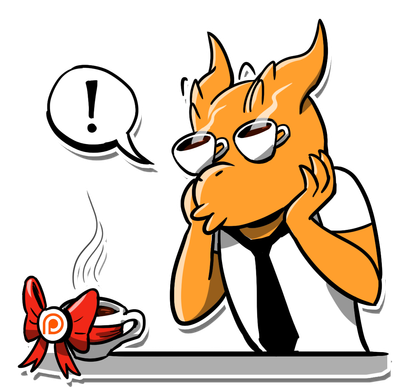 +EXTRA COMICS EVERY MONTH!
+Access to EXCLUSIVE Discord Channels + role
+Access to our subscriber-only email list.

Includes Discord benefits
Grande Coffee
+Exclusive Game info & BUILDS. Play as a dragon!
+Give us feedback, together let's make this the best dragon game ever! 
+See comics a week early
+Previous Rewards

Includes Discord benefits
Venti Coffee
+STATIC ICON of your character
+Cameo Fast Pass, appear 1.5X faster
+Previous Rewards 
Includes Discord benefits
About
Want even more motivational dragons? Become a member and get a ton of exclusive content!
Extra comics, videos and secret extra goodies we make exclusively for our subscribers!
Personalized perks like cameos or icons!
More insight into the team behind PTD and what we're working on!
Stay motivated with our community of thousands passionate to be their best selves.
Joining is super simple!
Sign up for a Patreon Account - Takes less than 2 minutes to get an account all set up!
Select your rewards- Select the tier that's best for you! All tiers come with awesome stuff!!
Join the most motivational community on Discord At https://discord.gg/parttimedragons ! Also, please make sure your Patreon account is connected to Discord bit.ly/2RsuwS8 so we know that you've arrived!

Common Questions!
1. How does the monthly subscription work?

Patreon charges your account at the beginning of every month. Its automatic, so its super simple!

2. My payment failed! Will I lose my position on the cameo or icon queue? All my other rewards?!

That's OK! I understand that life happens, you won't lose your spot just because there might have been issues with your payment. If something more prolonged happens, let us know and we can discuss it! Donna and Spike are always around, and we want to make sure you have the best possible experience as our subscriber! And your personal finances always come first!

Cameo and Icon Questions!
3. How do cameos work?

Its simple, when you pledge we add you to the queue of cameos, and we go in order through everyone. No raffles and no luck involved!
When we reach the end of the queue we circle around again! Some of our early supporters have gotten 2 or 3 cameos in the comic already!
To be fair to everyone else waiting on the queue, we ask you remain a subscriber while waiting for your cameo or icon.
The higher your pledge tier, the more often you'll appear in the strip!
Since we will be making only a small number of youtube videos, and space is extremely limited, only platinum patreons are eligible for it.
4. What if I change my mind about what character to use for the cameo?

Not a problem! you're welcome to change your mind on what character or update your design as much as you'd like. A few people even have multiple versions of their characters and just have us choose what might work best for the strip. We're actually pretty chill about this, we want to make it as easy as possible for you! Just give us a heads up on the changes on Patreon or discord and we'll update your entry on trello!
5. Do I need a full reference?

You don't! While we appreciate some of the EPIC reference pictures some of you have, we've worked with images, text descriptions, tank model number, and even a picture of a goat. Every cameo is unique and fun in its own way! So we're happy to be as flexible as you might need us to be.
6. How long do I have to wait for my cameo?

Average wait time for the comics varies a little, since we want to make sure that the quality of every cameo is as good as possible! Currently the wait is between 6 to 8 weeks. Our system is first come first serve, so if you KNOW you want a cameo get in while the wait is still short! But if you want to wait EVEN less, higher pledge tiers will appear 1.5X more often! 
7. Why are the cameos being closed down after Friday, February 7th?

Unfortunately, we've gotten to the point where the wait times for our comic have gotten long enough that I no longer think it makes a good experience. One of my top goals is make sure every subscriber has the best possible experience with us! So rather than trying to load up that tier with as many people as possible and have the wait times drag out for months, I'd like to have a smaller list of cameos that all get more appearances more often. This feels more fair to me!
Don't worry, we already have a new idea for a reward for the $10 tier involving our upcoming dragon game, which we will reveal soon!
8. Why are youtube video cameos only for platinum patreons?

Unfortunately, space for cameos in a youtube video is extremely limited. We make at least two comics every week, but only make videos occasionally. But don't worry, if you're a platinum patreon, every time your turn comes up we'll ask you if you want to appear on the comic or a youtube short!
9. How long do I have to wait for my icon?
Average wait time for the icons is about 2 to 4 weeks. Since we only work on a few every week. We do ask that you are a subscriber for at least a full month (or two patreon payments, whatever comes first!)
10. How does the fast Pass work?

Pretty simple, 30 and 50 dollar a month patreon appear 1.5X faster. Nothing much more than that!
11. Can I voice my own character on youtube?

Unfortunately, I don't think that's a possibility at this time. As we make more and more videos this might change, but currently we want to make sure that all the voices are recorded with the same mic in the same conditions, in order to ensure the best possible quality.
Game Questions!
12. What about the game you're making?

It's a comedy RPG where you play as a dragon. It's being developed for PC. The rest you'll have to find out either inside the patreon, or once we make the game details public for everyone!
13. Can I be a Beta Tester for the game?!

Of course! I believe in user testing, we will be giving out builds of the game occasionally and asking for your feedback! We're likely to have something nice as a thank you for helping us make our game even better too!
Other Questions!
14. I have a suggestion for you!

15. Can I do a one-time donation instead?

This has been asked enough... I should really look into it. Unfortunately, that's something I still need to get to doing. Thanks for wanting to support though! It means a lot!!
$1,985.68 of $2,000
per month
STEAMING DRAGON!

At this point we can spend time to make the streams and the rest of the twich channel✨prettier✨ 
-Twitch emotes
-Twitch reactions
-Prettier Twitch channel

3 of 8
Become a patron to
Unlock 440 exclusive posts
Connect via private message
Recent posts by Part Time Dragons