History is replete with turning points. This of course means that history is replete with directions it could have gone, but didn't. One direction it could have gone but didn't was Project Orion.
Project Orion was a concept that arose in the early post-Sputnik days of 1957 and lasted to 1964. The idea was simple: chuck an atom bomb out the back of your spaceship. The bomb goes off, the shockwave pushes your ship forward. Repeat a few hundred times, and you have an amazing space propulsion system. General Atomic devoted considerable effort to this program and showed that it was entirely practical; but politics - in particular the Test Ban Treaty - put an end to it. The plan of those who worked on Orion was to send a spacecraft with a crew of 150 to Saturn by the end of the decade.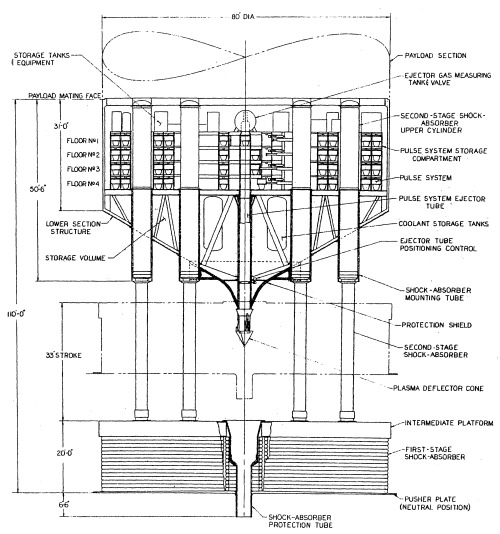 With the end of Orion, the hope of manned deep-space exploration ended. But what if Orion *wasn't* cancelled? What if Orion came to pass? That is the world of
Pax Orionis
.
In 1962, the USAF was in the position to go forward on Orion in a big way. Instead, they essentially passed on the effort. But what if events in the world had gone slightly differently, so that the USAF decided to fully develop Orion? That is the point of divergence. If you want to read the history of that point of divergence, it is available in two formats,
PDF
and
EPUB
.
Pax Orionis
will be a book that tells the history of Orion from the beginning to about 2014, with primary emphasis on the Great War of 1984. It won't be a conventional narrative novel, but instead a collection of magazine articles, official histories, technical reports, personal reminiscences and so on. One small tale tells the story (through a screenplay or transcript format) of events that occur in the late 1990's/ early 2000's (available in
PDF
and
EPUB
). In general, pieces will be around 3,000 words in length or so. This works out to about ten novel-pages.
As I am an aerospace engineer by training, the spacecraft and their operations will be hard science, not fuzzy handwaving. The designs - which have been worked out in 2D and 3D CAD models and diagrams, are based on the original General Atomic designs, updated with later technologies.
Patreon patrons will get to see the creation of
Pax Orionis
a piece at a time. This will include creations that almost certainly won't appear in the final book, such as design diagrams, maps and other technical details.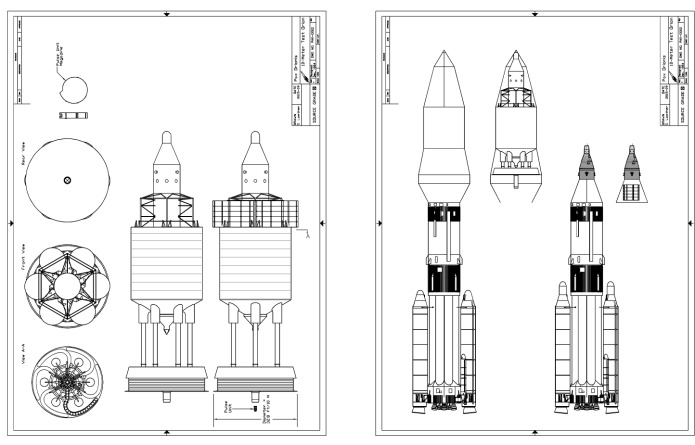 Examples of technical illustrations being created for Pax OrionisPax Orionis
is an outgrowth of another book I've been working on for two decades now... "Nuclear Pulse Propulsion." NPP is the non-fictional history of Project Orion and other propulsion systems based on nuclear explosions.