Perverted Podcast
is creating A Kink BDSM Comedy and sex education weekly podcast
Select a membership level
5 buck cuz you give a F**K!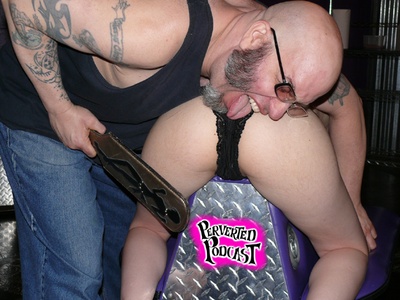 We are thrilled that you can give us anything and 5 bucks is real money to us, so we greatly appreciate you give your 5'ers to help keep us all together with our online Perverted Podcast family.
There are real bills (storage, servers, website etc.) and the hope that we can one day have a studio again to grow even more.

We offer no benefits with this tier other than our gratitude for your general support so we can keep the show going.

I do usually upload the show to Patreon before Soundcloud though by a couple days.






About
We put on a BDSM/Kink/Sex Positive show that empowers people to be themselves in a safer, sane and consensual way, and to communicate better with their lovers, partners, spouses and communities.

There aren't a lot of shows like ours out there, so we want to reach a world that still is oppressed by their fears and social judgment. We can do the show at the level we have been and still make a difference to our smaller audience, but we need you to reach more people. Better equipment, better promotion, more hosting sites, ad banners, postage for prizes, etc...all of that has a price tag.

With the help of you and others that want to join our fight for free sexual thinking and free sexual expression, we can break the negative myths and judgments about being kinky.
Because it's AWESOME to be kinky!!

We do this show because we love it and believe that people around the world should be able to explore their sexuality and not be shamed, judged or punished for it.

Currently Boogie is a janitor and promoter, and Kathy has a full time administrative job. We dedicate a lot of our free time to the podcast and volunteering for this amazing and precious community. In our personal lives, neither one of makes a lot of money but we have an absolute passion for bringing kink out of the closet and showing everyone out there how utterly normal we are.

If you believe in what we are doing and want to be a part of it, then become a supporter so we can get better sound/video equipment for cleaner audio, multi-cam video of the show, memberships to sites that will hopefully give us the power to get out there and change the world and so much more.

Every time someone in the world hears our show and is inspired to stand up for themselves, or communicate better in their relationships, you will know that you had a major part in making their life better.

Will you light the fire with us???

1 of 1
By becoming a patron, you'll instantly unlock access to 74 exclusive posts
By becoming a patron, you'll instantly unlock access to 74 exclusive posts
Recent posts by Perverted Podcast