PieceofSoap
is creating ABDL Art, Comics and Games
Select a membership level
Tier 2
- Weekly Perpetual Change livestream and report. 
- Access to Comics.  
- Access to Fan Art.  
- Access to Work in Progress.  
- Every month, a new build of the game I'm working on.



Tier 3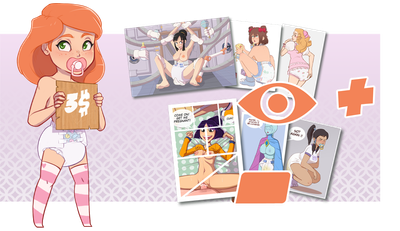 - Early access to Patreon rewards.  
- Early access to Comics.  
- Early access to Fan Art.   
- Access to Work in Progress.   
- Every month, a new build of the game I'm working on.    
- You suggest and vote what you'd like to see in Fan Art.  
- Last day of the month, a livestream where you can suggest what you want.

About
Please read before pledging!

Charge up front is enabled on this Patreon, which means that you will be charged as soon as you pledge.

You'll be charged at every beginning of the month, so if you want to pledge and it's the end of the month, wait a little bit more if you don't want to be charged twice.

I make Abdl Art and comics and hope to find time for game development. All characters here are portrayed as mature (18+) version of themselves.
I want to come up with a good compromise between financial security and interesting rewards for you, that would allow me to continue projects in progress (like Perpetual Change) and offer new things (more Fan Art, Comics, and games once Perpetual Change is done.)
____________________FAN ART
The first of each month, I do a "Fan Art" post for 3$ Patreons where they can suggest the character they'd like to see. After that, the first 40 suggestions of the post are made into two polls where Patreons can vote for their favorites. Fan Art are usually cell-shaded pictures.
If I have the time, exceptionally, I can choose one character who didn't get much love in the poll but whose design I like. It will be the surprise of the month.
Expect between 8 and 9 Fan Art a month.
____________________COMICS
There should be 4 comic pages a month, 2 for each comic I'm currently working on.
There also going to be 1 picture of a caption story each month.
I'm not a native English speaker, so mistakes might occur in the writing, I'll correct them as soon you'll point them out to me.
____________________GAME
Every week, I do a report on the game I'm currently working on and every first of the month, you get a demo of the game!
____________________SPECIAL LIVESTREAM
The last day of each month, I'll do a special livestream where Patreons can suggest anything they want. I'll be drawing the suggestions for 9 to 10 hours straight.
I'm doing work cycles of 5 months each. After a work cycle, I take a month to rest and prepare next projects.


Monday
Working on Fan Art or Comics
Tuesday
Working on Fan Art
Wednesday
Working on the game (STREAM)
Thursday
Working Fan Art
Friday
Working on Comics
____________________Projects
I'm currently working on -
Perpetual Change
- RPG/Visual novel type of game. A game writes by the talented Personalias and put together by me. You can check Personalias Deviantart
right here!
Adventures from Dimension A2-4L
- A kinky Rick and Morty adventure that takes place in an Abdl dimension.
A Halloween to remember
- A My Hero Academia black and white comic.
Shits and Giggles
- A color comic featuring Gwenpool getting in troubles at the hands of some evil mastermind!
A Teen Titan's Toilet Troubles
- A black and white Abdl comic featuring Raven.
Azula Training
- A short caption story featuring Azula from Avatar.
Time to do collabs!

I will work with an artist and pay him to do one sketch page per month that I will later ink and color, raising the total of ongoing comics to four!
3 of 5
By becoming a patron, you'll instantly unlock access to 1,350 exclusive posts
By becoming a patron, you'll instantly unlock access to 1,350 exclusive posts
Recent posts by PieceofSoap