Products for Robots is a company I created with some of my best friends. At first it was just me dreaming up imaginary worlds full of stories and characters. Eventually I was compelled to create these daydreams into physical forms like; cartoons, comics, games, etc.... So I started working with my closest friends and I loved it. I finally found out what I wanted to do. I wanted to work with the people who mean the world to me, dreaming and creating our own worlds. Welcome to our Adventure.
The reason I'm here on Patreon is for support in funding the completion of what we are currently working on, one of which is a videogame that has already been
Greenlit for Steam,
and the other is a cardgame that was recently
Kickstarted and Staff Picked
.
Everyone involved in the company all work fulltime jobs, giving as much spare time they get to put towards the completion of each project (roughly 10 hours a week).
I am hoping that Patreon can aid in providing enough outside funding to at least cover the expenses of the creation of our projects and relieve some financial stress since I have funded the company out of pocket for the past 12 years.
The stuff we are doing!

METACELL
Metacell
is our flagship videogame project. We have been working on it intermittently for the past 5 years. This project has undergone a 5 month creation push at its conception and several weekends over the years as we built our engine and learned the skills we would need to take the
Metacell
brand to market.
Metacell: Genesis is the first title in a 5 episode saga that we are using to build out my sci-fi universe, The Imperium. The gameplay is reminiscent of classic puzzle games and arcade games but with a modern twist. It combines match 3 mechanics with arcade shooter action that adds a twitch element to the game while making matches. In the vein of arcade shooter classics like Galaga, players start with 3 lives. As you make matches, the Metacell (gameboard) will open it's eye from time to time, warning you of an upcoming attack which you will have to avoid as you battle for matches.
We have a beta available that showcases what we were able to accomplish in the span of 5 months. After we completed a suitable beta we went back for the hard part of updating the engine to be multiplatform supported and fine tuning it from a beta into release. The cinematic trailer above gives you a glimpse into the story, characters and universe that Metacell takes place in and showcases some gameplay.
Check out the animated story board of one of the scenes from the
Metacell: Genesis story here
!
Time has passed and we now have people that are interested in playing the game. We were
Greenlit by the Steam community
and need to try and accelerate our time lines to complete the project for release.
In other attempts to fund this project, we took it to 
Kickstarter and were unsuccessful... several times
, but in doing so we created some cartoons during the campaign process which we call "The Imaginary Awesome Studio". This was an exercise in creating cartoons with some sense of plot while also using the content as a way to explain a Kickstarter project. In fact, the
"What Is Products For Robots" trailer
at the top of the page is a clip-reel from the various cartoons we made. These were so much fun to make and we are currently finding the time to finish out the remaining episodes this summer.
We had just finished beta 01 when we first learned about Kickstarter. For our first campaign we thought it would be fun to make a little
cartoon short
about us making the campaign.
The second time we went to Kickstarter we wrote
episode 2 of Imaginary Awesome Studio
. This time we tried our hand at stop motion animation and LOVED it.
We continued the storyline with an updated style that we released throughout the campaign. This is the series I was talking about earlier that we are wanting to finish this summer. In this series we delve into the details of Metacell and take you through a mini-journey into story telling with a short within a short called John's Metasaga.
Check out
episode 01
,
episode 02
and
episode 03
!
We are continuing to work on the game and are really hoping to hit a late 2016 release of what we are calling Beta 02. This will be a build we are happy enough to release on Steam, but still being a beta. To truly accomplish what we set out to create requires a lot more time and money to finish, so think of it as a polished work-in-progress.
That's all for Metacell at the moment. Here's our newest project that's in the works!
Colours and Shapes!
This project originally came from Metacell
. There was a cardgame that I wanted to make and Metacell seemed like a good brand to skin it with. We created prototypes using that branding to get some
market testing
and found that in the gameplay we had something, but Metacell wasn't the branding it needed. After learning this, we rebranded it completely and Colours & Shapes was born.
The base game of
Colours and Shapes
is an exciting
2-4 player game
that can either be played in minutes, or for hours, requiring you to combine thoughtful strategy, luck, and in-your-face gameplay to create a
fun
,
fast
, and
casual game
that can be played anywhere, anytime. The game mechanics are simple yet elegant, leaving a lot of room for playstyle growth to ensure replay value for a long time.
Colours and Shapes
makes a great game to play on family game nights, holidays, or even on "poker night".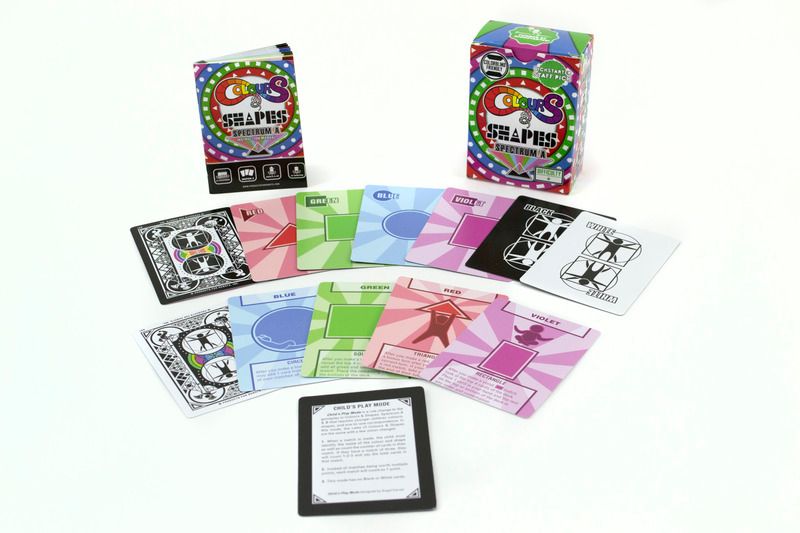 The game was designed to be two separate versions: Spectrum A and Spectrum B. Each having the exact same game, but with different characters that each have unique abilities to alter gameplay. With both spectrum A and Spectrum B sets, you can build out different decks to play different game modes. We have created 5 additional game modes for different experiences, ranging from 1-8 players. There are several more game modes in testing right now.
We took this to Kickstarter and got the first edition print run funded! Here is a little commercial that our friends over at
Coffee Pot Films
created for us to use in its
Kickstarter campaign
!
We are really excited about the reception it has gained during its development, scoring high with reviewers and winning accolades such as: Kickstarter Staff Pick, Dice Tower Approval, and Indiebits 2016 Best Table Top Game.
The game is slated to release July 9th of this year and we are having one awesome release party for it.
OTHER THINGS
When development stalls on a project there are some other things that we do to keep our skills sharp and flex our creative freedom. Here are a few examples of what we have done in our free free time :D
(All of these were weekend projects)
The first project was Optimism, a short story about what it truly means to be an optimist.
The second project was Geometry Saga: The War of Heart. We concepted this game planning to create it after Metacell is finished. We are really excited to get this one started. We made a little concept teaser for it one weekend.
Thanks for stopping by and checking out our projects! If you dig them and believe we can make it to the finish line, hit that pledge button so we can make cool stuff for you! Anything you can spare really means the world to us and will help us get to the top of the mountain bit by bit.
Thank you for your time!
Sincerely,
John Posey III