Prof Steve Keen 
is creating realistic economics for the post-crash world
Keen Supporter
$1 or more per month

∙ 477 patrons
Thanks! You're the foundation of my freedom to develop a new economics, and you get access to: 
My Patreon-only blog posts, videos and podcasts.
 Powerpoint & Minsky files from my lectures. 
E-book of the second edition of Debunking Economics (2011) and its accompanying set of figures.
E-book of the satirical comic eCONcomics illustrated by Miguel Guerra
One podcast with Phil Dobbie per month
Keen Student
$3 or more per month

∙ 191 patrons
As above, plus:
 Ebook of the graphic novel On The Money, to be written by me and illustrated by Miguel Guerra. Estimated date of delivery March 2019.
Keen Patron
$10 or more per month

∙ 472 patrons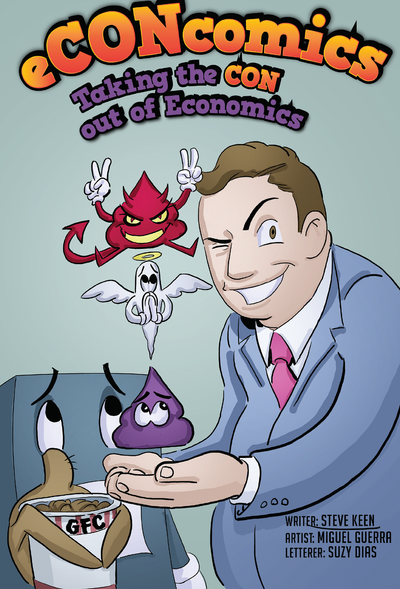 As above plus
A signed hardcopy of eCONcomics
My weekly podcasts with Phil Dobbie
Keen Collaborator
$30 or more per month

∙ 66 patrons
As above plus:
A signed paperback of Debunking Economics; and Can we avoid another financial crisis?
Signed paperback copies of all subsequent books as they become available. 
Keen Sponsor
$100 or more per month

∙ 10 patrons
Keen Champion
$300 or more per month

∙ 2 of 100 patrons
Keen Benefactor
$1,000 or more per month

∙ 1 of 10 patrons
As above plus 
An annual seminar at a mutually agreed date.
Naming Rights
$150,000 or more per month

∙ 0 of 1 patrons
You would enable a full-time dedicated research center to be established, to which you would have naming rights. My name would be there as well, to build on the visibility I've achieved through my long campaign for the reform of economics. We'd sign a publicly accessible contract pledging complete independence from commercial and political pressure.