Blondihacks
is creating metalworking, electronics, machine shop, and fab projects!
Select a membership level
Distinguished Patrons
At this level, you get access to 3D models, Fusion files, and mechanical drawings for any project where I generate them. These files are not available anywhere else!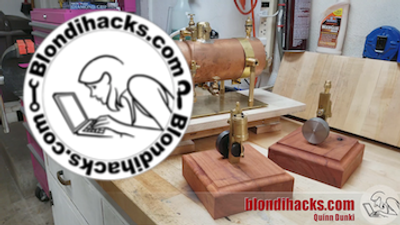 Noble Patrons
At this level, you receive all the previous benefits AND behind-the-scenes Lens videos!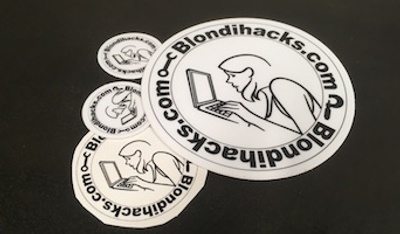 Rockstar Patrons
At this level, you receive all the previous benefits AND your name goes in my credits AND you get an exclusive pack of Blondihacks stickers sent right to your door! These stickers are not available any other way! Amaze your friends with the weird niche content you consume on the internet!
About Blondihacks
Puzzled by that video? Intrigued? Threw up in your mouth a little? Head over to the 
Blondihacks YouTube
or the 
Blondihacks Blog
and see what that was all about.
I like to make stuff. I like to break stuff. I like to remake and rebreak stuff. I also like to make up words, apparently. I like to write about stuff I make, break, remake, and rebreak. So I guess that means I like to make up words and then use them in sentences.
Nothing is safe from my meat-hooks. Software, hardware, firmware, puppyware (it's a thing- look it up), you name it. I'll hack anything that isn't nailed down. If it's nailed down, I'll pry it loose so I can hack it. Then I'll nail it back down, because I'm not a jerk. It was probably nailed down for a reason, right?
I do my best to write up all my experiences on my blog, 
Blondihacks
, and my 
YouTube channel
. By becoming my Patron, you will be charged your pledge amount each month, and you'll gain access to exclusive content like behind-the-scenes Lens videos, project plans, and other goodies. I typically post a video every week and a blog post every two weeks. Each article and video has many hours of research, building, writing, photography, and editing put into them.
I hope that people like my projects and my writing enough to consider supporting me. Thanks, Patrons!
If I can reach 100 Patrons, I'll start a new blog series on my homebrew computer, Veronica! It's my most popular electronics project, and I've heard fans ask for more!
http://quinndunki.com/blondihacks/?page_id=1761
1 of 1
Recent posts by Blondihacks