Rob Has a Podcast
Reality TV Podcasts about Survivor, Big Brother & More
Select a membership level
Top $5 Baby! - Gets you CONTENT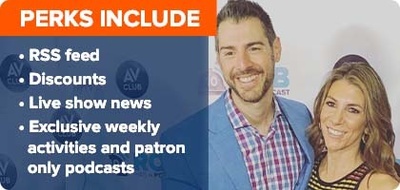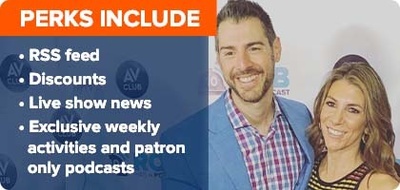 Exclusive Patron-Only Podcast RSS feed
Weekly Patron Only Podcasts & Activities -including the 5 for 5, a podcast with Nicole answering feedback sent in from the patrons and activities such as mafia, family feud, karaoke, and much more
Audiobook & Live Show Discounts
News about upcoming live shows prior to any on-podcast announcements
Fan Favorite - CONTENT & COMMUNITY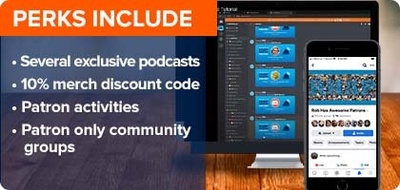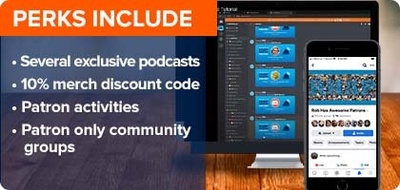 Exclusive Patron-Only Podcast RSS feed
Weekly Patron Only Podcasts & Activities -including the 5 for 5, a podcast with Nicole answering feedback sent in from the patrons and activities such as mafia, family feud, karaoke, and much more
Invitations to Patron Games and Activities
10% off discount codes for Merch
Audiobook & Live Show Discounts
News about upcoming live shows prior to any on-podcast announcements
Access to our Patron-only Facebook groups with our RHAP Community.  Includes access to our Off-Topic groups, Big Brother group, What's RHAPpening activity group
Access to RHAP Discord server to chat about all of your favorite reality TV topics and much more
All-Star - CONTENT, COMMUNITY & CARGO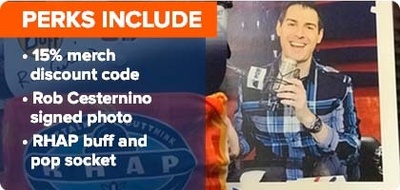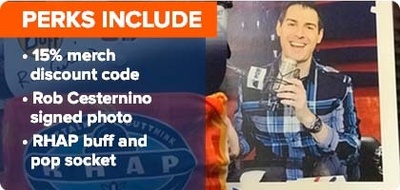 Exclusive Patron-Only Podcast RSS feed
Weekly Patron Only Podcasts & Activities -including the 5 for 5, a podcast with Nicole answering feedback sent in from the patrons and activities such as mafia, family feud, karaoke, and much more
Patron Games & Activites
15% Off Merch Discounts
Audiobook & Live Show Discounts
News about upcoming live shows prior to any on-podcast announcements
Access to our Patron-only Facebook groups with our RHAP Community. Includes access to our Off-Topic groups, Big Brother group, What's RHAPpening activity group
Access to RHAP Discord server to chat about all of your favorite reality TV topics and much more
Rob Cesternino Signed Photo - signed however you want it personalized
RHAP Pop Socket
RHAP Buff signed by Rob Cesternino
About Rob Has a Podcast
Coming to you live from my apartment... it's the RHAP profile on Patreon. First off, thanks for being a listener of Rob has a Podcast, I truly appreciate it.
When you become a patron, in addition to supporting RHAP, you will get content, access and Community:
Content
First and foremost, becoming a Patron of Rob Has A Podcast gets you access to tons of exclusive content. This includes the weekly Patron 5 For 5 that I do with the First Lady of Podcasting, Nicole Cesternino. I also do a weekly call on the facebook group and a monthly call in show called the Patroncast. When you sign up to be a Patron, you get access to the entire library of patron only content dating back years.
Access
Becoming a Patron of Rob Has a Podcast gives you exclusive access to RHAP and the podcast guests. Myself and many other RHAP personalities are also active members of the patron Facebook group which is a great way for the RHAP community to feel part of the show. I like to do regular Facebook Live broadcasts through the patron group which allows patrons to ask me questions and see what goes on behind the scenes of the show. Patrons get early access to tickets for RHAP events like Live Know It Alls. I try to make the patron Facebook group a real portal into the world of RHAP. We post about shows, news in the reality show community as well as opinion polls that influence show content. I post podcast question threads in the patron Facebook group to give patrons additional access to my podcast guests.
Community
Finally, becoming a Patron of Rob Has a Podcast invites you to be part of a community of superfans just like you. The Patron-only Facebook groups are filled with over 1000 Survivor fans and friends of the podcast who love interacting about the show.
-------
Why I Am on Patreon
Patreon allows our community to make ongoing contributions to help fund the show on a monthly basis. Your support allows me to continue to podcast on a full-time basis with RHAP being my main focus. As the podcast network continues to grow, I'd like to be able to keep building my team to create more content and continue to improve the quality of the shows that I do.

I truly love doing Rob Has a Podcast and getting to interact with this community. It has changed everything in my life. I hope that it's been something that has brought you some happiness as well.

When you become a Patron of Rob Has a Podcast, my aim is not only to allow listeners to make the financial contributions that make the podcast possible, but to offer value to those Patrons in return.

-------

Thanks for considering helping us out with a contribution.  If you can't become a patron at this time, I understand and still appreciate you listening to the shows.  

Hope you continue to enjoy the podcasts!

*Incentives and gifts will be implemented/shipped after 1 months of on-going patronage at the required level. Annual patrons at required levels will receive incentives and gifts as soon as available.



Become a patron to
Unlock 1,228 exclusive posts
Connect via private message
Recent posts by Rob Has a Podcast