RX
is creating Music, Videos, and Podcasts
Select a membership level
LIVE STREAM & EARLY ACCESS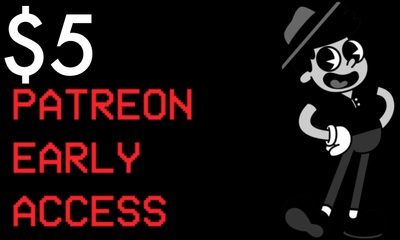 Patreon Only Acoustic Live Stream (Twice A Month!)- 30 Minutes of music, (At the start of the month I will announce the date and time of the stream. I'll also upload it to patreon for members only in case you can't make it!) You call the shots, request what you want by looking through my Set List off over 400 songs on my website.
EARLY ACCESS to any content on my YouTube Page before it goes LIVE! Anything from music videos and song covers to updates on my next record, and my video blog!
MONTHLY PODCAST where I talk about my time in the music industry. Plus, get to know me a little better. Some of these stories might make you laugh, cry, but most likely cringe. 
My sincerest appreciation and gratitude
Level 2
I will write a 30 second song FOR YOU with a video download link. 
You get a DOWNLOAD OF EVERY SONG my next NEW record BEFORE they come out! (You'll get a heads up at the beginning of each month of the content you'll be receiving!)
PRE-SALE ACCESS to Tickets!
FREE DOWNLOADS of ALL MY ALBUMS from my last 3 Records ("Self-Titled", Far & Few Between, When I Finally Get Myself Together) (You only need to use this once to qualify!)
FREE MP3 DOWNLOADS of all of my covers on YouTube (new and old!)
Shout Out in the end credits of all my videos!
ALSO EVERYTHING FROM THE FIRST TIER!
About
Hi, I'm RX. Welcome to my Patreon Page!

I'm a musician, singer-songwriter from Seattle and have been performing, writing and creating every day for the last 20 years. 

In the last decade, I've written and recorded 3 albums, performed the National Anthem twice for The Seattle Seahawks, had a brief stint on American Idol, toured the East Coast, met James Taylor and Stevie Wonder and opened for bands like Train and The Wallflowers. And remind me to tell you about the time I played at Steve Miller's house in the San Juan Islands.

For years, I flew back and forth from Seattle to LA, sleeping on couches, waking up every day trying to meet other writers and producers. I lived by the mantra that "It's all about who you know," thinking it meant that if I hustled and rubbed elbows with the right people, I'd make my way to the top of the music industry and some high-powered Record Label Executive would hear me, snap their fingers and my dreams would come true. At one point, I regularly found myself in the finest, most exclusive restaurants and offices in Beverly Hills meeting with the "Great and Powerful Oz's" of the music industry thinking I had "made it" only to be told "come back tomorrow with something that sounds like this band."

I did that for years…Until I realized I was knocking on the wrong doors. And losing touch with what mattered most.

I became tired of feeling like I had no control over my career, my sound or creative direction. So, I decided to take charge and put the days of chasing someone else's approval behind me.

Of all the amazing experiences I have had in my career, the one thing that has always mattered most has been my relationships with my fans. I wake up every day grateful that people take the time to add my music to their Spotify Playlists, plan to come see me perform on their night off, or even ask me to sing at their wedding ceremony. I will never be able to fully put into words the sense of fulfillment and joy I get from hearing that my music impacts others. That my art has the ability make a difference in someone else's life is one of the greatest accomplishments of my life.
So with that in mind, and with the help of Patreon, I made a decision: I've decided that the only people that get to decide how successful I am in the music industry are me & YOU. We're in this together. And, as long as you like it, I'll keep making it.

As my way of saying "Thank You" to those that pledge, you will receive special, exclusive access and rewards that you won't find anywhere else. Take a look!

Thank you for continuing to make my dream a reality every day. With your pledges, I will be able to do what I do best: Create.

Recent posts by RX
By becoming a patron, you'll instantly unlock access to 28 exclusive posts
By becoming a patron, you'll instantly unlock access to 28 exclusive posts