RX
is creating Music, Videos, and Livestreams
Select a membership level
LIVE STREAM & EARLY ACCESS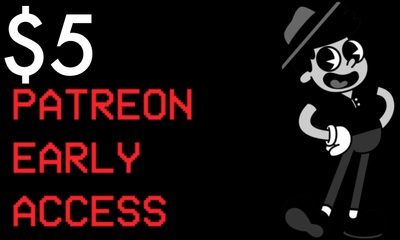 EARLY ACCESS to any music or visual content I release before the public!
EARLY ACCESS to any content on my YouTube Page before it goes LIVE! Anything from music videos and song covers to updates on my next record, and my video blog!
My sincerest appreciation and gratitude
Level 2
PRE-SALE ACCESS to Tickets!
FREE DOWNLOADS of ALL MY ALBUMS from my last 3 Records ("Self-Titled", Far & Few Between, When I Finally Get Myself Together) (You only need to use this once to qualify!)
FREE MP3 DOWNLOADS of all of my covers on YouTube (new and old!)
Shout Out in the end credits of all my videos!
ALSO EVERYTHING FROM THE FIRST TIER!
About
From the moment I walked off the stage at my 5th grade music recital, I knew I wanted to be a full time musician. I didn't realize what that would entail. I just thought "Hey this feels good. I want to do it all the time." I followed my instincts and throughout every year of my life since there hasn't been a day where I haven't had a guitar in my hand, or a song stuck in my head, or humming along to an idea I would end up turning into a song.

Ever since I got my first "paying gig" in college, I didn't turn back. I paid my dues performing every where and anywhere I could; from wineries, to irish pubs, to college orientations- the list kept going. Some of it was less than glamorous. After all, I realized I didn't just want to perform, I wanted to perform for people that cared. I wanted to perform and sing to a crowd of people who wanted an experience.

Over the years I transitioned to playing on bigger stages like The Neptune Theater in Seattle and even Century Link Field performing the National Anthem for the Seahawks (twice!). I had a regular pay check performing at wineries and living room shows throughout the city of Seattle. I even began getting hired to play weddings and corporate events. I realized that my dream was coming true- I was a full time musician.

Then COVID-19 hit. And before I knew it, all of my shows had been cancelled for the foreseeable future. My first full length album that was due to release in May had been postponed. The PR company we were planning on hiring for the promotion had been postponed. Everything was put on pause. I was officially unemployed with no way to pay my rent. I had to figure something out. And fast. I immediately knew I had to act otherwise within a month, I was going to be homeless. Thankfully, I had the resources to start a livestream show "Work From Home Seattle" a livestream show dedicated to offering artists out of work an opportunity to perform their songs on my show for virtual tips from a bored quarantined audience looking for something to watch.

But apart from that, I needed to find a way to support myself in other ways than just a once a week livestream. So I decided I would rework my Patreon page so that my fans and friends could give whatever they wanted in return for early access to everything I had been working on for my new album and that includes music videos, album artwork, exclusive livestreams, and most important UN-RELEASE MUSIC. So here it is...welcome to my new and improved Patreon Page. In the past, with my full time job performing and fighting off a vocal injury it was hard for me to create fresh content due to my schedule. But now more than ever while I'm not "working", I am bursting with content that I am dying to show and play for you.

This is a place for you to decide how much you want to pay for this "monthly subscription of RX". For each tier, you get something more exclusive than the last. And it's my job now as an unemployed musician, to find new ways to entertain you and in return, you can know that your donations and pledges are the only thing keeping me going. My hope is that when this is all over, each one of you will let me buy you a drink for your generosity. Just because COVID-19 has brung the world to a halt, doesn't mean I'm going to let it impact my career.

Take a look around and let me know what you think!

Marketing for promoting the new album "Epilogue". This includes paying for the ad space on several popular streaming platforms, influencer marketing, and IG and FB ads. 
1 of 1
By becoming a patron, you'll instantly unlock access to 32 exclusive posts
By becoming a patron, you'll instantly unlock access to 32 exclusive posts
How it works
Get started in 2 minutes