Rachel Does
is creating Garden Glamour, Crafty Cocktails and Gogo Dancing Brunches
Select a membership level
Garden Glamazon Homemade Beauty Recipes
Rachel brings beauty and healing from the garden into your kitchen. These all natural, toxin free beauty remedies are easy to create at home. Recipes for your hair skin and scalp are the perfect way to pamper yourself at home. Take your beauty and health into your own hands, one recipe at a time.
Includes:
Seasonal Garden Beauty Recipes to stimulate hair growth, soothe itchy or flakey scalp, shine your locks and put a glow on your cheeks!
Recap from my weekly Garden Glamour Live session.
A Green Thumb
Crafty Garden Cocktail Recipes
Feeling Tipsy? Join Rachel and Sam in their urban herbal garden oasis. Filled with plants that create some of the worlds greatest drinks! Sam is stirring up some delicious garden crafted cocktails, infusions, bitters and more! Get the juicy recipes here!
Includes:
Access to one of Sam's "little black book" of cocktail recipes
Featured cocktails of the week- every Sunday
Good karma
The Booty-full Brunch SHEro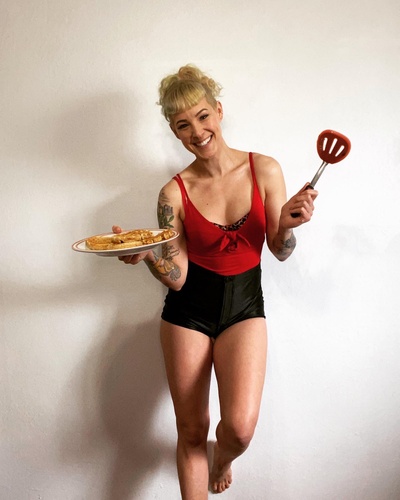 One burlesque chef recipe coming up! Your support keeps us cooking and booty shaking, thank you! Every Sunday Rachel gets cooking with Burlesque sensation Sgt. Die Wies! These two performing artists cook up a fabulous brunch menu! Tease and flirt in true burlesque fashion, these are your booty shaking chefs! Find Rachel's latest Garden inspired recipe here! Virtual show is Sundays 1pm - 3pm on Instagram Live.
Includes:
A shout out and photo from the most recent brunch performance.
The most recent Brunch Recipes!
Sam, the master mixologist, is serving up a sunday brunch  cocktail recipe.
About
Welcome to the beauty and booty-full world of Rachel Does! Hi, I'm Rachel. Here you will find gardening, glamour, gogo dance breaks and burleque brunch recipes. Along side my partner Sam, who is a craft mixologist by trade, we invite you into our garden. We've spent the past 4 years crafting and caring for this backyard garden. Creating a suburban oasis of plants and herbs used for cooking, cocktails and wellness. This year it is blooming more beautiful than ever, and we want to share it with you.
The recent time at home has allowed us to get even more creative in our work together in this "Glamour Garden". Finding inspiration and creating garden inspired craft cocktails, infusions, bitters, scalp treatments, cosmetics and more.
It's amazing all you can learn from a garden. Cocktails, beauty, food and creativity bloom around you and come together creating total body wellness. We're excited to share this with you. Your support keeps our garden blooming and creativity flowing.

By becoming a patron, you'll instantly unlock access to 4 exclusive posts
By becoming a patron, you'll instantly unlock access to 4 exclusive posts
Recent posts by Rachel Does