Rafi And Klee Studios
is creating Art, Artist Tips, And More
Select a membership level
Let's Get Fappy!
Fun And Happy, in other words FAPPY! You can thank my son for that word. I can't thank you enough! You get our absolute appreciation and love! And: 
$1 ART COLLAB LAB CLUB MONTHLY CHALLENGE make some stuff by following rules. What?? https://wp.me/P1XVFv-2zN  
EXCLUSIVE PATREON UPDATES - You will see all the craziness of what is going on with Patreon.
LIMITED ACCESS TO OUR DISCORD COMMUNITY - Be part of the most awesomely creative family out there. (Limited Access for Fappy- Community Tab, Collab Lab Art Share)
BEHIND THE SCENES PATREON LENS CLIPS - See what's going on behind the scenes.
EXTRA ACCESS TO FEATURES ON  https://rafiandklee.com/patreon/  
Includes Discord benefits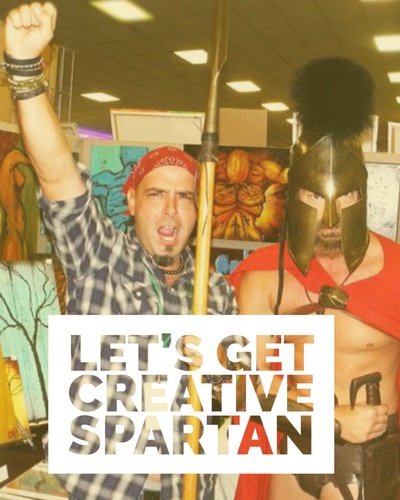 Let's Get Creative Spartan!
This IS SP-ART-A! Let's get creative and get the most out of your time with us here on Patreon!
EVERYTHING ABOVE PLUS:
MONTHLY LIVE STREAM PATREON ONLY 
MONTHLY MONDAY MOTIVATION MADNESS VIDEO because Monday can be a drag. 
SECRET VIDEOS about whatever's on our mind, stuff we don't share anywhere else.
STUDIO CREATION TOUR VIDEO we'll show you what we are working on and what's new in the studio... shhhh, don't tell anyone.  
PATREON ONLY PODCAST - A Monthly Patreon exclusive podcast where you can't see our faces, but it's us, I promise.  
ACCESS TO REFERENCE PHOTOS - Mostly goofy pictures of us, but you can use them in your next work of art.
ACCESS TO MOTIVATIONAL POSTER DOWNLOADS - These are posters that I create to sell, you can download them and print them out for yourself. 
ACCESS TO NOTES AND RESOURCES - You can download pdfs of notes for some of the videos I share.
DOWNLOAD OUR MUSIC that's right, all of it. As soon as something new is released you will have access to download the song. Plus you have access to our old stuff.     
ACCESS TO OUR DISCORD COMMUNITY - be a part of the most awesomely creative family out there. (Full Creative Access)   
CHAT WITH US - Join us once a month on discord for DISCORD DAY, where we spend several hours chatting with you. 
EXTRA ACCESS TO FEATURES ON https://rafiandklee.com/patreon/ 
Includes Discord benefits
Let's Go Rogue!
Let's Go Rogue! The stuff here is a little more intimate and talks a little more about what is going on with us. This is for anyone who is interested in our personal journey and going rogue with us. 
EVERYTHING ABOVE PLUS:
PRIVATE MONTHLY LIVESTREAM FOR LET'S GO ROGUE AND UP 
INSPIRING WORDS BY RAFI PODCAST OR VIDEO This is a special personal podcast or Video where I talk about my life as an artist.
RANDOM ROGUE VIDEO LESSON I'll post FULL lesson from my Skillshare whenever I post to Skillshare. (Maybe every other month)   
ACCESS TO FREE AUDIOBOOKS OR E-BOOKS whenever I release my books, audiobooks, or programs. 
YEARLY SMALL TOKEN OF OUR APPRECIATION once a year we will send you a very small token of our appreciation!  (Must be a "Let's Go Rogue!" patron for at least 1 year to be eligible)
ACCESS TO COUPON CODES we got you, we'll hook you up. 
DISCORD ROGUE ROLE (FULL ACCESS ON DISCORD) plus a private page on discord where you can chat with us whenever in private. 
EXTRA ACCESS TO FEATURES ON  https://rafiandklee.com/patreon/  
Includes Discord benefits
About Rafi And Klee Studios
HOLA! AMAZING ARTISTS AND ALL HUMANS,WELCOME TO PATREON!
The video above describes why this page exists. The sidebar on the right shows what awesome perks you can get for contributing and helping us make videos, including
SECRET VIDEOS, ART COLLABS, CHEESY ARTIST MOTIVATIONAL MP3's, LIVE Q&A. PRIVATE CHAT...
phew... Also, other stuff.
Thank you for the support! You're beautiful! We
ADORE
you!
POSTING SCHEDULE:
I post something Monday Through Friday, depending on what tier you are a part of you may get 1 to 2 posts a week. Please check the tiers for more info. 
LIVE THINGS WE DO ON PATREON:
Patreon Live Stream - Creative Spartans ($5 and up) - Once A Month
Rogue Artist Live Stream - Let's Go Rogue ($15 and up) - Once A Month
Google Hangout - SUPER PATRONS ($25) - Dates: 1/29/2020, 4/29/2020, 7/29/2020, 1/29/2020 @ 7pm Central.
PATREON ONLY AND FREE RESOURCES ON OUR WEBSITE
https://rafiandklee.com/patreon/


HOW IT WORKS (Please Read Before You Become A Patron Important Financial Info)
I suggest you start with $1 and that will give you access to a lot of the feed. You can cancel or upgrade any time after that. If you like our work, tips, and you want to support us, just choose how much you want to pledge per month
(even $1 makes a huge difference!)
You will be charged for the month you are in and have access to all past resources, I want to repeat - you will be charged the day you sign up and 
charged every first of the month
from that point forward,
you can edit or cancel your pledge anytime you want
.
Holy Swiss Cheese!!! We passed 100 Patrons! Thank you so much! This is where things get interesting. We are aiming for the goal of 200 patrons. If we reach this goal, we will be able to plan out and budget our weeks better for the videos, which means more content. Klee has agreed to do a video series of her own for our Patreon family... where she is not blurry and takes point in the videos.  Reaching 200 patrons will really allow us to focus more on the videos during the week and get some of the sound equipment we need for the videos. 
4 of 4
Recent posts by Rafi And Klee Studios
By becoming a patron, you'll instantly unlock access to 273 exclusive posts
By becoming a patron, you'll instantly unlock access to 273 exclusive posts