ReAnimateHer
Creating Gaming Videos, Horror Web/Podcast Show & Help Streams
Select a membership level
Get exclusive patron-only merch
Freshly Turned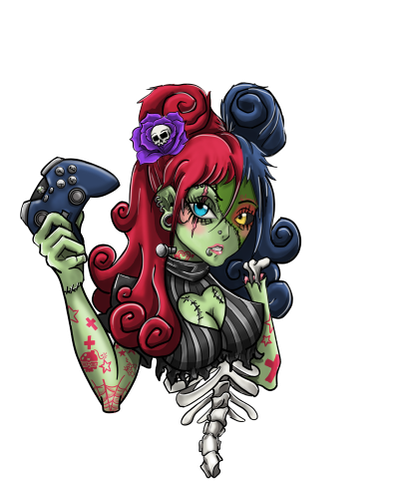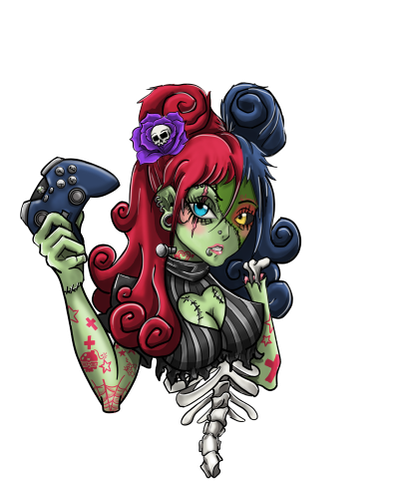 I'm broke. You're broke. We're all broke. But the truth of the matter is, every tiny bit helps. I would be grateful for whatever you feel you would like to donate..... even if it's just $2.00 If 1000 people backed my dream at this level I would be able to stream full-time. For me, that is a dream come true! I want everyone to be able to enjoy awesome perks! To say Thank you for your support you will receive these items below:    ♥ Patreon Only Member Site  ♥ Discord Access Role Patreon Freshly Turned  ♥ Monthly Movie Nights  ♥ LIVE Podcast Viewing  ♥ Morning Coffee Chats (Discord Voice)  ♥ Blog Early Access
Infected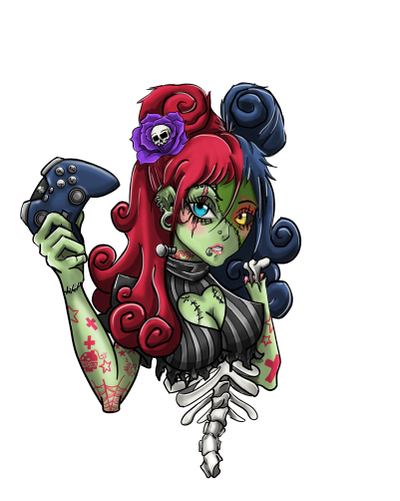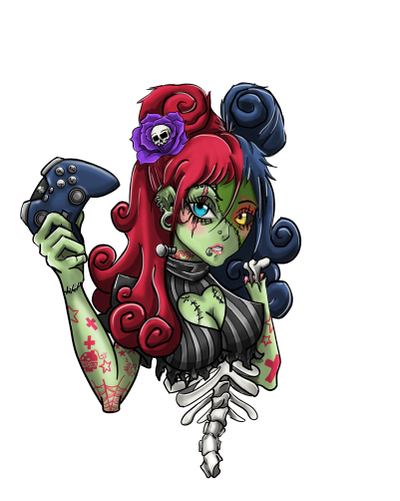 ♥ If you have a little extra money to burn!
   You will receive EVERYTHING from the      Previous Tiers.
♥ Discord Role Patreon Infected
♥ Monthly FREE Stream Loots Chest Code
♥ Monthly Stream Loots Discount Code
♥ Name on Overlay Live Credits
♥ Story Time with RAH
♥ Access to LIVE taping of New Show
♥ Ask Questions to CCoH Guest ( Either Recorded or Written Question)

  
 
 







Living Dead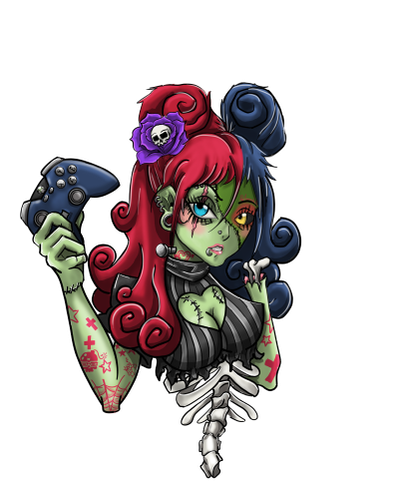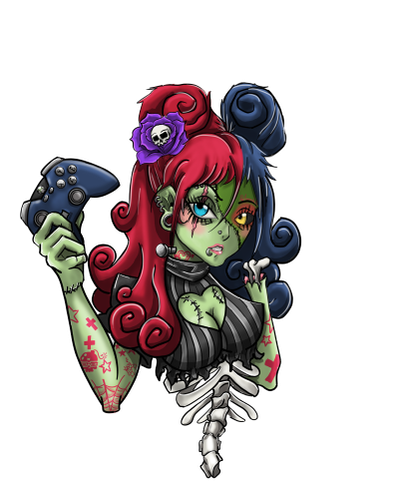 ♥ You will receive EVERYTHING from the Previous Tiers.
♥ Discord Role Patreon Living Dead
♥ Silly Photo Sent You ( I will send you a pic of me NO NUDES) but it will be of me whether it is getting ready to stream or watching a movie. Need your snap or Insta)
♥  SFX Sound in Stream ( you need to send me what sound)
♥ Custom in stream message ( you need to send me what you would like)
♥ Your name in YT Credits






Includes
Exclusive Mini Print -

Exclusive Horde Merch

Exclusive Mini Print -

Exclusive Horde Merch

Exclusive Sticker -

Exclusive Horde Merch

Exclusive Sticker -

Exclusive Horde Merch
Creepers
♥ You will receive EVERYTHING from the Previous Tiers.
♥ Your Name in Stream Credits
♥ Monthly Merch Give-Aways
♥ Follows on all Social Media Venue
♥ Name in Credits in beginning of YT Videos & Ending Credits
♥ Monthly V-log Access
♥ Behind the scene footage (bloopers & mistakes included)
♥ Private live Streams (Monthly)
♥ Birthday Card (snail mail)
♥ Digital Download of Cosplay images



Includes
Exclusive T-shirt -

Exclusive Horde Merch

Exclusive Mug -

Exclusive Horde Merch

Exclusive Mini Print -

Exclusive Horde Merch

Exclusive Sticker -

Exclusive Horde Merch
The Mamajama Zombie (Assitant Producer)
♥ You will receive EVERYTHING from the Previous Tiers.

 ♥ Not sure what else I could say to you for being this super awesome but here we go:

 ♥ Assistant Producer title in overlay, VoD Credits & IMBD Credits
 ♥  Your name FOREVER displayed on all Videos
 ♥  Forever spot on my stream overlay
 ♥  My undying gratitude for your contribution to my dream
 ♥ 5 hours Monthly of Coaching (Stream/Content Creation) for more info please check out my post in the Community section.

Includes
Exclusive Hoodie -

Exclusive Horde Merch

Exclusive T-shirt -

Exclusive Horde Merch

Exclusive Poster -

Exclusive Horde Merch

Exclusive Mug -

Exclusive Horde Merch
Producer
Thank you so MUCH for your ginormous support! This means very much to me! So with that you get to have your choice of Rah T-Shirt!!!

 ♥ You will receive EVERYTHING from the Previous Tiers.
 ♥ Producer Role Vod Credits & IMBD Credit
 ♥  Rah Horde Stickers
 ♥  Name in Credits on Live stream & VoD's

Includes
Exclusive Mug -

Exclusive Horde Merch

Exclusive Poster -

Exclusive Horde Merch

Exclusive T-shirt -

Exclusive Horde Merch

Exclusive Hoodie -

Exclusive Horde Merch
About ReAnimateHer
Who am I and what kind of content do I make?
Hello and Welcome Goblin & Ghouls! I would like to Thank you for stopping by my page and checking out what I do. If you are checking out my page you are probably thinking about becoming a sponsor of mine. That is really great and I appreciate the thought and the sponsor. So let's get a little bit more about here.
In the gaming world, my friends know me as ReAnimateHer but I do have an alter ego her name is Kat. I am an Xbox Insider and Xbox Ambassador, I truly love to help people. My goal is to become a full-time content creator and to bring a positive atmosphere to the gaming community. I am a mom of 2 crazy girls and have a man that deals with my addiction to gaming.
 I recently retired my number, name, and Jersey from Roller Derby (
You can check out a video of me hitting a Jammer on my Mixplay Subscribe Board
). Yep, that's right when I am not hitting bitches on the track I am killing shit in video-games. I live in a beautiful country called Canada. Zombies? Oh, hell yea I love them hence my name and the games I play.
Patreon gives me away to do the job that love doing and is that creating content in the horror genre.
On Twitch I give a unique space for those who enjoy Horror, from movies, tv shows, games and more. You get to share your experiences with likeminded people. My content is unique as I give an educational aspect if you are just getting into Horror. Every Sunday at 9:30 am mnt time I host a show called Coffee Chat of Horrors. This is where I dissect movies & tv shows which provides entertainment and education in horror. CCoH is also known to have a special guest of 2 to come on the show where we get to see Horror & more from another perspective.
My second favourite content to create is video-game content. Which I also do live on Twitch M,W,F , some of the games I stream are Friday the 13th (PC & Xbox), Dead By Daylight (Xbox & PC), Among Us, Borderlands 3, Deadrising 3 & 4, L4D2, and many more. I mainly showcase indie games as I truly love the amount of work and dedication that goes into these sorts of games. All games are super fun and I will always try to play everything. Check out some of the AWESOME Perks you gain as a Sponsor!
My Youtube Channel is a great place for all things horrors as well from daily shorts to movie reviews & horror news. I do go live on YT every Tuesday at 11:00 am. 
Why am I on Patreon?
My reason for being on Patreon is I would love to create content full-time. I fully enjoy hanging out with people chit-chatting &  playing video-games. I started creating content because I was out of work for 8 months and needed a hobby. Once I started streaming I knew I found my dream job (literally this is my dream job the job I want most in the world)! I am currently working towards the goal of full-time content creation since I was laid off of my full-time job in June.
I stream 5 days a week, each tip/subscription goes towards the stream itself making improvements, upgrades & sub giveaways and also go towards internet bill and rest will go to my monthly living expenses. Your monthly subscription helps me obtain my goal and dream.
Monday -  Wednesday- Thursday -  Friday 11:00 a.m. - 4:00 p.m. Then Sunday 9:30 a.m. - 12:00 p.m. Coffee Chat of Horrors all times are in mountain time I also record LIVE Postcasts on Tuesday's

Transparency (Where does my money go?)
I like being totally honest with you on where your money is going and how you are supporting my stream. Each monthly sponsorship you pay for goes towards making the stream better. As of right meow, the monies made via Patreon or other platforms go to Sponsor Give-Aways and help me pay my monthly living expenses and for any upgrades, I may need. 
I am great appreciative of any and all monies you decide to contribute. You help me to be able to create and still survive in the world amongst the sea of monsters mainly my bills lol.
What are the rewards for Subscribers?
Thank you for supporting me I truly appreciate your sponsorship!
The rewards I plan on using are:
SFX -You receive your very own custom sound that will play upon you writing something in the chat. You get to pick the sound you would like and only you will able to use this sound.
Discord - Discord Role & Colour along with special Text and Voice channels in my discord.
Video - Personalized Thank you video that will be blasted all over my Social Media avenues ( Facebook, Twitter, Instagram, Snap Chat & YouTube)
Shout-Outs - Monthly shout out to you on my Twitter. Will also add your streaming link if you are a streamer or any other link or images you would like in your shout out message. 
Art Work - I create some really cool melting bead art and you get to chose a custom piece of artwork that is sent to you via snail mail. You can chose from an already done design or one of your liking.
Snail Mail - You will receive a handwritten Thank you card, A card on your special day (Your Birthday) and Holiday cards.
Give-Aways - You also get entered into sponsor ONLY giveaways that I do on Stream.
Personal Time - You get to have one on one meeting with me. You get to chill out with me outside of my streaming time for an hour! We can chit chat about your day, or even play some video games!
Discount on RAH Merch!!
There are so many more perks I can not write them all down here!
What is Discord?
Discord is a great little service where you can keep in touch with me and other members of The Horde community. Sponsors of my channel will have their very own Voice Channel and Text Channels. We have a great community built of other streamers, gamers, and supporters. My discord is where you can reach me 24/7
https://discord.gg/ReAnimateHer
Stalk Me Here:
Twitter

Instagram of Horror

YouTube

Facebook
With $700.00 a month I will be able to become a full-time content creator. Becoming a full-time content creator has been a dream of mine since I started to make live gaming content. I would love to be able to give more time to creating, editing and bringing in more live & recorded content.

I have big plans to bring Horror themed live content to those who enjoy horror and gaming. With this goal I will be able to pay my monthly bills & have extra monies go towards subscriber perks and more!
1 of 1
By becoming a patron, you'll instantly unlock access to 173 exclusive posts
By becoming a patron, you'll instantly unlock access to 173 exclusive posts
Recent posts by ReAnimateHer
How it works
Get started in 2 minutes