Rebecca Snow
is creating fantasy, literary novels, young adult books, and poetry
Select a membership level
Exclusive patron content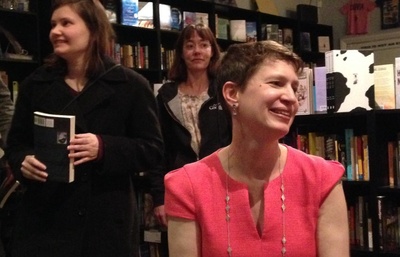 You will gain access to content including book reviews, tips about writing, interviews with patrons, and other things writing-related. Most content is available at least 30 days before it is released to the public. Any interview with a patron will be released upon the patron's request. I am also open to requests for specific content!
Exclusive patron content
Same as above--the dollar amount depends on how much you want to invest and/or what you can afford.
Exclusive patron content
Same as above--the dollar amount depends on how much you want to invest and/or what you can afford. 
About
Shortlisted for the 2015 International Rubery Book Award, my debut historical novel 
Glassmusic
(unagented) was released from Conundrum Press in 2014. I was awarded the 2015 Robert and Daryl Davis Fellowship in Poetry, and my poems and creative nonfiction have appeared in
Progenitor, Rattle,
and elsewhere. The 
Guardian
featured me in an article on adjuncts in September 2017. Because of their link to my poem, "Sestina for Adjuncts," it was the most-read poem in
Rattle
that same month. I have an MFA from the University of Montana in fiction and poetry.
My current project is my first fantasy novel, based on the storytelling and imaginative plotting skills of my brother Michael Snow. We came up with most of the scenes together, and I am in charge of writing the sentences. I completed the first draft last year after taking a break from teaching and moving to a garage apartment in the country outside Spokane, Washington. Thank you to my faithful handful of first patrons for helping me through that year!
I am now housesitting for six months in beautiful Homer, Alaska and hope to stay here indefinitely! I am seeking more (many more!) patrons so I can continue writing novels instead of grading a full course-load of papers. The fantasy novel is for young adults (hopefully adults will enjoy it as well), and I am currently revising the draft before querying agents. See below for more about the book.
I work (very) part-time, and it is not enough to cover expenses. I so appreciate any pledge, however small, you are willing to make, even one dollar per month, to help me make ends meet as a novelist. I will also be working on my poetry, book reviews, and creative nonfiction.
Personal History:
In May of 1997, when a speeding car rear-ended the van behind me, putting the 7-month-pregnant passenger into labor and shoving my Mazda several car lengths forward, the rusted metal beneath my car didn't give, but my neck and head did. The doctors said I would never work again. I was unable to read, the dizziness and nausea were unbearable, and when medicine dulled the acute pain in my head and spine it dulled my injured brain even more. After trial upon trial of different medicines and therapies failed, I gave up taking pills of any kind except vitamins and supplements and slowly paced myself through the healing process. I remember having to lie face down on the floor to rest, head on crossed arms, each time I cleaned one kitchen cabinet. Eight years after the accident, I was finally able to use my MFA in Creative Writing. Twenty-one years after, I only get dizzy now if I push myself too hard or look down while cleaning the floor (which is why I don't clean the floor too often!). 
I had suffered a mild TBI (traumatic brain injury) and whiplash and was not able to read for a year. I gradually retrained my brain to read, starting with Tolkien's
Lord of the Rings
. To read
Fellowship of the Ring
, I used a book stand because of my injured neck and large print because of my continued problem with double vision from damage to my occipital lobe. I remember looking up at the night sky and wondering if I would ever see one moon again instead of four. By the time I was reading
The Return of the King
, I had recovered enough to hold a paperback book in my hands in regular print. Tolkien, as a master of suspense, had inspired my brain to learn how to read and write again, and I'm confident he helped my body to heal as well.
I started teaching just one English composition class at a community college in 2005, and I slowly built up to teaching a full load at a university by the fall of 2016. But I was often up until 4 am grading, because I still have to pace myself, and I continue to deal with headaches and neck/back pain if I push myself too hard. Because of the corrupt treatment of adjunct faculty in higher education, I decided, at least for now, to give up my dream of obtaining a tenure-track position. Adjuncts have no job security--our teaching load depends on student enrollment and other demoralizing factors--as well as low pay and often no benefits. Fewer and fewer faculty are tenured these days, and universities put their money into administration and construction instead of adjuncts, which now make up about 80% of college/university faculty.
Without job security, I had no housing security. I moved my son every year or so of his childhood because of poor living conditions. I can't help wondering if having an injured brain affected my judgement in hanging onto the adjunct "dream" as a partially-disabled single mom! My dear son Jorel inspired me to keep going and never give up. He is now in college. I am so proud of that young man!
While I miss Jorel a ton, I am grateful to be in a quiet place in the country, where no drug smoke filters into my apartment, no parties rage beneath my floor when I am trying to write or sleep, and no sewage backs up into the bathtub.
Current novel
(first one in a series): A fantasy/speculative fiction set in the Cascade Mountains of Washington State. The young magician Molly encounters the infamous magician Lith in the woods, trapped inside the Black Book and seeking Molly's help. As Molly and her friend Naomi investigate Lith's connection to the troll queen Usha, they uncover Molly's identity and how the power of her magic might overcome Usha's treachery.
As the book's co-author, my brother Michael Snow created the original story and helped develop the plot while I wrote the manuscript. Inspired by writers including Ursula K. Le Guin and Philip Pullman, the manuscript received the following note from the Sustainable Arts Foundation: "The troll mythology from your Norwegian background is really interesting. This is strong speculative fiction. The action is clearly plotted and the pace is right on."
While the first book stands alone, my goal is to create a series of fantasy novels featuring the magician Molly. I also plan to continue writing both poetry and literary novels for adults. Click here for my membership profile for the
Society for Children's Book Writers and Illustrators.


Thank you for reading my Patreon page, and thank you for your support!
By becoming a patron, you'll instantly unlock access to 3 exclusive posts
By becoming a patron, you'll instantly unlock access to 3 exclusive posts
Recent posts by Rebecca Snow
How it works
Get started in 2 minutes