Rebis
is creating COMICS AND ARTS(18+)
Select a membership level
Dungeon Adventurers!
Welcome to the Dungeon!
As a new adventurer, your mission is to seek the secrets of my works.
Access to some Patreon only Activity Feeds. Includes journals, sketches, doodles, and Work in Progress pics.
Paragon Adventurers!
As a legendary adventurer, delve deep into the Dungeon to find the treasures within!
In addition to the contents in the $1.00 pledge...
Gain access to JPGs of translated comics and CG collections!
(I'll send you some new pages/pics when the translation proceeds, as a new post or message)
You'll get some exclusive arts by Patreon posts or messages.
(also by "Welcome Pack" when you join, "Monthly Rewards" once per month, and so on)
Denizens of the Dungeon!
Oh? So you are not an adventurer, but a denizen of this vast Dungeon?
Well then, you must be a Black Knight, or an Orc, or a Succubus. Who you are is of your decision!
Get everything above, plus...
Access to Hi-res JPGs of translated comics and CG collections!
Access to translated comics from my guest/friend artists!
Access to the archive holding translated comics.
(Please check my newest post with "Archive" tag to get the password to the archive)
Get to vote in the Poll System. For example, polls such as "What should I draw next from these ideas?" will be held.
Can make one request(suggestion) when "Request Festa" event occurs. If your idea is nice, it will be picked up and drawn!
About Rebis
Hi there! I'm Rebis!
I'm a comic artist from Japan.
For over 10 years, I've been drawing NSFW comics (doujin-shi).
Some of you may already know me through my site [REBIS DUNGEON], through Comiket in Japan, or through the Internet.
Why I Started Patreon
Through the past 10 years, I've come to know that many from around the world have embraced my works, but there wasn't a very good venue to reach all of my overseas fans.
In fact, providing NSFW comic books to other countries was a daunting task...
But, now we have Patreon!
I am looking forward to connecting with readers from around the world under my own flagship port on Patreon.
I Need Your Support!
All proceeds and support will be used to power the translations for my works.
Also, part of your proceeds will help me continue my passion and endeavor as a comic artist (the recession in Japan has really taken a toll on life as a comic artist).
With enough support, I may be able to hire assistants to help with my works to create more comics for everyone.
Patrons Will Get...
Supporters will have access to my official translated comics (for all my latest and greatest as well as my classics), newly created arts, WIP pics, sketches, and even PSDs!
*Please note that some comics and arts in this Patreon are for NSFW(Adult Only).

List of Translated Comics in the Archive!($10+ Reward)












...and many exclusive arts and pinups!
More comics will come thanks to Patrons' Big Support!
Past Monthly Rewards are Here!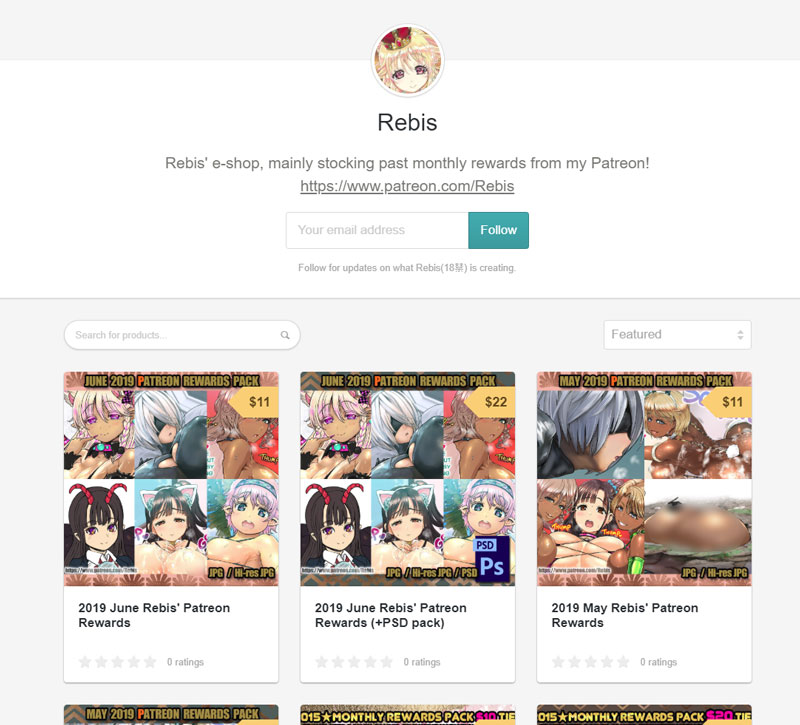 https://gumroad.com/rebis
Questions?
Do you have any questions? Please
check out the FAQ
for more information.
For a sampling of my works, you can check them out from my portal site!
http://rebisdungeon.com/


Dragons of the Dungeon!

Here are names of the greatest patrons,
giving magnificent supports for Rebis' arts!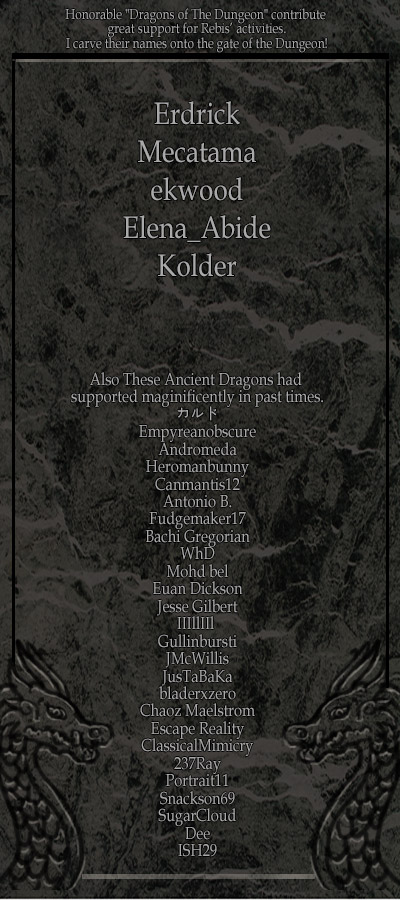 Request Festa!
I'll draw some arts and doodles from requests of my Patrons!
Depending on your pledge level, you can request and suggest 1 to 5 ideas.
I'll pickup some nice ideas, or even ideas I did not try yet, and draw it!
(Note that your request is not automatically drawn... Patrons make many requests and suggestions, and I pick up some ideas from it.)
6 of 6
By becoming a patron, you'll instantly unlock access to 832 exclusive posts
By becoming a patron, you'll instantly unlock access to 832 exclusive posts
How it works
Get started in 2 minutes