Roaming The Outback
is creating Australian 4x4 Touring & Land Rover Defender Videos
Select a membership level
Official RTO Supporter
THANK YOU! Every dollar helps support the creation of new content. For your support you receive:

Ad-Free Early Access to most videos up to a week before public release.
Download my 62 page 4x4 Preparation Guide eBook.
Download 110+ HD Desktop Wallpapers
Priority replies to any questions you may have before those who posted on YouTube or Facebook.
Access to my Patron Only Feed & Private Message Board.
Receive an email the minute a new video is released.
Behind The Scenes - Outback Insider
A BIG THANK YOU! I am truly grateful for your support.
All the previous rewards PLUS: 
Access to video editing walk through videos of my completed films. See how I constructed the film.
Audio Commentary of my films revealing additional stories and info on the making of the film.
Access to a 26 minute video overview of all my current film making equipment I use to shoot my videos. It may give you an idea of what you'll need if you want to shoot your own videos.  
10% Off Coupon for RTO merchandise in our online Shop.
$5 Yes! I love your videos and want more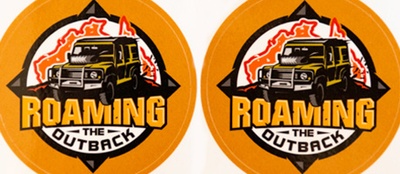 That is Wonderful. I am immensely grateful. Thank You.
All the previous rewards PLUS:
Two Vehicle Stickers sent in the post.
Behind The Camera videos showing how I shoot some of my footage.
eBook:  Overlanding & Touring 4x4 Vehicle Preparation Checklists. A .XML & PDF checklist to help you pack for your next adventure!
About
G'day I'm Brett...

That introduction will be familiar to those who follow my
YouTube channel
or
Travel Blog.


Some people wait until retirement to begin living their dreams, their "someday" in the future. It was always a dream of mine to travel Australia and explore the great wilderness areas we have. Life is short, we don't know how long we've got. So I'm not waiting till retirement. I resigned from my job and now travel where possible, sharing the journey with you, living my somedays, today.
I create videos on travelling Australia, exploring national parks, bushwalks, 4x4 tracks and Land Rover Defender touring modifications. Let me inspire you to hit the road and explore, whether going solo or with others. Your support helps me share more adventures and DIY how-to videos, as well as create additional regular and longer touring videos of the places I visit.
If you enjoy my videos, consider contributing $1 per video, while having the option to set a monthly limit. If you feel my videos have been of greater value to you, or you'd like to support me more, that's great too!
How Patreon works
Pledges are per charged video uploaded on YouTube (I generally don't charge for every video).
You can set the monthly limit you pay, so if you pledge $3 per video, with a $6 monthly limit and I upload 3 videos that month, all you pay is $6.
You can cancel anytime.
Pledges are charged in US dollars. Please keep this in mind for conversion rates.
How is the money used?
Pledges go towards upgrading video/editing equipment (such as the past purchases of a drone, stereo mic, colour correction & stabilisation software. Thanks Patrons!), and keeping me and my vehicle on the road, fed, fuelled and filming.


Why I'm Here On Patreon
Thousands of dollars have been invested over the years in upgrading my video production equipment, editing software and computers, as well as the costs of internet data and website hosting, it all adds up. I make a small amount from YouTube advertisements but not enough to cover expenses. As much as I enjoy making and sharing my videos with you it has become costly as well as consuming a massive chunk out of my personal time for filming and editing. I've always self funded everything and have no sponsors allowing me to remain unbiased in my reviews and vehicle modifications.
P.S. - Still have questions?
Let me know
, I'll be happy to assist.
Investment in a new telephoto lens to bring Australia's unique wildlife closer to you, and in crisper and cleaner definition than ever before.

2 of 8
By becoming a patron, you'll instantly unlock access to 35 exclusive posts
By becoming a patron, you'll instantly unlock access to 35 exclusive posts
Recent posts by Roaming The Outback