Welcome to my Patreon Page! Thank you for Considering to Support my Content. 
By joining the journey you will be supporting two diverse projects that I will outline more in detail. Below please find more about me, my work and why I need your support. 
My Story 

My name is Robin Divine and in 2012 I hit rock bottom in my life. Unable to recover from the massive financial crisis of 2008, I found myself in a severe emotional depression, no job, no place to call home and $20 to my name. I desperately tried to keep my head above water for a few years after the crisis was never able to catch up. My once comfortable and stable life had quickly spiraled and I had no idea how to fix it. 
One day a friend said to me "whatever you would normally do to "fix" this, do the complete opposite." I knew what it was: Travel. I know, that makes no sense! Which is why I knew had to do it. That day "Robin's Road Trip to Freedom" was born. I set up a Facebook page, shared my story, told people that I was ready to hit the road on a trip with no destination and invited them to join me virtually. I was as curious to see how it unfolded as they were...
Nearly 1,800 fellow travelers joined me for 9 months, over 70,000 miles and across 48 states. Together we shared in the lessons or forgiveness, faith, hope and so many others. It was the kindness of these people that allowed me to take this life changing journey. They fed me, offered up their couches and shared their heartfelt stories with me as I traveled from coast to coast. I ended the journey because I fell in love (on the road!) and wanted to plant roots and rebuild my life. 
When the trip ended I never would have dreamed of how much I would miss connecting with people and hearing about the "roads" they've traveled in life. Also, I came to a deeper understanding of how my passion for human connection and travel fed my spirit. 
I started hearing from former fellow travelers who were inspired by my adventure to find my happiness again. Many shared how they appreciated my willingness to be vulnerable and disclose the tough parts of the journey along with the happy times. Some people were beginning to change the way they thought about their own life, while others were inspired to let go of some of the fears and chase their dreams. Hearing that made my heart soar! 
I knew that even though the road trip had ended, the journey wasn't over. In 2015 I published a book about my time on the road called 
"Road Trip to Freedom: from Homelessness to Happiness"
, started booking speaking engagements to share my story and even hosted a virtual book club series. However even with the book, talks and videos, there still felt like there was more. 
I desire to make it my passion and mission to create space for people to share their stories, feel heard and connect with others on this journey of life. I want to share your own untold stories and I want to hear about your own roads to happiness.
What I'm Creating
I will be creating two separate projects with extremely different topics. I questioned if I should create separate pages but decided it against it because in order to get to the light and happiness in our lives, many of us must travel through the darkness. In creating both projects simultaneously, I'm honoring every step of my journey. They happy times as well as the darker times, both of which made me who I am today. 
1. The Road to Happiness Project (Documentary)
Many times on the road someone shared a life story with me and they spoke such gems of wisdom and hope that I wished it could have been shared with the masses. We each have our own road that we have traveled to get to our "Happy Place" and those roads aren't always smooth. My own road included childhood sexual abuse, self-injury and homelessness. I want to hear about your roads. To submit you story for consideration please fill out this 
form
. 
2. "We Don't Talk About That: A Collection of Essays" - Black Women share their untold stories on the often hidden topics of sexual abuse, self-injury and mental illness in our community. (Compilation Book) 


For the documentary, I want to hear from people in different backgrounds, religions, belief systems and all the various labels we slap on each other. I want to talk to
errr'rbody. 
However, I chose to focus on one selection of the population for the book because this is more personal and intimate to me. This is
my
story. While sexual abuse unfortunately is an epidemic in many communities, I found that my own community was the one that, more often than not, did not talk about it and even worse, pretended it didn't happen. And why was it not until I was an adult talking to other women that I learned this was the norm in the Black family. I found this realization also true when it came to talking about the issues of self-injury and mental health (yes, we
do
go to therapy.) I want to interview women on their experiences with sexual abuse, mental health and sexuality to see how it has impacted their lives today and what we can do to change the dynamic of "learned shame" for the next generation of young girls. To submit you story for consideration please fill out this 
form
. 
Here's a first look at the book cover.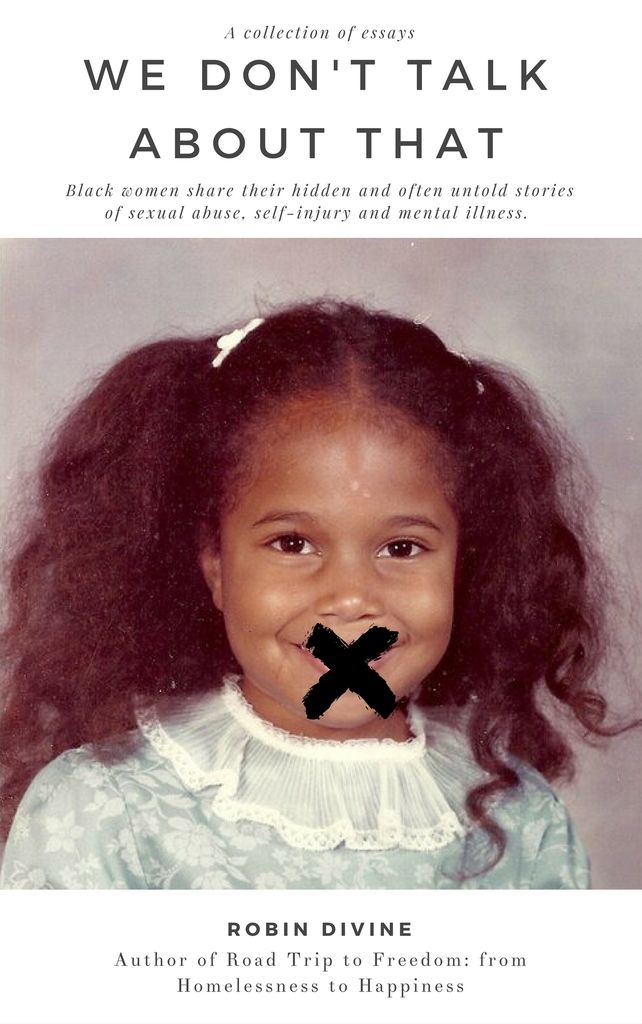 Why Support my Content?
I'd like Fellow Traveler patrons to value my content and the Vision I'm creating. I have shared inspiring content for the past 5 years to over 90,000 people for the sheer joy of it on my 
Choose Happiness
Facebook page. I desire to keep sharing my happy posts, video blogs and creating new projects that spread happiness
and
awareness. However, I'm also ready for a deeper connection with those of you that enjoy my work. I opted for this new platform for two reasons. 1) To build a collaborative community that finds value in what I do, offers ideas on my projects and supports what I am creating. 2) I desire to make this the work that my life is about and have it be financially sustaining to myself and my family. In the words of Barbara Stanney, I want to m
ake
millions so that I can
help
millions and
give
millions. That right there is my #DivineVision. 
Another reason to share your support here is that the majority of my personal content will now be created for my Patreon subscribers. When you join me as a Fellow Traveler at any level you immediately gain access to my Patreon feed where you'll find content that I've recorded and written
just for you
. I'll share stories from my own personal journey as well as behind the scenes footage from both projects. I will upload a minimum of 1 video per week but since I
love
creating videos, it will probably be more often than that. Since I'm just starting there isn't much in my feed (yet!) but you'll be the first to share your thoughts on the book cover and watch a short video of my own personal story. I thought about posting older videos but I want to bring you
fresh
content. If you'd like to see my older videos or my free 30 day book club series then you can find them on my 
Robin Divine 
Facebook page. 
My life right now is about giving
and
 receiving. I have had times in my life where I felt I was primarily giving and times where I did quite a bit of receiving. I am grateful for both times and my life however now I'm ready for balance. This platform will allow me to
give
to you all in the form of my original content and
receive
your support and feedback. I desire for this to be a collaborative space that we each benefit from. 
If you'd like to support the Documentary and the Book journey but aren't up for traveling along, then you can make a one time 
PayPal
donation using 
PayPal.me/RobinDivine
or the QR code below. 
Whatever level you choose to participate at, I appreciate you! 
With gratitude, good vibes and love, 
~Robin 
#TeamDivine