Rolyria
is creating Mindset & Content Creator Coaching.
Select a membership level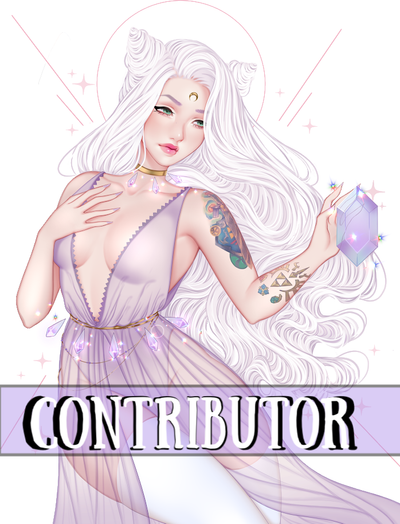 CONTRIBUTOR
MY APPRECIATION
Thank you. I appreciate you so much. Even one dollar supporting my ability to grow my business in helping others succeed means the world to me. Thank you.
TIPS & POLLS
You are able to access tips here on my Patreon and vote in polls I have for upcoming YouTube content.
INTERESTED
You're clearly interested in investing a little more into your mindset & content creation.

PREVIOUS TIER BENEFITS

DISCORD ROLE & PRIVATE ROOM
You will now have access to my Discord server with a Patreon Role that gives you access to a private Discord room for Q&A, brainstorming with me and other like minded content creators, and more personalized access to getting help from me.

PRIORITY FOR LIVE Q&A
When we do live Q&A on stream, this will give you priority to be in a voice call with me on Discord to have your questions answered live.

ACCESS TO MY PRIVATE COACHING FACEBOOK & TWITTER
Along with access to the Discord, you'll have access to my private Facebook group & Twitter. This is where you can connect on other social media with me and other like minded content creators to help keep you uplifted and motivated across all social media platforms. I'll be posting things I find motivational, inspirational, helpful, and other up leveling content to help keep you on track.
INVOLVED
Limited (10 remaining)
 You're really starting to get involved in investing in yourself, your mindset, and your content. That. Is. AWESOME!

PRIORITY TIER
I strive to reply to each and every comment, question, and DM. With all businesses, as they grow, this becomes exceedingly more difficult to do, sometimes impossible. This tier currently offers priority access to me responding to your questions specifically. Once you join this tier, you will be sent a friend request directly from me so you have accessibility to my DMs.

30 MINUTES IN STREAM
This tier also unlocks a 30 minute time slot where you and I will decide on a day for me to catch you live. I'll sit in your stream, interact with you and your chat, all while taking detailed notes on how you can improve your stream. These notes are yours to keep for life. They are individually detailed around your Mindset (me analyzing how you talk to yourself, your chat, ect) and also the structure of the stream itself. This is for content on any platform (Twitch, Dlive, Mixer, YouTube, Facebook, Instagram, ect) then this will be an hour of me reviewing that content or catching a live.
You are welcome to you sign up for one month, or make this a monthly investment in your life and business! I can't wait to see what we accomplish together! 
About Rolyria
Hey guys! I'm Roya!
Welcome to my Patreon!
You're probably wondering about my credentials and all of those fun things, right? Right.
My formal education background is in Marketing with a focus on Social Media. My professional business background is in Social Media Marketing, Management, Coaching & Development, and Mindset.
My passion has always been in Coaching & Developing with a focus on Mindset Work. Everything starts in the mind. Your dreams, your aspirations, the pathway to the life you've always wanted all begins in the mind.
My love is video games, and in most recent years, streaming and content creating.
What do you get when you mix this perfect concoction of my passion and love together, my unwavering faith, work ethic, and ambition?
Your badass Mindset & Content Creator Coach.



What do you mean by Content Creator?
The reason I say "Content Creator" instead of "Streamer" is that "Streamer" is, in my opinion, limiting. You are creating content. Not simply streaming. This covers all realms such as Twitch, Mixer, DLive, Facebook, Instagram, YouTube, Social Events, ect. If I said "Mindset & Stream Coach" then most people would assume that my coaching was limited to that of Twitch or another Live Streaming platform. But my expertise, education, and training cover further bases than just that of live streaming content.



Why Patreon?
Patreon is the platform I've chosen to "kick off" my Mindset & Content Creator Coaching.
It allows you to choose different tiers to fit your needs in investing in yourself, investing in your content, and investing in your dream life.
I myself have invested thousands of dollars in my formal education and personal Mindset/Life coaches.
Investing in yourself is the biggest "hell yes" you can do for your life and for your career.
I'm here to provide you with the tools and education you need to up your content game, up your mindset work around yourself and your content, and help you build the life you've always dreamed.
By choosing to invest in yourself, invest in your content, and invest in your dreams through my Mindset & Content Creator Coaching, you allow me to continue to help not only you, but other inspired people like yourself, achieve their goals.
Thank you for allowing me to give back and help others the way others have helped me.
Thank you for believing in me and my passion.
I'd love to start off by really diving into helping 25 individuals starting out their mindset and content creator journey! LET ME LOVE YOU! And...up level your mindset & content and the same time!
1 of 1
Recent posts by Rolyria
By becoming a patron, you'll instantly unlock access to 1 exclusive post
By becoming a patron, you'll instantly unlock access to 1 exclusive post