Ryan Camp
is creating films and filmmaking tutorials on YouTube.
Select a membership level
JOURNEYMEN
One dollar supporters build the backbone of helping The Piedmont Motion Picture Co continue to produce high quality content on a consistent basis. Thank you so much for your support!
Recognition: Your name will be featured in some videos on the channel, to give you recognition for your continued support (Names can be removed upon request.)
Early Access: With your support, you will get to see the majority of new channel content a few days before anyone else as well as many of my new films before anyone else. Some of my new films will be released here on Patreon FIRST, exclusively for this community! Along with the films, you will get early access to the behind the scenes and how-to's that go along with each film as well.
Patron-Only Posts & Vlogs: Get access to the Patreon-only community feed where I will share additional vlogs, news stories, quick tips, recommendations for other filmmaking resources & more! 
Featured Q&A: Have access to my personal email, where you can submit questions to be featured on an episode  of the Piedmont Motion Picture Show.
Free Resources: Get access to a growing catalogue of FREE filmmaking resources. Luts, in-depth courses, how-to's, VFX training, presets, scores, sound effects, and more!
Appreciation: You will have my sincere gratitude! The Piedmont Motion Picture Co will be able to continue because of your good faith and generosity. Thank YOU!
FILMMAKERS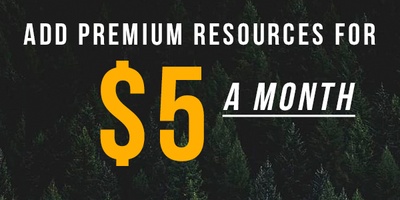 5 dollar supporters of the channel receive all of the benefits associated with the 1 dollar tier, as well as free downloads of premium filmmaking resources from our digital store as they become available.
DIRECTORS
10 dollar supporters of the channel receive all of the benefits of the 1 and 5 dollar tiers, as well as one free, hour-long consultation call with me per year. We can talk about films, filmmaking, creating a YouTube channel, or anything else you'd like to focus on. Just contact me when you would like to find a time to schedule your yearly consultation and we will set it up!
About
WELCOME, AND THANK YOU!

First of all,
thank you so much
for visiting this Patreon page, and taking the time to read this message!
Your support means the world to me!




LET'S BECOME BETTER FILMMAKERS TOGETHER!
My goal here on Patreon is to not only create a place where I can forge a deeper, and closer connection with my biggest fans and supporters, but also 
a community of like-minded filmmakers, and content creators
who have a passion, and desire to constantly learn, and grow! With your support through Patreon, the goal of
full-time content creation
can become a reality, and I will be able to create more of the content that you want, with
better quality, and on a more consistent basis.

WHO ARE YOU?
Hi, my name is Ryan Camp! I'm a 37 year old filmmaker, YouTuber, and dad from central North Carolina. I've been making videos and telling stories with my friends since I was a young boy.
I started 
The Piedmont Motion Picture Co.
in 2016 with the intention of just doing freelance videography work in my home state of North Carolina. Since then, it has grown into something much bigger, and much more dear to my heart.
Ever since I was a young kid, I've been obsessed with telling stories. Even when music dominated much of my young life, as I toured in a rock band until my late 20's, I was constantly most excited about the writing process, and what stories I could tell with my songs. Through music, I found a love for telling stories in other types of mediums, with
video production
taking center stage.
Fast forward to the time of writing this (2018) and The Piedmont Motion Picture Co. has turned into a way for me to
learn and grow as filmmaker
, as I study and research the craft, attempt to put into practice what I have learned, and then pass on my successes, and failures to
like-minded filmmakers like YOU!
It is
my goal
to make creating
YouTube videos
for people who are interested in learning and growing as filmmakers along with me,
my full-time job!
As a husband and a father of 3 young children, it's hard to balance day-to-day life with work and still find time to pursue my true passion on a consistent basis, when there isn't a lot of money coming in, sometimes it has to be put aside to take on freelance projects with more money making potential.
If you are interested in what I am trying to accomplish with my channel, enjoy watching (hopefully)
entertaining films
, and enjoy
learning
from my style of
filmmaking tutorials
and
reviews
, then please consider subscribing, and becoming a Patreon. 
WHY PATREON?
If you're not familiar with Patreon, the concept is that you support a creator financially for each piece of valuable content they create for you, or on a monthly basis. In the case of The Piedmont Motion Picture Co, it's
films
,
tutorials
and
reviews
that are geared towards
learning and growing as a filmmaker,
and your support will come in the form of monthly pledges. You will also be rewarded for your pledges, in the form of patron-only Q&A's, exclusive videos and content, discounts, and early viewings of my films and the behind the scenes features that accompany them.
WHAT'S THE MONEY FOR?
With your support, I will be able to focus more of my time on
creating more consistent, solid content for the channel
, as well as
more film projects with stronger budgets,
and reviews for more of the gear that you, as a filmmaker, are interested in.
NO MONEY? NO PROBLEM!
If money is tight, I don't want you to think that becoming a Patreon is the only way you can support me,
save your money
! Subscribing to the YouTube channel, clicking the bell notification icon so you don't miss anything, liking videos, and most importantly, engaging with the rest of the community in the comment sections of our videos, are all profoundly important to the growth of the channel, and it being able to grow and continue!
Thank you again for reading this wall of text, and I hope that if you are able, and you appreciate the content that I've made thus far, you will consider supporting this endeavor through Patreon and become the backbone of a community of like-minded filmmakers, and video producers who enjoy learning and growing through the experiences of one another.
Love,
Ryan Camp
If we can reach this goal of $500 a month, I will be able to focus on my production company part time, and DOUBLE my YouTube and short film content output!
1 of 2
Recent posts by Ryan Camp
By becoming a patron, you'll instantly unlock access to 18 exclusive posts
By becoming a patron, you'll instantly unlock access to 18 exclusive posts