Ryuu Lavitz
is creating Cosplays, Photo Sets, YouTube Videos and Streaming Sessions!
Select a membership level
SandBox League
See "Behind the Scenes" Photos
See "Work in Progresses"
See all -SFW- Content Photos before it hits Social Media: Full Albums
Any Tutorials, Tips or Tricks
Access to the LavitzNation Discord Channel as a Party Support Member (Healer)!
 
Basically this tier offers some perks, but ultimately, it's for people who just want to show support. Every dollar counts and is greatly appreciated! 
Includes Discord benefits
Sandbox Legends
See "Behind the Scenes" Photos
See "Work in Progresses"
See all -SFW- Content Photos before it hits Social Media: Full Albums
Any Tutorials, Tips or Tricks
Access to the LavitzNation Discord Channel as a Party Support Member (Healer)!
(1) 4x6 Signed Mini Print

This is the same as the $1 tier, for those that want to offer additional support!   
Includes Discord benefits
Bronze League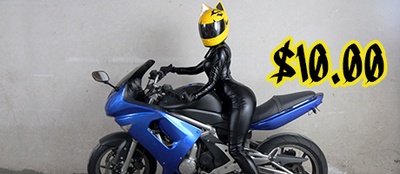 See "Behind the Scenes" Photos
See "Work in Progresses"
See all -SFW- Content Photos before it hits Social Media: Full Albums
Any Tutorials, Tips or Tricks
10 total boudoir style images per month (5 per set, 2 sets per month.)
Access to the LavitzNation Discord Channel as a Party Support Member (Tank)!
Includes Discord benefits
About
Please read the FAQ &TOS before joining!

Hello! My name is Ryuu. I am someone who's just trying to live the dream of being a self-employed, freelance artist. Exploring the world of Photography is something I am extremely passionate about. I'm elated that so many people want to keep up with my work.
I am...
A Signed Model
An International, Published Cosplayer
A Self-Photographer
A Twitch Affiliate / Gamer
A Product Reviewer / Advertiser
A Car Enthusiast
An Adventurous Cook
I've been modelling for 10 years. I definitely see myself more as a photographer than a cosplayer. Cosplay, for me, has always been about making fun or interesting photos. I had no idea cosplay was even a thing before people started calling me a cosplayer. I had to google what that was!
I currently create new costumes or character concepts twice a month, and release (2) 30 image digital sets per month. I'm also just starting to get into creating video type content. It's a huge goal of mine to start coming out with monthly dancing videos, simple cooking instructional videos, car maintenance videos, etc.
Videography is something I am not skilled at and would need to find others who have the time to shoot. By signing up for my subscription service, you're not only supporting the creation of photo sets. Your money will also go towards the creation of new costumes, convention trips, hiring other photographers, and help me make sure my bills are paid. Without my fellow friends and fans, I would not be able to make all the art I am so passionate about. Entertaining the masses through cosplay and modeling makes me feel alive. It's my outlet to blow off stress and it allows me to be the creative person I have always been. It is my personal goal in life to inspire others to pursue their hobbies and dreams.

Terms of Service:
Payment is charged immediately upon pledging and then will be charged at the 1st of the month for every month after that. You are able to un-pledge at any time through your profile settings
Patrons who harass or create a toxic environment for myself and/or other members will be blocked and NOT refunded.
My content is not to be re-distributed or edited in any way. People who are found leaking content or attempting to leak content will be permanently banned without a refund.
My Patreon is for individuals who want to help support the process of creating new content.
All Download links expire at 11:59pm EST on the last day of every month. The creator is not responsible for whether or not you downloaded content in time.
By pledging, you acknowledge that you read and understand the FAQ and Terms & Conditions. Please message me if you have any questions before pledging. I like to be fully transparent with my supporters!
Check out my FAQ below!
Do you sell nudes?

I am a non-nude artist. Digital sets do NOT contain nudity, or sexually explicit content. If you are expecting nudes, this site is not for you! My digital sets are sexy / boudoir / pin-up style but I do not display lady-bits / nips, or do any graphic posing.

This site is for those who would like to follow me on my photography/modeling journey. Never put my work before your own personal needs. If you cannot afford to join the Nation, that is 100% okay! I will always post stuff for free across my various social media.
How often do you upload content? What kind of quality can I expect?
I upload at least (2) boudoir sets per month. In between boudoir sets, I post full costume photos, and other random bonus content. Everything is shot digitally in my personal studio or somewhere on location. Sometimes I shoot with other photographers with more experience than myself, and you'll get even greater quality. I never post cellphone selfies as a set! I believe you deserve the highest quality I can provide.
When do I receive my monthly bundle?
I typically ship out print bundles during the last week of the month. You need to be signed up by the 15th to be included for prints!
As I want to keep it personal, I am the only one who is handling ordering prints, signing, packaging and shipping them. Some months I may ship out right on the last day of the month (as I need to get through my 2 boudoir sets of the month to get new exclusives to print). Whenever I ship print bundles, I announce it in the Announcements section in the LN Discord. Most places in the US can expect to receive their bundles within 3-5 days. International members can expect to receive it within 1-2 weeks past the shipping date.
I just signed up. Am I eligible for last months content?
No. You only receive the content for the months you are signed up for. At the end of the month, content is removed and new content gets uploaded in its place.
I paid but I missed out on downloading content in time. Can I have access to it again?
All content expires on the last day of the month at midnight EST. (Last day of the month at 11:59pm EST) If you did not have the opportunity to download content in time, you may ask me to re-activate the link. However, if it becomes habit and you ask more than once, I will be less willing to do so. You are responsible for downloading content when it is released.
How much effort really goes into providing content / How fast is the turn around for content?
I easily spend 50 - 80 hours per week on costumes, digital content and print packages. I create all my own content unless credited otherwise! This means I make my own costumes, I plan my own photo concepts, I plan my own shoots, I take my own photos and do my own editing. I also take the time to separate the content into multiple zip folders for the multiple tiers. I hand sign every Polaroid, and personally mail each one out. I try to provide 2-3 shoots per month. (Usually one set every 2 weeks). At least one basic costume shoot or photo concept, and two boudoir shoots. But it varies from month to month, sometimes there's more. Basically, I'm a one man band! Please be patient with me, I'm doing my best to keep up!
I saw you on [dating site] / [random platform], is that REALLY you?
No! I do not belong to any dating websites. If you see profiles with my photos, please report them! People use my images to catfish people often and I can't keep track of these profiles without your help! My PSN, BattleNet, Steam, etc. are all private and I don't add people I don't know personally. If an account adds you that says they're me, please report them.
Any social medias that I have, you can find here:
https://linktr.ee/ryuulavitz
Be able to protect my content better. Be able to hire specialty lawyers to fight content scrapers on my behalf.
3 of 5
Become a patron to
Unlock 320 exclusive posts
Connect via private message
Recent posts by Ryuu Lavitz