SCRIPTURE DIG || Teri Lynne Underwood
is creating resources to encourage & equip women in Bible study.
Select a membership level
DEVELOPER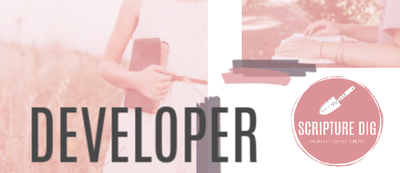 You know you should study the Bible. But you don't know how or feel overwhelmed by all the choices.

Or maybe you have started and stopped multiple Bible studies or reading plans and you feel like a failure.

I totally understand.  As a DEVELOPER you'll receive printables each month to help you develop the habit of consistent Bible study.  In addition, each month I'll share some practical advice and encouragement for you to navigate those days or weeks when you can't find your groove, aren't sure what to do next, or just need someone to be your cheerleader.


Printable reading plan and journaling pages

Bonus content every week of each study
INVESTOR
Do you want to invite a friend to study the Bible with you but aren't sure you are ready?

Have you wished for a simple way to help your children grow in a desire to know and apply God's Word?

Are you looking for ways to help others love time in Scripture like you do?

You're an INVESTOR!  And I'm honored to help you build an arsenal of tools you can use to invest in others.  As an investor, you'll receive all the reading plans and resources available to the DEVELOPERS, plus additional content designed specifically for those who are discipling and leading others.

Each month I'll share a video just for investors with suggestions, tips, and resources to help you feel confident as you encourage and equip others to dig into Scripture.

Monthly video with tips and resources for investing in others

Ideas for inviting and encouraging others in Bible study

Printable reading plan and journaling pages

Bonus content every week of each study
GROWER
Do you want more from your BIble study time? Are you ready to dig into how Scripture connects to form one big story? Do you want to know how to use all those other resources like commentaries, lexicons, annotation, and cross references to go deeper?

If so, you are a GROWER!  You've developed a consistent habit of time in the Word and you're also investing in others to help them do the same.  But you want MORE.

As a GROWER, you'll receive all the content for DEVELOPERS and INVESTORs plus I'll do a video each month guiding you through a deeper study of one day of our reading plan.  I'll show you EXACTLY what I do as I study and prepare to teach.  And, each month I'll highlight a specific resource I use regularly.  

From understanding about the differences in translations to learning how to uncover the cultural context for different passages and everything in between, GROWERS will receive the guidance needed to grow in confidence as they study Scripture.
Video detailing one day of study each month

Monthly recommendation and explanation of Bible study tool

Monthly video with tips and resources for investing in others

Ideas for inviting and encouraging others in Bible study

Printable reading plan and journaling pages

Bonus content every week of each study
About
Have you ever felt overwhelmed by the Bible?
Do you think you don't know enough to begin to study on your own?
Maybe you've tried to get into the routine of reading your Bible regularly and just never been able to make the habit stick?

Oh friend, let me just tell you, I can relate!

And I floundered for a lot of years because I just didn't know what to do and I was too embarrassed and intimidated to ask. (Also, I really didn't know who I should ask.)

That's one of the biggest reasons I love teaching the Bible — I get to help women figure out how to get started and how to build a habit that lasts. For the past two decades I've been helping women individually and in groups learn how to study the Bible with confidence and consistency.

And I can't wait to help you!

xoxo,
Teri Lynne

By becoming a patron, you'll instantly unlock access to 8 exclusive posts
By becoming a patron, you'll instantly unlock access to 8 exclusive posts
Recent posts by SCRIPTURE DIG || Teri Lynne Underwood