SRSroccoReport
is creating Original Content & Analysis
Select a membership level
Pledge $100 per month
Limited (1 remaining)


CORPORATE MEMBERSHIP: This level will allow Patreon members all the access to all the Silver Membership content and an exclusive Gold Members Area on the website with detailed analysis not found on the main page.

Corporate Members will have access to all content as the Gold Members, but this is for Corporate Accounts allowing up to three users.
About SRSroccoReport
Hello, this is Steve St. Angelo of the
SRSrocco Report
.
Thanks for checking out my Patron page. I started the SRSrocco Report to provide original content on precious metals, mining, and energy... not found on any other website.
To gain access to exclusive content at the SRSrocco Report.com, you can become a Patreon Member by subscribing to the membership plan of your choosing
.
BACKGROUND
I began to invest in precious metals in 2002 due to the realization that inflation was going to push gold and silver prices higher in the future. However, my research (during 2004-2006) on the economy led me to believe that a market crash or collapse was heading our way. I decided it was time to sell our small business in the big city and move out to the country.... to weather the coming storm.
When the U.S. Investment Banking Industry and Housing Market collapsed in 2008 and further into 2009, I wasn't surprised. However, the speed at which the economy disintegrated, was stunning, to say the least. It was at this time I became very interested in the
Falling EROI - Energy Returned On Investment
and how it was going to impact the financial system and economy in the future.
Ever since the Federal Reserve and Central Banks decided to use a massive amount of money and market intervention to save the financial system and economy since 2008, I am seriously concerned that all they have done is buy is a little more time before the situation gets out of control.
SRSROCCO REPORT ANALYSIS: Gets To The Root Cause Of Our Problems
The most important part of my research is how
the Falling EROI - Energy Returned On Investment is negatively impacting the entire U.S. and global economy.
Unfortunately, the majority of investors and the public are unaware of the hidden damage being done to our modern high-tech economy by the Falling EROI, because the Mainstream press and a large percentage of the Alternative media are totally in the dark about this.
For example, there is no coincidence that U.S. public debt as increased exponentially as the U.S. Oil & Gas EROI has declined. In the chart below, you can see that when the U.S. Oil & GAS EROI fell below 30/1, U.S. debt started to really increase: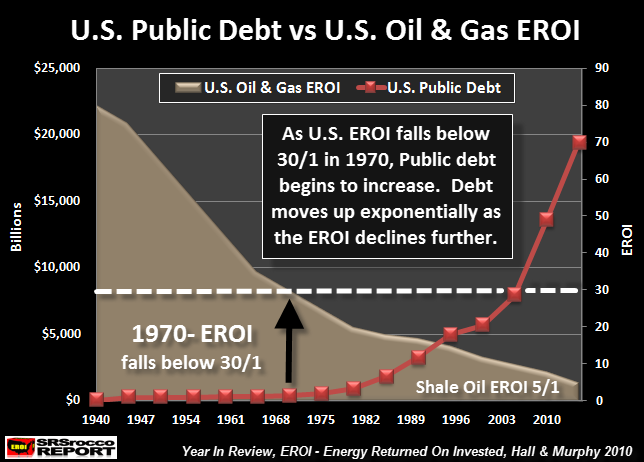 For this reason, I strive to put out original analysis and information each week on the SRSrocco Report site to help the investor and public better understand what is really going on and what the future might look like.
Thank you,
Steve St. Angelo
How it works
Get started in 2 minutes