Sailing Britican
is creating valuable info about how to become blue water sailing cruisers
Select a membership level
Early Access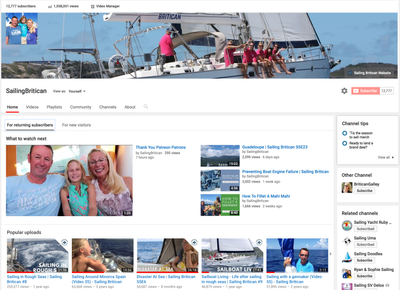 Get access to our videos and articles at least three days before they're published live to the rest of the world.
Includes
Early access to articles and videos
Get the inside story!
Find out how we sold up and sailed away. This book documents the first three years of our crazy adventure. 

Includes
Early access to articles and videos
Connect with other patrons
Changing Lifestyles Book (Digital)
Premium Content
Best Deal: Premium Goodies!
Free book, discount on sailing guides and premium goodies just for Patrons & Britican Club members monthly.

Includes
Early access to articles and videos
Connect with other patrons
Changing Lifestyles Book (Digital)
Discount code for 20% any guide in our bookstore
PREMIUM CONTENT includes the premium content that Britican Club Members get - checklists, guides, recipes, tips and tricks covering boat buying, boat handling, servicing and maintenance, sailing with children (socialization, homeschooling/etc.), passage planning, kit reviews, fishing, cooking, provisioning, safety - Information to make a liveaboard sailors life easier, more enjoyable, safer and less costly! 
About
Hey - it's nice to have you here :)
We're a sailing family that helps individuals, couples and families to realize their sailing dreams. We do this through our website offering educational articles and videos, on Amazon selling various sailing guides and with our Britican Experience - 7, 10 and 12-day liveaboard experience in the Caribbean.


Everything we publish is to help our readers/watchers to make the transition from landlubbers to seafarers quicker, easier and far less costly! You can read one of our guides and learn what to look for when buying a boat for cruising AND/OR you can come out and sail with us to see what the life is like first-hand.
Due to COVID-19, however, our main offering (and income source) has been suspended but we hope it's only temporary. Soon we'll get our Britican Experiences going once again.
Our aim is to make your journey from deciding to buying a boat and sail way less costly, more enjoyable and far more easier than doing it alone.
If you're ready to sink your teeth into something right now, go get our FREE guide on 160+ Steps To Becoming A Bluewater Cruiser. Grab a copy here:
https://sailingbritican.com/blue-water-sailing-checklist/
Who is Sailing Britican?
Since the beginning of 2014, we've been living full time on our boat, Britican (British and American). Our family consists of Simon, Kim and our daughter, Sienna (currently aged 10).
Our readers and viewers benefit from the following:

Explanations on how and why it's beneficial to become blue water cruisers
Learning from our mess-ups rather than making them yourself (we've made many!)
Reduced fears associated with becoming a cruiser - fears about sailing, homeschooling (our daughter was 3 1/2 when we left land), safety, the overwhelming amount of things to learn and much more.
Videos about popular marina's, anchorages and destinations so you know before you go
Our sincere feelings about what it's like to drop out of the rat-race and live the dream...It's not all good but it's definitely fulfilling.
Easy to make recipes that work well on a sailboat!
Tips, tricks and things that the salty sea dogs fail to tell anyone (Did you know that painting your prop with egg whites works just as well as using any expensive store bought solution?)

Our Patreon Supporters, however, get extra:
Early viewing on articles and videos
Patreon only videos
Patreon only checklists, recipes, templates, interviews and more
Discounts on the Sailing Britican T-shirts, Sailing Guides and Books
First refusal on dates for the Britican Experience, our week-long blue water sailing adventure.

How often do we post?
We publish at least once a week on:
https://SailingBritican.com
however we're active on FaceBook, Twitter, Instagram all week long.
How does Patreon fit in?
Patreon is an awesome website that allows people to support content creators. We're spending a small fortune keeping the boat serviced, maintained and repairing breakages. All our money goes into keeping Britican running. When it comes to making videos, there's a whole host of other costs and they add up. Just getting Internet to upload a video can cost quite a bit. And then there's the cost of camera's, software, data storage, hard drives, hosting fees, education, necessary apps and the list goes on. For as little as $2/month a patron can us to keep creating and making better articles and videos.
Why support Sailing Britican on Patreon?
Because we'll make your journey from living on land to living on the sea easier, faster and less expensive. If you have any questions, suggestions or advice for us, please email us at:
[email protected]
Big smiles,
Simon, Kim & Sienna
Sailing Britican
When we reach 100 Patreon's we'll do our first live Q&A webinar for Patreon's Only. We'll answer any and all questions about how to become a liveaboard sailor, choosing the right boat, how to get your partner to agree to sail with you and relieve you of your fears and burning questions.
1 of 1
By becoming a patron, you'll instantly unlock access to 62 exclusive posts
By becoming a patron, you'll instantly unlock access to 62 exclusive posts
Recent posts by Sailing Britican