SawGrassBassin
is creating Fishing Videos
Select a membership level
Call Me A PATRON!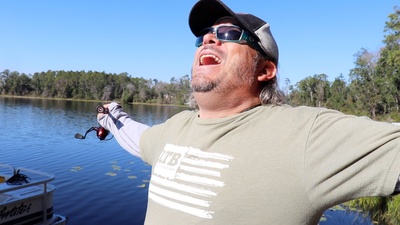 Welcome to the SGB Family! At this level you will receive
- Access to Patron ONLY content and feeds
- Sneak Peek pictures and clips of upcoming Videos!
- Participate in Patron ONLY polls and contests! 
From Subscriber to FRIEND!
Thank you my FRIEND! At this level you will receive
- ALL The above rewards PLUS+
- I will FOLLOW and FRIEND your personal Facebook, twitter,
 and Instagram accounts!! 
- Your name in the credits!! Once a month I will personally
  thank each Patron at this level in one video! 
Call me Assistant Producer!
OK CO-Pilot...where we headed ?! At this level you will receive
- ALL The above rewards of Tiers 1 & 2 PLUS+
- Weekly Name in the credits! That's right, thanking you
 WEEKLY
- Access to EXCLUSIVE behind the scenes footage and
 BLOOPERS
- ADDED to PRIVATE Facebook Group and EMAIL for this
  level and above ONLY! (plus some other surprise
  YouTubers!)
- You Pick the challenge! Private Patron monthly discussion
  where I will pick next months Challenge video!! 
About
Hey Folks! I'm Captain Mikey from SawGrassBassin, and let me thank Y'all for being plain AWESOME and stopping by my Patreon page. This is a great platform that allows me to connect with my Patrons on a deeper level, in thanks for your support of SawGrassBassin. At SGB I strive to produce weekly fishing videos, jammed packed with knowledge, humor, high energy and of course TONS OF FISH! The content I create is geared to not only be highly entertaining, but also to teach my viewers everything about the great sport of FISHING! Tips, Tricks, Techniques, how-to's, and INSANE CHALLENGES! I call it Passing my Passion, and it's all in hopes of hooking YOU, the next generation of anglers, on this wonderful Sport. Drop the XBOX and pick up a Tackle box! I cannot thank you all enough for joining in on my weekly adventures, NOW with Patreon you can become a BIG part of SawGrassBassin too!!

WHY DO I NEED PATRONS?

Let's face it my friends, the content you see each week, didn't come easily! In fact, it is the product of many days of hard work. Fishing isn't always easy! This I am sure you already know, heck it's most likely why you tune in each week. The truth is, most videos you see were more than likely several days of filming. Add a couple more days and endless late nights of editing and polishing, and you still haven't covered the countless hours it takes to create just ONE of SGB's videos. Time is a valuable thing, but so is equipment, travel, gear and all necessary materials per video! The monetary costs just to create one video can be astounding! Which is why every Patron's support is an incredibly valuable commodity! Continuing to create quality content, continuing to grow and keeping up with ever advancing technology, would be tremendously difficult with out an amazing Patreon community! No contribution is to small, it all adds up, and every dollar is put to use in effort to sustain and continue to improve. As a Patron of mine, you are literally a BIG PART of SawGrassBassin, now and in the days to come!

SO, WHAT'S IN IT FOR YOU??

As a Patron, you become part of an exclusive community, that is truly the inner circle of SawGrassbassin. You gain access to insider information, personal insights, sneak peaks, opportunities, and even merchandise that NO ONE ELSE can! You may even contribute to and influence what content I create next! Are you a fan? Patrons get to engage and communicate PERSONALLY with me, through several members only Very Exclusive avenues. Some times, even one on one! Every Patron, is a VIP and a treasured member of the SawGrassbassin FAMILY. 
When we reach $100 per month we will be able to create 2 more challenge videos each month!
1 of 5
Become a patron to
Connect via private message
Recent posts by SawGrassBassin
How it works
Get started in 2 minutes