Scott Moon
is creating books
Select a membership level
Every dollar helps!
Let's be honest, this is mostly for my good friends and family who just want to throw me a couple of bucks. What you'll get on this tier is access to my weekly Patreon exclusive vlog and Patreon blog posts.

Professionally recorded audiobooks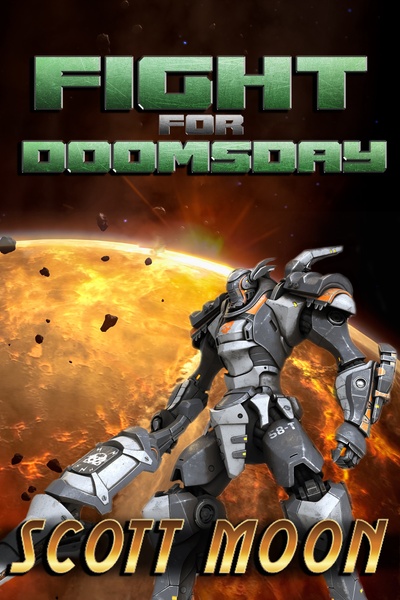 I began the Shortyverse for fun, basically making myself a mech warrior sandbox and going weapons hot from page 1. The protagonist is a sarcastic lone wolf with a bad attitude. He pilots one of the smallest fighting mechs on the planet of Doomsday and is always getting in over his head.


What I hadn't expected, was the response from my readers. I continue to get really amazing compliments from readers and my writer friends who took the time to check out the Shortyverse. (If you know authors, they don't always have time to read for fun.)


My editor for these stories, Ellen Campbell, has told me repeatedly it's the best thing I've ever written. Josh Hayes, author of Edge of Valor, Striker's War, and the Terra Nova Series, believes it's where I finally found my best writing voice (after 37+ years of trying). Devon C. Ford enjoyed the series so much that he joined the action by writing a soon to be released episode.


The Shortyverse is a series of longish short stories, about 10 to 12,000 words each. I contracted audio production through Reece Alan Morse who did a fantastic job.


But here is the crux of the matter. I don't believe people go to Audible to find short stories. So how do I deliver these to readers (listeners) of science fiction military adventure?

After a great deal of brainstorming I decided there will be two ways to get the Shortyverse in audio format: the free way will be to join my newsletter, and the paid way will be to support me on Patreon. (Doing both isn't wrong.)

What does this mean for you? 


As a newsletter subscriber, you'll never miss a new release in the Shortyverse or other writing I've done. I'll share a bit more about my writing journey and other Moon ramblings than I do on social media. And there may be opportunities to join my advanced reader team.


As a Patreon subscriber you will get a weekly video and other content, plus access to the Shortyverse in audio format (via private YouTube link). My Patreon account helps me maintain a steady income to withstand the ups and downs of the publishing world.


I hope you will join me in the Shortyverse.


Thanks,
Scott Moon

About
Hello,

My name is Scott Moon and I have been pursuing the writer's dream since I was twelve years old. Now, for the math. That's thirty-eight years ago! I love telling stories. My physical and digital book shelves are full of many genres, nonfiction topics, and art. About six years ago the dream started to get real. Now I have several books (ebooks, paperback, and audio) for sale online. In today's competitive market, going pro as a writer is both easier and harder. There are lots of opportunities and lots of competition.

Thank you for your interest in this Patreon site. I promise to include as much value in each teir as I can.
Why $5,000?

About a year ago I decided to 10x my goals. With hard work and some time spent learning to actually market a book, I went from $5 a month to $50 a month. Right now I am very near my goal of $500 a month. 

At $5,000, the chance of making writing a full-time career (my lifelong dream!) is getting real.

Can I do it?

I might with your help. (And since I am new to Patreon, let me clarify one thing; I don't expect all of it to come from Patreon.)

The more important goal, the crucial "next action" or "wildly important goal" is to publish a quality book each month, something I know I can do (even though it will be a major challenge and require both sacrifice and focus).

This year, I will publish twelve books.
1 of 1
By becoming a patron, you'll instantly unlock access to 11 exclusive posts
By becoming a patron, you'll instantly unlock access to 11 exclusive posts
Recent posts by Scott Moon