Shottsy
is creating Fantasy Art and Fantasy Novels
Select a membership level
Spark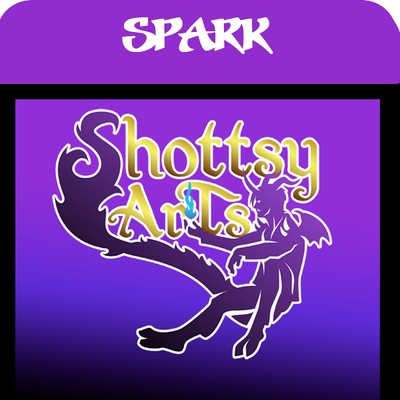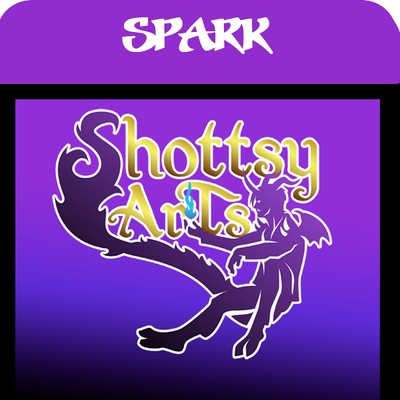 My sincere gratitude for supporting my project.
Access to most of my hidden patreon updates such as works in progress and sneak peeks.
Tutorials and other references I find helpful.
For those that come see us at shows you will recieve an exclusive patron button for your support! Wear it and when you see us in the future and receive exclusive discounts depending on your tier level! 
Awakened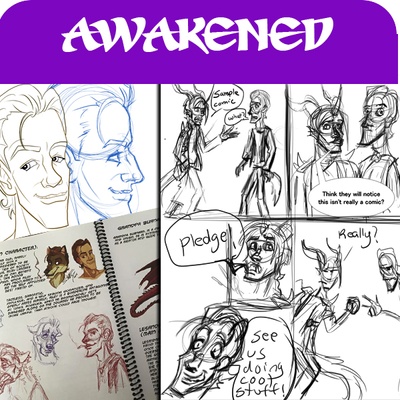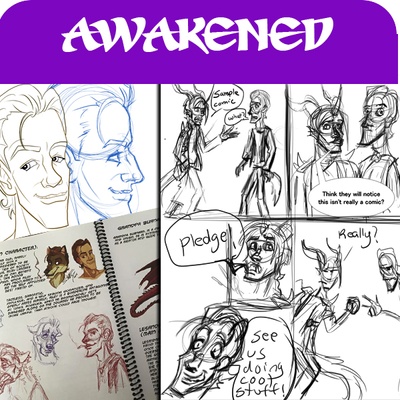 All previous rewards. 
Access to all new hidden content and updates, including access to some comic W.I.P.s  and sneak peeks of entire unpublished chapters for upcoming books before release.  
Early chapter art sneak peeks.
Access to mini comics before they are posted to our website, (some of which will be exclusively shown here.) 
Creative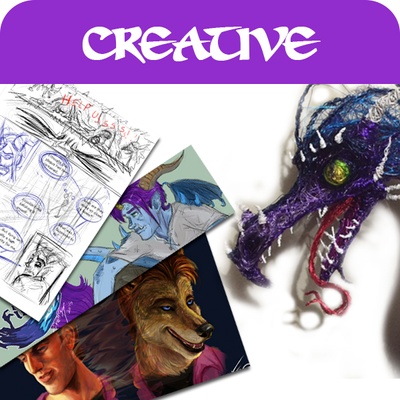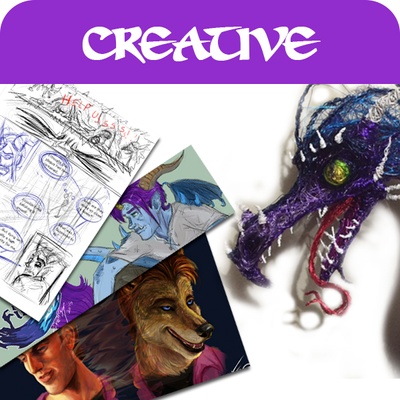 All previous rewards.
Access to exclusive wallpapers. 
Product concepts and sneak peeks of upcoming items such as our plush line.
Wire sculpture W.I.P.s 
Shottsy Arts apparel design W.I.P.s 
You will also get first looks at the beginning pages of each issue of our comic before it's released! 
Early story drafts and plot ideas that may not make it into the final book.
Extra insight and material that will not be in the book. 
Access to all and any Previously released and new mini comics (You will receive a password for a PW protected section of our website)
About Shottsy
(also known as "Shottsy" around the convention circuit, and online)
You may know me as the creator of "Waffles" the lovable fat donkey character and his friends Fleecy and Slim. 
I have drawn and come up with whimsical characters since I could hold a pencil. Now I run my own business with my fiance' creating an array of different products and creations. However, doing art full time, especially making physical products and traveling can be very expensive, so I am creating an opportunity for our fans and loyal patrons to keep us in business, and support us in creating new and wonderful things!
I create:
One of a kind sculptures from wire

Apparel with my original designs which can be purchased here:
Shottsy Arts Store
"Mythical Munchies" - Adorable fat soft plush toys
(Available to purchase in store soon!)
"The color of Fire" series.
We have our first editions published, but I am currently working on re-releasing a revised version with more content and more illustrations. It will be part of an entire fantasy series.
I am working on adapting it into a graphic novel series. 
As you can see I am constantly creating and producing, which can be very time consuming and expensive!



I have been an artist for as long as I can remember and am now working on a fantasy novel series, and graphic novel adaptation inspired by my own struggles and the struggles of other creatives lives as a passionate artist. This has been a project in the making for years, all the way back to my time in college, and its finally ready to be seen and enjoyed by all of you!



First lets hear from a few of the characters:

I'm so glad you asked that, Eadelyn *cough* the main character of the story, *cough*

. 
"The Color of Fire" Is a story about what the world would be like without art, the struggle to creative freedom, and the origin of inspiration itself. 
The story follows a young woman's journey from a world without art, with the assistance of a fire-breathing human hybrid, a cynical werewolf, and an ancient dragon from another realm, as they seek to restore balance and creativity to a dying world.
-The "Color of Fire" is a fantasy epic full of suspense, romance, comedy, and can even get pretty dark at times. It has a little something for everyone!
That's a good question, Seraphim. Patreon is a great resource for artists to get paid to create more art. It is also a great plstoform for patrons and art enthusiasts to be involved in the creative process and get exclusive first looks and opportunities from the artist directly.

With your monthly support I can focus on what I am best at, which is making art, and you all get to be involved in creating something amazing with me!
Your funds will go towards production costs, inventory and business expenses as well as the general cost of living while doing art full time.  This will make it so that I can put all of my focus into bringing this project to life, and keeping our art business afloat. It will also go towards promotion.
Overall, your contributions will help me be able to focus more on creating new designs, furthering this powerful story I have in the works, so that I can hopefully reach many fellow artists and even non artists who may become inspired. 
I'm glad you asked that, Riley. Well, you get nothing except your face in this book and comic and lots of people reading your story. You never have any money anyways.. 
However, for our generous patrons there are
lots
of great opportunities and rewards for pledging!
Aside from the warm fuzzy feeling you will all have from knowingly helping support an amazing project and story,  I have a lot of really great rewards!


There are many pledge tiers affordable on any budget, starting at just a dollar! 
You will get to see a lot of sneak peaks and early concept work. 
unreleased character studies and storyboards
Some written chapters of the novel in progress that will be released no where else until it's published.
Finished comic pages before they are released to the public, or put into print. 
Patreon subscriber only comics that won't be shown elsewhere
A chance to actually be a part of the graphic novel by having your own character or human likeness as an extra character within the very pages of the book. 
Early looks at new Shottsy Arts products before production such as new plush, t-shirt designs and more!
Exclusive patron only discounts and products in our store! 
Tutorials and behind the scenes information on how I create things such as my wire sculptures I will not post or talk about anywhere else. 
"The Color of Fire" begs the question, what would the world be like without art, and where does creativity and inspiration come from?
For centuries, art has played a crucial pivotal role in our history and civilization. Without art we wouldn't be where we are, nor have the things we enjoy around us every day. Yet, most artists struggle and get little to no respect. From houses, to cars, to clothing, to tv and entertainment, artists have a hand in just about everything that people see. Why then do many treat artists as slave labor and it's such a struggle to make a living with art? Do artists not also provide an invaluable service?
Most stories are made by artists and written for the rest of society. "The color of Fire" is a story geared for adults, and young adult artist's alike, but non artists will love the story and strong messages just the same. Children have the world at their fingers, and when they are young they believe they can do and be anything. Somewhere down the line, those dreams fade, reality sets in, and people lose their connection to their creativity and their muses.
"The color of Fire" through an exciting fantastical adventure, and relatable characters, hopefully encourages adults not to give up on their dreams, to keep struggling, and realize the importance of continuing to create and dream, and never lose their creative spark.

If you believe art truly has value then help me spread my message that there would be nothing in this world without inspiration and art, by helping fund my project and creative art business! 
$132.37 of $300
per month
If I reach this goal I will create some wallpapers for my patrons. 
 Will start producing a mini comic with some fan favorite characters.
BIG THANK YOU FOR HELPING US REACH OUR FIRST MILESTONE!
1 of 5
By becoming a patron, you'll instantly unlock access to 80 exclusive posts
By becoming a patron, you'll instantly unlock access to 80 exclusive posts
How it works
Get started in 2 minutes