Skaz
is creating NSFW games
Select a membership level
Noble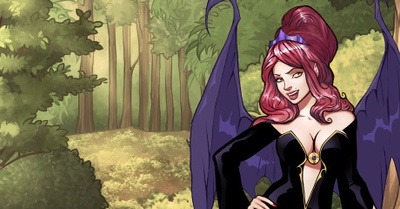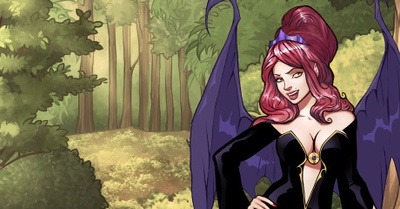 Good day, sir! I am Meridiana, the gatekeeper. Please allow me to walk you through our college. The College was created for the relaxation of the soul and… hm, the mind… yes, that's exactly the word I was looking for. Obviously, we usually have strict admission policies, but for the nobles like yourself, our gates are always open!  
Rewards:  
* You get the immediate access to the game version as soon as it is ready for the release! (one month before non-patrons)
* Your can send private messages to developer
* No ads on game screens
* Enjoy the warm feeling you get from supporting my hard work :)  
Baron
Your grace! I'm Dorothy, and I can't wait for you to teach me some good manners. So, you've already donated a few bucks, huh? That's so nice of you! That will help me, and other girls so much! Next time you visit us, you'll see well-behaved girls waiting to serve you! We'll never forget you, and will always share with you the latest rumors about the proper girls.
Rewards:
*ALL of the above
*Your name will be included in the credits as a supporter!
*You get access to the latest project news which include exclusive news for Barons and above, and also bits of the new art at least twice a month.
* You get immediate access to the FULL WALKTHROUGH of the latest game version as soon as it is released!
Count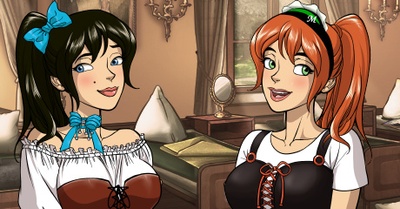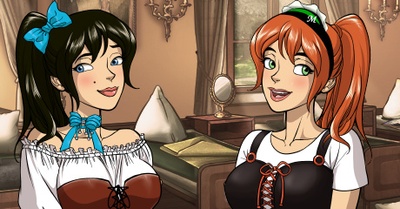 Your Highness? We are so happy to see you visit our noble College! In a moment, we'll show you our most well-behaved, good mannered, proper ladies. Alternatively, we can also show you some of our girls that are yet to be disciplined, there is a certain charm in that as well, isn't there? If neither option is for you though, we'll be happy to hear your advice on how we should teach our girls!
Rewards:
*ALL of the above
*You get the access to the BETA versions of the game!
*You get immediate access to the FULL WALKTHROUGH of the latest BETA version as soon as BETA is released! 
*Your suggestions, and feedback about the state of the game is very important for us, and we'll take them into account during the beta-test!
About Skaz
i there!
My name is Skaz. I am a programmer, and writer who together with my team is developing the game "Bad Manners". It's an erotic parody of Disney animated feature films such as "Frozen", "Tangled", and several others. I work as a full time programmer, but my favorite hobby is development of adult games. I'm grateful for your contribution in supporting that! Your support helps me tell you naughty stories about teaching girls good manners. :)
Gameplay of the "Bad Manners"
It's a combination of a visual novel, and interactive point and click games with bunch of interesting quests.
Planned content and fetishes:
Training, Corruption, Domination & Submission, M/f, F/f, M/Ff and other group sex, Spanking, Oral, Anal, CreamPie, Gloryhole etc.
Plot
After the unsuccessful attempt to usurp the throne, the disgraced Prince Hans Westergaard gets a sudden offer to become the principal of the Imperial College of Proper Ladies. The mysterious benefactor who made the offer promises its powerful patronage, and maybe even the throne, if Hans can change the proper ladies into… ordinary sluts. First hesitant, Hans zealously accepts the offer when he learns that the sister-princesses who ruined his plans will also be attending the College! But everything isn't as simple as it seems...
Our team-members:
Skaz
- Production, Story, Design & Dialogues, Code, Project Management, Website
pavlin
- Discussion of Story, Research
Also, with your support, I was able to hire two talented freelance artists that reinvigorated our College of Proper Ladies. Based on the blueprints I've provided them, they have designed and depicted the locations of the College, and filled its rooms with the characters of my story.
We're working with everything we've got, in order to release the game faster! The game is and will always be free for everyone (but our Patrons will still be the ones that get the updates first).
Download the Game
UPCOMING Patron release ($10 and up)
Version 1.60
beta
(eng/rus) -
October
Current Patron release
Version 1.50(eng/rus), no Ads   
($5 and up)
Full Walkthrough >>>
+
game zip >>>
($2 and up) 
game zip >>>
public release
Part I+Part II 1.20 eng/rus, Ads
>>>
You want to see the game released faster? Or maybe you want a unique Patron status so that you peep right now at what's going on in the secluded, and private parts of our noble College that only few chosen ones have access to?
Well then please consider supporting us, and our noble cause of teaching girls some good manners. It will also allow us to focus on developing the game, release it faster, and make the contents better. Your donation can open up all of the doors to our girls' hearts (and not only their hearts)!
We will be happy to see you in our College that is full of beautiful girls with
perverted
, I mean open-minded manners!
$1,391.54 of $2,000
per month
Thank you so much, our Patrons! Together we have grown to previously unbelievable heights! We'll start to illustrate events that we postponed previously because of lack of time and funds. Also, the amount of the art in the gallery will increase! The patrons in the status of Duke and higher /20+/ now can participate in the polls (f.e. decide what should we draw next). Not an easy job, but we believe in you, our Patrons!
Well, what's next? This is what y'all have been eagerly waiting for. Obviously, it's more frequent releases! How will we achieve that? Well, we'll be counting on your support, so that we can expand our team, and work more efficiently.

5 of 6
By becoming a patron, you'll instantly unlock access to 295 exclusive posts
By becoming a patron, you'll instantly unlock access to 295 exclusive posts
How it works
Get started in 2 minutes