Kyoshi Tom Swiss
is creating martial arts musings
Select a membership level
Limited (11 of 12 remaining)
I'd like to offer a small personal token of thanks for the first few people to pledge support. I occasionally get the ambition to play around with Japanese calligraphy -- no skill, no training, but I enjoy it. So I'd like to send the first dozen supporters a little mini-calligraphy of the kanji for karate-do -- the misreading of which is the name of the blog, Sky Hand Road. Each is about 6 1/2 x 4 3/4, brush pen on rice paper, each individually signed (in katakana) and numbered.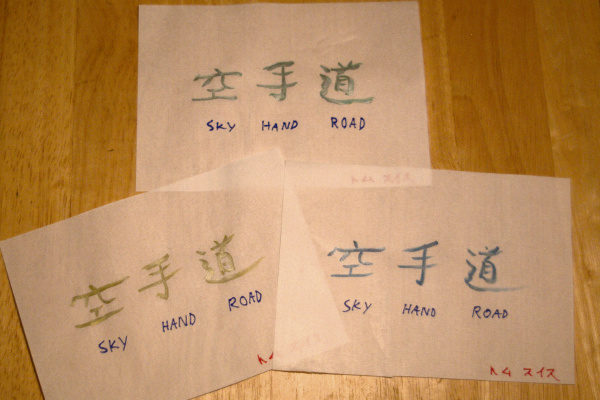 About
Hi. I'm Tom Swiss. I write the blog
The Zen Pagan
at Patheos, which is probably my best-known writing project. I'm also the author of the book
Why Buddha Touched the Earth
and I've been writing and performing poetry since the early 1990s.
Besides writing, I also
teach karate
. I've been training in Seido Karate since 1985, and my blog
Sky Hand Road
is where these two passions intersect. It mostly consists of my monthly meditation talks, where I discuss the philosophy of the martial arts.
Your pledge not only helps me keep that blog going but supports me in teaching Seido Karate at the Catonsville Y. I'm proud to offer classes at a low cost through the Y of Central Maryland...but it's not exactly a financially lucrative deal. Especially since I end up paying for equipment and my own training and travel; the Y does not fund these.
With this Patreon account I hope to provide a means for students and supporters who are able and willing to lend more financial support to our classes to do so, as well as allow random readers who find my marital arts musings interesting to support this little writing project.
Even $1 a month helps.
Thanks!
Recent posts by Kyoshi Tom Swiss