SpielmitStil
is creating Video game Soundtracks
Select a membership level
Bronze Top Hat [Thank you!]
A huge "thank you" from me! Every support helps me to pursue my dream!
If I start making maps or games again, you will get your own easteregg/secret level in this project!
Silver Top Hat [Soundtracks!]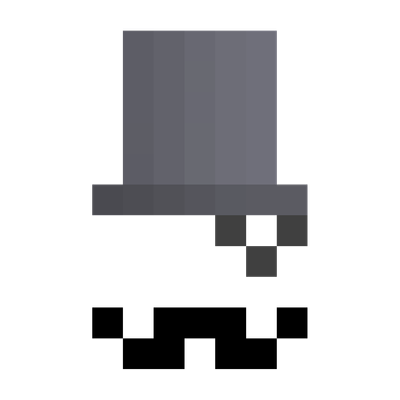 Listen to all of my new soundtracks as soon as they are finished!
Download all Tracks in best quality!
Listen to private, exclusive Soundtracks
All rewards of the $2 tier
Gold Top Hat [Album downloads!]
Become an official playtester of my maps/games if you want to (if I make another one)
Join the official SpielmitStil-Mapmaking Discord server (private invitation)
With every new album that is completed, I will send you a special copy of it with bonus material such as unused tracks, a text written especially for you, etc.!
All rewards of $2 and $3 tiers
About
Hello!

I am SpielmitStil and it seems like you somehow got to my Patreon page. You know, I used to be a Minecraft Mapmaker, that means I created free, but extensive games in Minecraft for everybody. These often have an innovative gameplay, an own story, custom textures - made by Naddel or Zaliku - voice acting and music. As you can imagine this takes a lot of time to do and as I started studying I did not have the time to make these maps any more. But through that I discovered another passion: Making music.

I composed the music I needed for my maps on my own and I also still compose game music for other people as well.
Creating those maps was not a really encouraging hobby, because I put about 400 hours into one single map and mostly receive nothing for this. That was one of the reasons for me to quit - but not entirely: Maybe at some day I'll return to making those maps, because it was really a great hobby, but for now I sadly do not have the motivation for it any more. Instead I want to focus on becoming a good music producer and maybe work at some big video game company in the future. At least this would be my dream. But making music is really quite expensive. All the plugins, software, instruments that you need, my apartment and the school where I study music really cost a lot. This is why I currently have Patreon.

I upload most of my tracks to my Youtube Channel, where you can listen to them: https://www.youtube.com/channel/UCip1ngnAe83DP0Xol...
If you like the music that I make and you want to support me, please consider assisting me financially here on Patreon. Every single pledge really means a lot to me and helps me to pursue my dream and maybe even raises the quality of my music since then I can afford better equipment. 

In return you will be able to listen every single new track as soon as they are finished and even to entire original soundtracks of projects that are not even released yet! (...well, at least those projects that allow me to release my tracks on Patreon... But anyway, you'll get to hear them first!)
Furthermore you can also order a track especially for you if you pledge the corresponding amount. You can just write me a message on Discord or Twitter which details the track should have and I'll do my best for you. (However, since I am studying right now I might only be able to make one track per month to have time for other projects)
Anyway, thank you very much for reading this massive wall of text! Have a nice day!

Thank you all!

This is approximately how much my studies cost me each month. If we somehow reach this goal or come close to it, I can put more money into my equipment and make better music with it.
1 of 1
By becoming a patron, you'll instantly unlock access to 155 exclusive posts
By becoming a patron, you'll instantly unlock access to 155 exclusive posts
Recent posts by SpielmitStil