Instagram
 |   
Facebook
 |   
Web
Spring Farm Sanctuary is a 501(c)(3) non-profit and the first farm animal sanctuary in Minnesota. We are committed to ending farm animal cruelty and promoting plant based living through
our rescue, rehabilitation and education
efforts.
We provide a home for abused and neglected farm animals. We also seek to educate others by raising awareness of the horrible conditions animals face in factory farms, as well as the dangerous effects factory farming has on our health and the environment. Through our events and visiting days, we encourage the community to connect with our animals and realize how sensitive, emotional and loving they are. They are really no different than the dog or cat you have at home, except maybe larger. We also work with local and state governmental organizations and agencies to advocate for laws and policies that prevent animal suffering and promote the fair and compassionate treatment of animals.
Spring Farm Sanctuary was founded in 2016, by Robin Johnson. A lifelong vegetarian and now vegan, Robin has dedicated much of her life to advocate and care for animals and animal rights.
A book by Jenny Brown founder of Woodstock Farm Sanctuary opened her eyes even wider and inspired her to open a sanctuary in Minnesota. Libby was one of the first animals to join us at Spring Farm Sanctuary. She is inquisitive and kind, greeting returning volunteers and new guests alike as they enter the barn. She loves attention, and often asks to be stroked and pet. She is also energetic and adventurous: it isn't uncommon to see her running through the fields and exploring on a beautiful day, even at her size. We love her so much, and we can't imagine Spring Farm without her. Unfortunately, this August, we almost had to.  
When we first brought Libby home, she wasn't in good shape. She had been living with a backyard butcher who kept her in filth with no food or water, which made her thin and weak. She also had prod marks all over her face and body and a high fever due to a bacterial infection. It was obvious that he had been abusing her, and we immediately got her veterinary care, including antibiotics and pain relievers.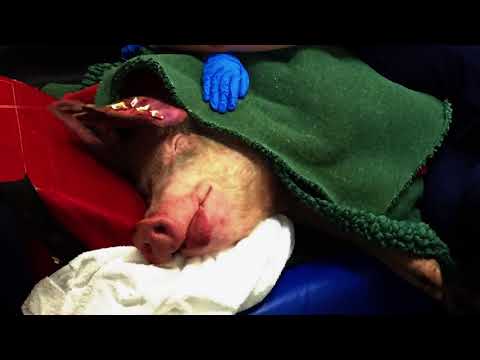 Even with veterinary care for the first time, things weren't easy for Libby. Her fever persisted and although she loved walking through the fields and being outside, she was often lethargic. Then in early August, Libby suddenly became severely ill. She was unable to stand up, unresponsive, and even had seizures. When her vet came to help her, he said that it was already too late. He headed to his truck to get his euthanasia kit, but told us she would be gone by the time he got back. He was wrong. Call it divine intervention, call it a miracle, it was a powerful experience. Robin talked to Libby and begged her to find the strength to get up and get on to the livestock trailer. She did. We rushed her to the U of M Vet Hospital where she underwent a major and life-threatening surgery that removed her uterus along with 42 liters (over 100 pounds) of pus-filled fluid. The veterinarians told us that she was probably not going to make it and kept coming out of the surgery to ask us if they should continue. The surgery was expensive, but we didn't care. They gave her a 5% chance of survival. But we had faith, and Libby continued to surprise everyone. Even the Vets said it was a miracle that she survived.
After nearly a week of observation after her surgery, Libby was finally able to return to the farm. She is a lot lighter, but also healthier and happier than she has ever been. You can see her joy in everything she does, from afternoon naps in fresh straw to playing with Annabelle. She is happy to be alive, and every time we see her we know she has a soul, and a will to live. She is what Spring Farm Sanctuary is all about.
Here's where you come in!

Of course, it takes a team of amazing volunteers, donations and contributions to continue our mission. It is very expensive and a lot of hard work. Which brings us to asking for your help. By donating just $1.00 a month, you become a part of this growing movement to stop the exploitation of animals. Together we can push towards ending farm animal cruelty and promote compassionate living.
Thank you so much for your support!