SOG
is creating Trophy / Achievement Guides

HELLO!
Thank you for showing an interest in supporting my  Youtube Channel

.

Please consider donating monthly and becoming an official SOG Sponsor. I'd like to take a few minutes to explain to you why this is so important...

"I trust that if I continue to work very hard to produce quality content, my efforts will be rewarded."

CONSISTENCY
Every Youtube Channel needs consistency, whether that's daily, weekly or monthly uploads.  So why not just upload more content?

I work as a Freelance Graphic Designer/Web Developer so I am at the mercy of my clients each and every day.  If a client emails me with a project an hour before the release of a brand new game, well, I have to take the job which means I lose precious time covering the game.  Often times this can lead to no coverage at all depending on how extensive my client's wishes are.  

WHY PATREON?
Truth is... if I really want to know how good my content is I should allow my viewers the opportunity to vote with their wallets.

"Sure, I'd be making less than minimum wage creating Youtube videos, but I'd be happy!" 
 
THE VALUE PROPOSITION
My funding goal is $1,000 and, if raised, would allow me to create more than 20  ROAD TO COMPLETION GUIDES each year, bring back my daily show called  THE DAILY DOSE , and devote any extra time I have to produce other shows.  This would ensure a video gets posted every day and my video game coverage would be quicker and much more efficient.  Knowing that my time wouldn't be so divided anymore would alleviate a ton of personal stress and give me the balance I desperately need in my life. 

In return for your extreme generosity, I have set up rewards that can be unlocked based on your level of support. These rewards can range from typed copies of my Guides, Video Credits, Special Behind the Scenes Videos, Video Production Tutorials and much more!  I'm always adding various rewards so make sure to check back periodically to make sure you're reaping all the rewards I have for you. :)  


THANK YOU!
-XONEVANT / Channel Owner of Square One Games
VAN FULL OF NINJAS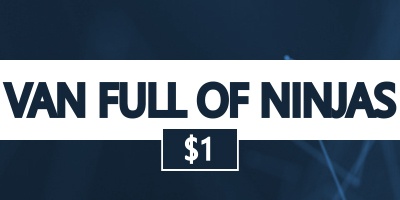 Access
Road to Completion Guides (Google Slide)
Video Credits 
Behind the Scenes 
Exclusive Patron Polling
Year End Wrap Up Video 
MY CRAZY 88!
$8.88 or more per month

∙ only 79 left
Access
Special Birthday Post
Patron of the Day Pop Up
After Effects Tutorials
Sony Vegas Tutorials 
Road to Completion Guides (Google Slide) 
Video Credits 
Behind the Scenes 
Exclusive Patron Polling
Year End Wrap Up Video 
$500 will allow me to offset the cost of one game per month, purchase equipment for the Channel, and begin to invest half my workday into creating videos.
2 of 3

HELLO!
Thank you for showing an interest in supporting my  Youtube Channel

.

Please consider donating monthly and becoming an official SOG Sponsor. I'd like to take a few minutes to explain to you why this is so important...

"I trust that if I continue to work very hard to produce quality content, my efforts will be rewarded."

CONSISTENCY
Every Youtube Channel needs consistency, whether that's daily, weekly or monthly uploads.  So why not just upload more content?

I work as a Freelance Graphic Designer/Web Developer so I am at the mercy of my clients each and every day.  If a client emails me with a project an hour before the release of a brand new game, well, I have to take the job which means I lose precious time covering the game.  Often times this can lead to no coverage at all depending on how extensive my client's wishes are.  

WHY PATREON?
Truth is... if I really want to know how good my content is I should allow my viewers the opportunity to vote with their wallets.

"Sure, I'd be making less than minimum wage creating Youtube videos, but I'd be happy!" 
 
THE VALUE PROPOSITION
My funding goal is $1,000 and, if raised, would allow me to create more than 20  ROAD TO COMPLETION GUIDES each year, bring back my daily show called  THE DAILY DOSE , and devote any extra time I have to produce other shows.  This would ensure a video gets posted every day and my video game coverage would be quicker and much more efficient.  Knowing that my time wouldn't be so divided anymore would alleviate a ton of personal stress and give me the balance I desperately need in my life. 

In return for your extreme generosity, I have set up rewards that can be unlocked based on your level of support. These rewards can range from typed copies of my Guides, Video Credits, Special Behind the Scenes Videos, Video Production Tutorials and much more!  I'm always adding various rewards so make sure to check back periodically to make sure you're reaping all the rewards I have for you. :)  


THANK YOU!
-XONEVANT / Channel Owner of Square One Games
VAN FULL OF NINJAS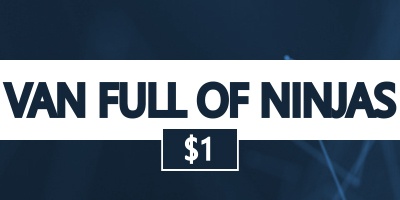 Access
Road to Completion Guides (Google Slide)
Video Credits 
Behind the Scenes 
Exclusive Patron Polling
Year End Wrap Up Video 
MY CRAZY 88!
$8.88 or more per month

∙ only 79 left
Access
Special Birthday Post
Patron of the Day Pop Up
After Effects Tutorials
Sony Vegas Tutorials 
Road to Completion Guides (Google Slide) 
Video Credits 
Behind the Scenes 
Exclusive Patron Polling
Year End Wrap Up Video